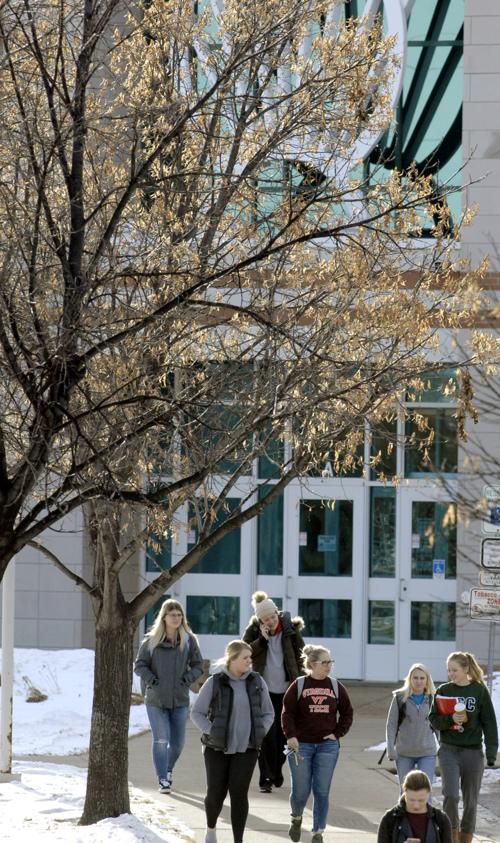 While student loan debt has reached a "crisis" level in the United States, Bismarck State College is reporting a decrease in student loan borrowing in recent years.
In 2017-18, BSC students took out about $7.2 million in loans, down from nearly $9 million in 2013-14, according to college data. From 2016 to 2017 academic years, students borrowed about $460,000 less in loans.
BSC Pell Grants vs. loans
| Year | Pell | Loans |
| --- | --- | --- |
| 2011-12 | $4,665,460 | $11,674,789 |
| 2012-13 | $3,687,163 | $9,785,998 |
| 2013-14 | $3,270,133 | $8,990,796 |
| 2014-15 | $2,618,205 | $7,815,263 |
| 2015-16 | $2,420,553 | $7,124,514 |
| 2016-17 | $2,456,373 | $7,624,247 |
| 2017-18 | $2,667,341 | $7,160,976 |
Scott Lingen, the college's director of financial aid, said the decrease is not attributable to fewer enrolled students at BSC, which has seen a gradual decline in enrollments since 2011-12.
"I hope it is students getting smarting and catching wind of everyday in the news ... the student loan debt crisis," Lingen said.
Over about the past decade, BSC has seen students borrowing less. Lingen said he believes this is when student debt "started becoming a national issue." Since then, the college has worked to educate more students about responsible borrowing and money management.
"Anytime staff in this office get a chance to visit with a student we always talk about borrowing wisely, borrowing less, apply for scholarships. Think about other ways you can pay for college without borrowing loans," he said.
Federal data released in January also shows that the overall rate of student borrowing nationwide has lowered in recent years. The National Postsecondary Student Aid Study, a four-year survey of undergraduate and graduate students, found that in 2015-16, 38 percent of undergraduates took out loans, compared to 42 percent in 2011-12.
While student loan borrowing has decreased at BSC in recent years, the college has also seen less federal Pell Grant funding for students, which is the largest need-based college grant program.
In 2017-18, students at BSC qualified for about $2.7 million in Pell Grants, compared to about $3.3 million in 2013-14. Lingen said he's not sure why Pell Grants at the school have decreased, but suspects it could be tied to local economic growth.
The average Pell Grant at BSC was $3,668 last year, according to Lingen. And only about 15 percent of students at the school are eligible for the federal grant, a number Lingen said he would like to be at 25 percent.
DeVos called for increased partnerships with colleges to improve financial literacy, a move Lingen welcomes but personally believes isn't the only solution.
"It's great that (the Department of Education) acknowledge that it's a crisis and young people are graduating with burdensome debt, but they could also do a little bit more in increasing their grant assistance programs to include mores students and increase the dollar amounts that they're eligible for," Lingen said.
Borrowing less is possibly a common sentiment at BSC. While studying in Schafer Hall late last month, Eleanor Bierman and Mason Boehm said a lot of students at BSC attend the school to avoid costly tuition at four-year colleges.
Bierman, 18, said she got a one-year scholarship to attend BSC, and after that she plans to get a job to avoid taking out loans — a lesson she said her parents learned the hard way, with her father taking out significant loans for veterinarian school.
"I can remember when they paid off all my parents' student loans," she said.
Boehm, 20, works several odd jobs to pay his tuition, including construction jobs during the summer, farm work and truck stop maintenance. He hasn't taken out any loans.
"You always hear from people that they have to spend 10 years paying off their loans, and it's just something I don't want to be a part of," he said.
Lingen said college financial aid staff will continue to educate current and prospective students every chance possible.
"Be more responsible now while you're a student. Think about your future when you graduate," he said.