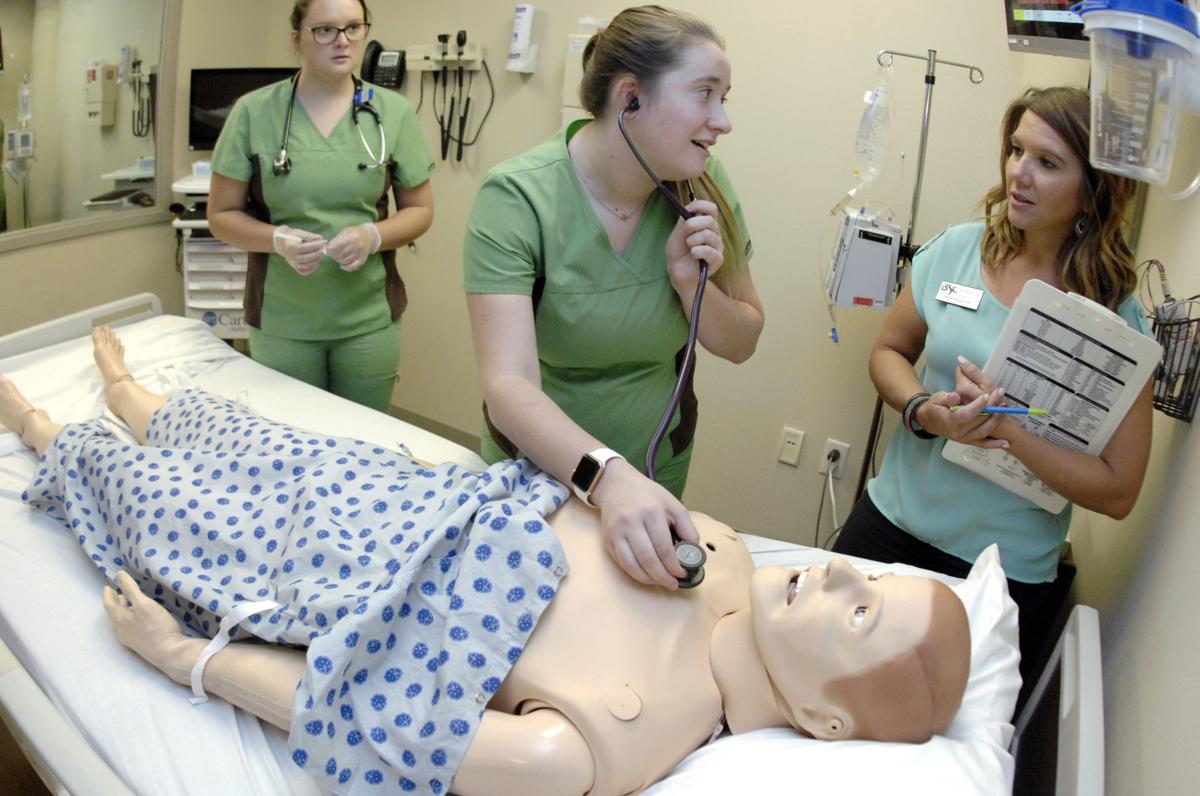 Bismarck State College's nursing program is investing in a new high-fidelity mannequin to better train rural nurses.
The nursing program recently received a nearly $100,000 grant from the U.S. Department of Agriculture to purchase a new life-like mannequin and a vehicle that will travel to students in medical centers in Hazen, Harvey, Ashley, Garrison and, starting next fall, Hettinger.
BSC is part of a statewide nursing consortium called the Dakota Nursing Program, which includes Lake Region State College, Williston State College and Bottineau State College.
BSC currently has five high-functioning mannequins — a birthing simulator, two adults, a child and a newborn — that are increasingly becoming the norm in nursing education, replacing clinical hours with simulation labs.
In Bismarck, the simulation lab emulates an actual patient's room. On a bed, there's a mannequin that breathes, blinks and can even bleed. Instructors can speak to students through the mannequins and change up scenarios used for training.
In recent years, the program started adding more simulation labs to the training after realizing they're useful tools for students, according to Annie Paulson, director of BSC's nursing program. 
"We started recognizing that the use of simulation is really valuable to be able to find students' areas of strengths (and) areas of weakness, and they can do it in a controlled environment versus actually being with a patient," Paulson said.
At the program's four rural satellite sites, classes are held in local hospitals and taught over interactive video networking.
BSC offers and 11-week licensed practical nursing program and an associate of applied science degree in nursing. Students in either program are required to do more than 140 clinical hours per semester, according to Paulson. Often, students at the rural satellite sites have to travel to Bismarck for clinical experience, she said. For some students, this means a two-hour commute.
The mannequin and the technology that comes with it can cost about $50,000, Paulson said. Rural facilities can't afford that, and the nursing program can't afford to purchase mannequins for all the rural sites.
Instead, BSC will use grant money for a roving simulation lab — a mannequin and lab set up in the back of an ambulance — to bring the training to them.
Paulson said this will ensure students at the satellite sites are receiving the same quality of education as the students in Bismarck, as well as help recruit nurses in rural areas where there are often shortages.
Nursing is one of the fastest growing occupations in the United States. According to the U.S. Bureau Labors Statistics, there will be more than 1 million nursing vacancies by 2024.
Julie Traynor, director of the Dakota Nursing Program consortium, said more nursing schools are using simulation labs as a way to better train students for "high-risk," or high-emotion and life-threatening, scenarios.
In 2015, the National Council of State Boards of Nursing published the results of a survey that found up to 50 percent simulation can be effectively substituted for traditional clinical experience in nursing programs.
"I don't know of any program in the state that uses 50 percent yet, but we're all moving forward, increasing our clinical time with (simulation)," Traynor said.
It hasn't been difficult getting state nursing instructors on board with the simulators, according to Traynor. Once they get some mentoring on how to operate the mannequins and the accompanying technology, they find it's "just like driving a car," she said.
Cheline Winegart is a registered nursing student at the satellite site in Harvey who would benefit from having a mobile simulation lab.
Winegart is a single mom of three young children, who moved to Harvey from Montana for the BSC nursing program. Having not been to Harvey before, Winegart said she assumed she could commute into Bismarck for classes. Instead, she learned she could take them remotely.
Winegart recalled when she and the other Harvey students went to Bismarck in the spring to watch a mannequin simulate birth.
"We were like little kids in a candy shop," Winegart said, of the experience. "It helps build that confidence .... We left there with so much valuable experiences, just being able to do that, to kind of get our feet wet."