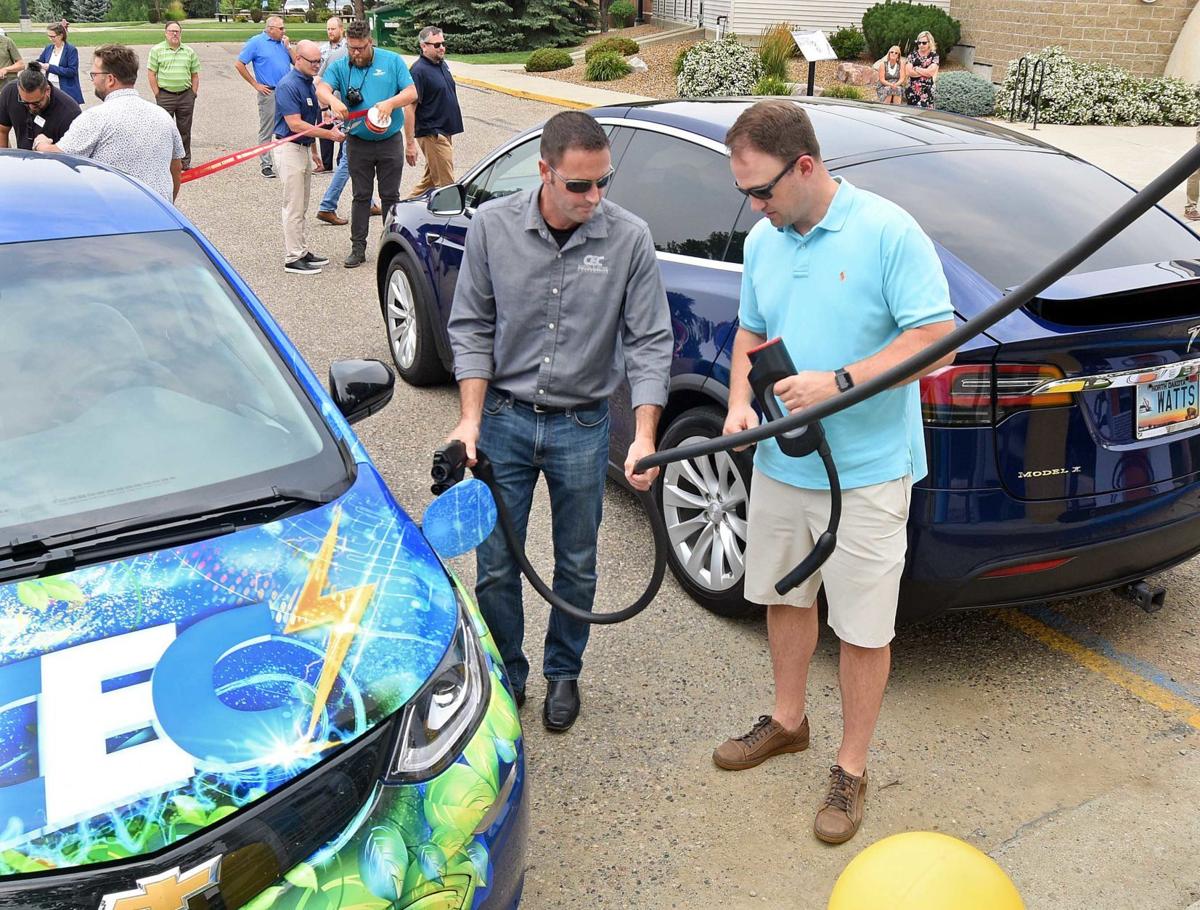 Bismarck is no longer a city without options for quickly charging up electric vehicles.
The city unveiled two fast charging stations Wednesday, one at the Bismarck-Mandan Convention and Visitors Bureau and another at the Bismarck Airport. They can provide a vehicle a nearly full charge in about a half hour.
The stations are the first of their kind in Bismarck. The city has several others, but they are not as powerful and it can take a vehicle a number of hours to fully charge up. Tesla installed a series of fast chargers one year ago near T.J. Maxx in the Pinehurst Square shopping center, but they are not compatible with non-Tesla cars.
Electric vehicle owners can also charge up their cars at home, but that too takes hours.
"We now have laid the groundwork for EV charging to be a connecting point across the region, ensuring EV travel is possible across the entire state of North Dakota," Bismarck Mayor Steve Bakken said.
North Dakota has ranked among the worst states in the nation for electric vehicle charging infrastructure. Surrounding areas such as eastern Montana and South Dakota also contribute to a regional gap.
Electric vehicle drivers from other states have at times avoided driving through the region so not to risk their vehicles' batteries running out of power in the middle of nowhere. North Dakota's bitterly cold winters also mean that the batteries lose their charge more quickly than during warmer parts of the year.
North Dakota had 211 electric vehicles registered at the start of 2021, including 33 in Burleigh County and 10 in Morton County, according to figures from the North Dakota Department of Transportation. The numbers are relatively small compared to most other states, but they are growing.
The new stations in Bismarck were funded by money from a 2016 settlement between Volkswagen and the federal government. The state was awarded $8 million following an admission by Volkswagen that it programmed some of its diesel vehicles to cheat on emissions tests.
The North Dakota Department of Environmental Quality is administering those funds and awarded $205,000 to the city of Bismarck to pay for the two charging stations and a new, more efficient diesel-powered forestry chipper truck. The charging stations and truck came in slightly under budget, City Planner Will Hutchings said.
Using the stations will cost drivers $5 for an initial connection and then another 25 cents per kilowatt-hour of energy used. A full charge could cost about $10. The typical electric vehicle can travel roughly 250 to 300 miles on a full charge.
People who use the charging stations can download the ChargePoint app on their smartphone to pay for charging or use a preloaded card from the company, which maintains a network of charging stations across North America and Europe. The CVB and airport will operate the stations through a relationship with ChargePoint that also involves the city.
Proponents say they expect having fast charging stations in Bismarck will draw more tourists to the region in their electric vehicles. The station at the convention and visitors bureau is near shopping. The one at the airport could draw more travelers to fly out of Bismarck, Airport Director Greg Haug said.
"We've had all kinds of people stop through ours," said Jonathan Fortner, vice president of government relations and external affairs for the Lignite Energy Council, which has a less-powerful charging station in its parking lot north of the Capitol.
The Lignite Energy Council, which represents the state's coal industry, has leased a Tesla Model X for several years and frequently offers rides to people curious about the vehicle. So too does Capital Electric Cooperative in its Chevrolet Bolt.
Both those vehicles were on hand at the CVB on Tuesday to demonstrate how the chargers work.
"This is the first of many stations that we expect to see in Bismarck," said Josh Schaffner, energy services manager with Capital Electric.