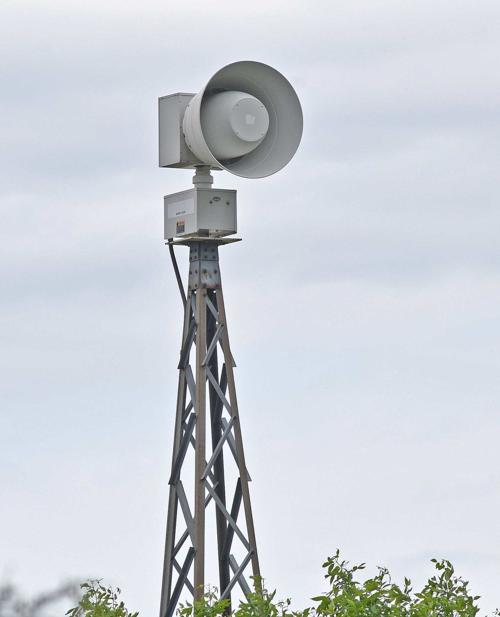 City commissioners have decided to replace Bismarck's ailing outdoor siren activation system that had been experiencing systemwide failures with a more advanced one operated by a different vendor.
Commissioners on Tuesday unanimously approved the lowest bid from Illinois-based industrial equipment supplier Federal Signal. The city will pay the company $168,521 for equipment and installation and no more than $8,000 annually in maintenance and service costs. The annual cost could end up lower, as commissioners ordered the city's emergency manager to negotiate with the company on that figure.
Federal Signal will have 90 days to install the activation system once a formal contract is signed. City Emergency Manager Gary Stockert expects it will be installed by October.
The system that activates the sirens that warn residents to get inside as tornadoes or other hazards approach has experienced five systemwide failures during testing since January 2019, the most recent happening in late May. There also have been issues with individual sirens not activating, including Siren No. 6 near the corner of Wachter Avenue and South Reno Drive, which until recently had worked only a handful of times since January 2019.
City workers can repair and maintain sirens that have power-related or mechanical issues, but a high level of expertise is required to service the radio transmitters that receive the signal to activate the sirens, Stockert said. Local radio vendor Dakota Communications had been relied upon in the past to solve radio-related problems, but issues arose with its service and reliability, Stockert said.
Dakota Communications' Mark Nelson has questioned whether the failures were indeed systemwide. He attributed the failures to "operator error or something else," except for the most recent failure in May, which he believes was a manufacturing defect.
The outdoor warning sirens are activated at the Central Dakota Communications dispatch center, where the sirens' signal is sent out of a base station using software and radio receiver technology, according to Stockert.
The sirens typically are tested at 9:30 a.m. on the last Friday of each month, but commissioners in June ordered weekly tests as a public safety measure. The city's 24 sirens will continue to be tested at noon on Fridays until the new system is installed.
No systemwide failures have occurred during testing since the most recent one in May, and Siren No. 6 successfully sounded three weeks in a row, Stockert said. He's unsure why the system randomly works sometimes and not at others.
"Your guess is as good as mine," he said.
The city's current one-way activation system can only receive signals, not send them back. In order to ensure the sirens were working during testing, Stockert would typically round up some workers from the city's public works department to help him visually monitor about a third of the sirens during tests.
The system that commissioners approved to purchase is a two-way activation system. It will allow the sirens to communicate their status and other information back to the base station, eliminating the need for visual monitoring from city staff.
Commissioners were concerned when they first heard about the siren-related issues in early June and subsequently ordered Stockert to seek bids on an activation system.
A total of four bids were submitted, but two were rejected due to lack of a proper bond. The winning bid from Federal Signal was about $10,000 cheaper than the one from Jamestown Communications. The price came in about $25,000 lower than the estimated cost of $194,000 for a two-way system that Stockert provided the commission in June.
Be the first to know
Get local news delivered to your inbox!