Refugees have been resettling in Bismarck for years, but the issue has caused a stir recently due to an executive order by President Donald Trump that has placed a weighty decision in the laps of Burleigh County commissioners -- should the practice continue?
The issue has led to intense debate on social media, which in the opinions of some has resulted in misconceptions and untruths. The matter could come to a head Monday night, when the commission holds a public hearing and could vote.
President Trump in September issued an order allowing state and local governments to decide whether to receive or reject resettled refugees. Dozens of mayors across the country have condemned the order, and resettlement agencies have sued.
North Dakota Gov. Doug Burgum last month sent a letter of consent to Secretary of State Michael Pompeo to "receive resettlement refugees, in conjunction with the continued assent and cooperation of local jurisdictions in our state."
Lutheran Social Services asked Burleigh County to consent, and the commission was set to vote last Monday. After word circulated on social media, an overflow crowd showed up and the matter was postponed. A few days later, Monday's special meeting was scheduled at 6 p.m. in the Horizon Middle School cafeteria. It will be televised statewide by BEK TV.
Discourse has continued in the leadup to the meeting, with some people supporting refugees but others linking them to crime in cities such as Fargo and Minneapolis.
Burgum said in a statement that the governor's office respects the right of local jurisdictions to exercise local control. 
"That being said, we have serious concerns that denying resettlement to a handful of well-vetted and often family connected refugees would send a negative signal beyond our borders at a time when North Dakota is facing a severe workforce shortage and trying to attract capital and talent to our state," Burgum told the Tribune.
Former Bismarck Police Chief Dan Donlin said he is unaware of a crime committed by a refugee in Bismarck during his tenure as chief between 2013 and 2018.
"I have not seen anything in my experiences that would make me (concerned) that we have refugees, immigrants or new Americans who are out there just committing a bunch of crimes, like some people are fearful could happen," said Donlin, a board member of Bismarck Global Neighbors, which helps refugees adapt to life in Bismarck.
State Rep. Rick Becker, R-Bismarck, in a video stream on social media said refugees generally don't choose whether to come to the U.S. -- the choice of location is made for them.
"They are probably going to hold on to those values and that means that they are going to be isolated from society; that means they are going to be disaffected from society, feeling like outcasts because this is not what they actually wanted anyway," he said, adding that he was speaking 'as a generality.' "Now when you are disaffected and isolated, that brings about more social problems, it brings about more crimes."
Refugees living in Bismarck dispute that, and say all they want is a better life.
Merci Ndaberewe
Bismarck State College student Merci Ndaberewe, 22, moved to Bismarck in 2016 after fleeing violence targeting his Banyamulenge tribe in the Democratic Republic of the Congo. He also experienced poverty in his hometown.
"I used to eat once a day, for six years," Ndaberewe said. "My mom would find a meal, and then she cooked. And then we would have to split a little so each person could get a meal." 
After he applied for refugee status in Kenya, the United Nations interviewed him four times -- information that ended up with Lutheran Social Services.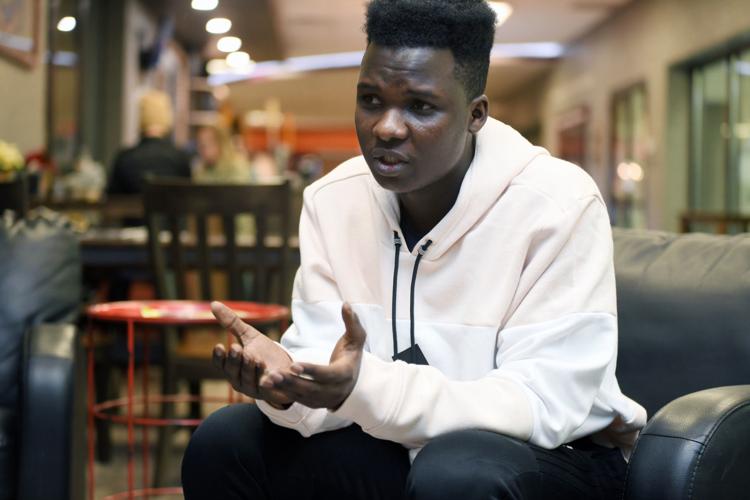 Ndaberewe was never given a choice on where he would be resettled. He enrolled at Bismarck High School as a senior, able to speak only Swahili fluently. He had to learn English with one year left to graduate. 
"It was just magic," Ndaberewe said. "It was super incredible, man, but I did it." 
He worked with an English Learners resource teacher, Bryce Streed, on his pronunciation and reading skills every morning before school.
"It was my choice," he said. "I had to take a book and read pages one-on-one with him. We'd start and he would watch how many words I'd hit in one minute." 
When Ndaberewe would return home, he'd watch "The Daily Show with Trevor Noah" to expand his vocabulary. He learned conversation skills by playing pick-up basketball games at the Missouri Valley Family YMCA. Ndaberewe, a Christian, also sometimes attended a youth church program at the Capital Christian Center on Wednesdays to put his English skills to the test.
"I'd have to keep talking, talking, talking and make mistakes. Sometimes they'd laugh at me," Ndaberewe said. "It's God's purpose, you know."
Ndaberewe excelled in soccer, playing as a forward during Bismarck High School's successful campaign in 2017 to win its fourth state championship. 
You have free articles remaining.
He was one of 70 Congolese refugees to be resettled in North Dakota -- 19 in Bismarck -- during the 2016 fiscal year, according to the U.S. State Department Refugee Processing Center. Out of the 202 refugees who have arrived in the state since 2018, more than half came from the Democratic Republic of the Congo.
Ndaberewe was not aware the county was considering whether to continue accepting refugees until reporters began contacting him. He plans to attend Monday's meeting.
"Let people come here, let people live their dream, let people achieve their goals and contribute to the country," he said. "If we all do work, all pay taxes, all receive tax returns, we will see our country prosper."
Muhannad Toshi
Bismarck resident Muhannad Toshi, 54, who is a Christian and wears a cross around his neck, said he left Iraq as a refugee due to fears about religious persecution. 
He went with his wife and two daughters to Turkey, where they applied to become refugees. Like most other refugees, he never chose to be resettled in America.
However, "If they (had) given me three choices, I (would have) said: 'The first: America; the second: America; and the third: America," Toshi said. 
A United Nations representative interviewing him asked him where his relatives were. He said he has a brother and sister in Bismarck, which led his case to be forwarded to Lutheran Social Services.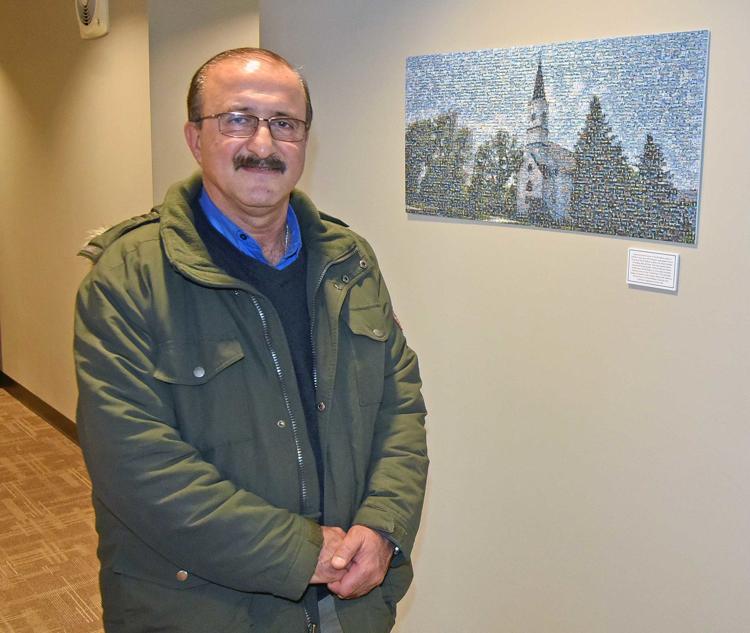 Toshi's family moved to Bismarck in 2014. The nonprofit told him to find a job as soon as possible.
It took him and his wife one month and 27 days, he said. Lutheran Social Services officials helped them apply at Walmart, and they also helped them with their interview, translating the questions and their answers. 
Toshi and his wife have worked there since. He started his career stocking shelves at the chain in north Bismarck before being promoted to cashier in about 14 months. His wife works in the bakery department. His oldest daughter found a job working for a car rental service at the Bismarck airport.
His youngest daughter worked alongside him as a part-time cashier at Walmart while attending Bismarck High School to help save for her university education. She graduated from Bismarck State College and, this year, the University of Mary with a business degree. Today, she continues to work at Walmart as she pursues her next career move.
Toshi takes pride in his work. He wears a silver watch, which he checks for his next shift. One of his proudest moments working for Walmart was this year when his manager texted him with a screenshot of a post from social media -- a selfie a customer had taken with Toshi smiling in the background.
"We are at Walmart everyday! Seriously everyday! Muhannad is always smiling and waving across the way to say hi when we come in. It's people like this that makes my trips better," the post read.
Berivan and Abdullah Ali
Both Toshi and Ndaberewe have lived in Bismarck less than a decade. Berivan and Abdullah Ali lived in Bismarck for more than 40 years before moving to Kansas City this year to be closer to their grandchildren. Both are retired and United States citizens.
Unlike most other refugees today, they picked North Dakota, expecting a similar environment to what they were used to in Kurdistan, tucked in the Zagros and eastern Taurus mountain ranges in the Middle East.
"We came for the mountains. We couldn't find the mountains in North Dakota, but we found hearts bigger than mountains," Abdullah Ali, 73, said.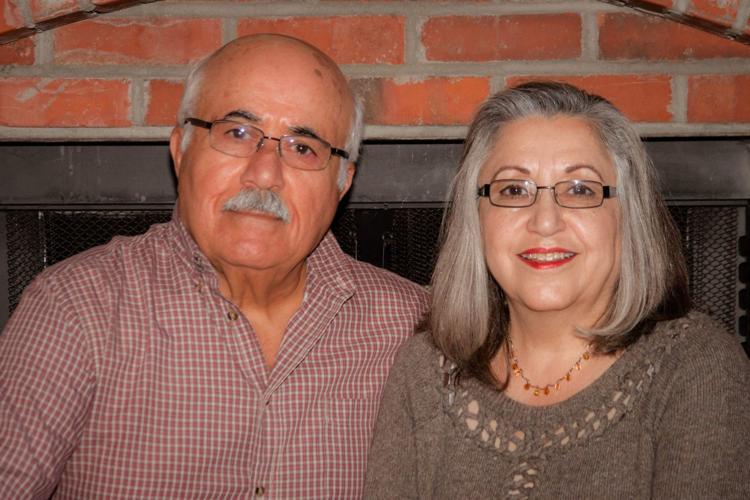 Berivan Ali, 63, spent most of her time in the Bismarck area working as assistant librarian in an elementary school, where she enjoyed recommending books.
"Even if they didn't want to check out that day, they come and tell me what the day is like, for example, or what they did," she said of the students. "It was just lovely to hear their voices."
Abdullah Ali started his career working in construction, despite spending years working as an English teacher and as a principal in Kurdistan, before the couple left as refugees in 1975 -- the year the Kurds were defeated in the Second Iraqi-Kurdish War.
"I used to come home from work and my wife would cry because of all the dust and all the stuff," Abdullah Ali said. "Before, I had to wear suits and ties, but that was all behind us."
He added: "My philosophy was, and still is: If I was a king back there, I am a refugee now," he said. "I have to provide for my family. Whatever job I could find, I would do."
After about three months, Abdullah Ali joined Community Action, a social services organization, working for its energy efficiency programs. Over 36 years, he worked his way up to eventually lead the organization's weatherization program, which provides energy conservation services to low-income homeowners and renters in the Bismarck area.
"The ones who are against (refugee resettlement), they don't understand what the role of refugees is in this community," he said. "They hear from the news (refugees) are takers. There's no refugee who's a taker. They come here, and they are the first ones to work."​