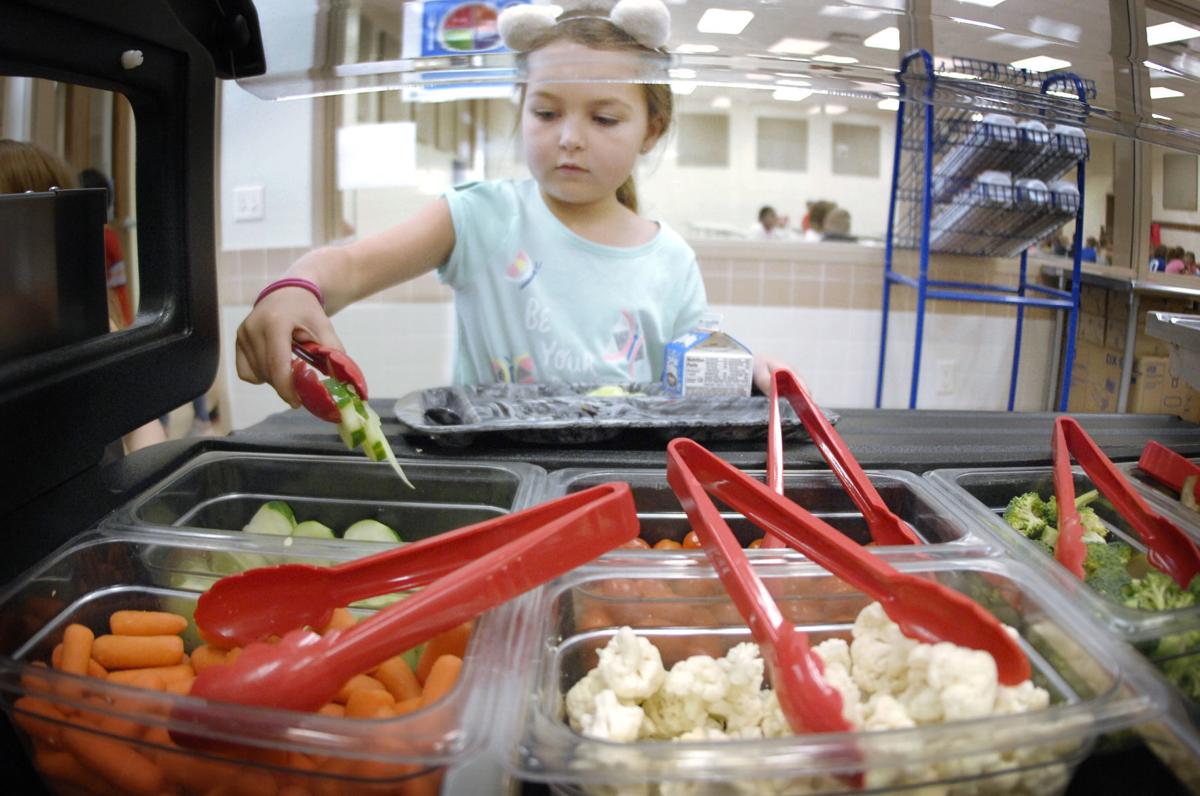 Bismarck Public Schools started a new program this year to get more fresh, locally produced foods onto students' plates.
BPS partnered with a local farmer who provides 75 pounds of cucumbers each week to the district's elementary schools. Next school year, the district hopes to get more farmers involved and even more locally produced fruits and veggies in school cafeterias.
"I think it's such a win-win for getting kids to have produce that's local. It's going to be fresh, it's going to taste better, and then it also helps the local economy," said Michelle Wagner, BPS child nutrition director.
Wagner said she put out a request for proposals for farmers — a list of fruits and veggies that grow well in the area and would go over well with the students. Mary Podoll and her son, Jared Stoll, and his wife Ashley, filled out an RFP for the cucumbers and grape tomatoes, and they were selected.
Podoll said she, her son and his wife farm on 80 acres of land northeast of Bismarck. They grow peppers and tomatoes, as well as a variety of crops to sell at farmers markets. This is their first year farming.
"The school district has been wonderful, because if anything could go wrong this year, it has," said Podoll, who said their grape tomatoes didn't produce as well as they hoped this year.
But, each week they've hauled in 75 pounds of cucumbers to the elementary schools and will continue to do so until the end of this month. Podoll and the Stolls also will host students at the farm this fall and possibly summer, where students get to see firsthand where their food comes from.
"I think it's a very good way to highlight that healthy foods lead to healthy nutrition," said Podoll, who hopes they can plant according to what the district needs again next year.
At Miller Elementary School in Bismarck this week, first-graders lined up to grab freshly sliced cucumbers. Wagner said they're a hit with the kids.
Deb Egeland, assistant director of child nutrition with the North Dakota Department of Public Instruction, said, in addition to supporting local farmers, there's an educational opportunity in Farm to School programs for students through field trips and other activities.
Egeland said she first applied for a USDA Farm to School grant in 2015 to put on conferences promoting the program. In 2016, two conferences were held in Bismarck and Fargo.
Last year, Egeland applied for another grant to promote awareness of Farm to School initiatives, as well as allow food specialists to go to schools to help get the program off the ground and other subgrants for districts. West Fargo and Jamestown school districts each received a grant. Jamestown got a salad bar, and West Fargo received a bagging and sealing machine so they can stock up on fresh carrots, corn and potatoes this fall and then freeze them.
Egeland encourages districts to put out RFPs to work with local farmers, which would let farmers know ahead of time how much produce they need. DPI also has been working closely with the state Department of Agriculture to find more farmers to work with.
"That's kind of been our missing piece, connecting farmers to schools," she said.
Egeland has found that larger districts in the state have been reluctant to start Farm to School programs because they have larger orders to fill compared to smaller districts.
She suggests that districts start small, maybe even working with a farmer for just one or two schools, and go from there. Districts also could experiment with freezing produce.
"All this food we have in our state, it's ridiculous that our food would get trucked in from 3,000 miles away," Egeland said.