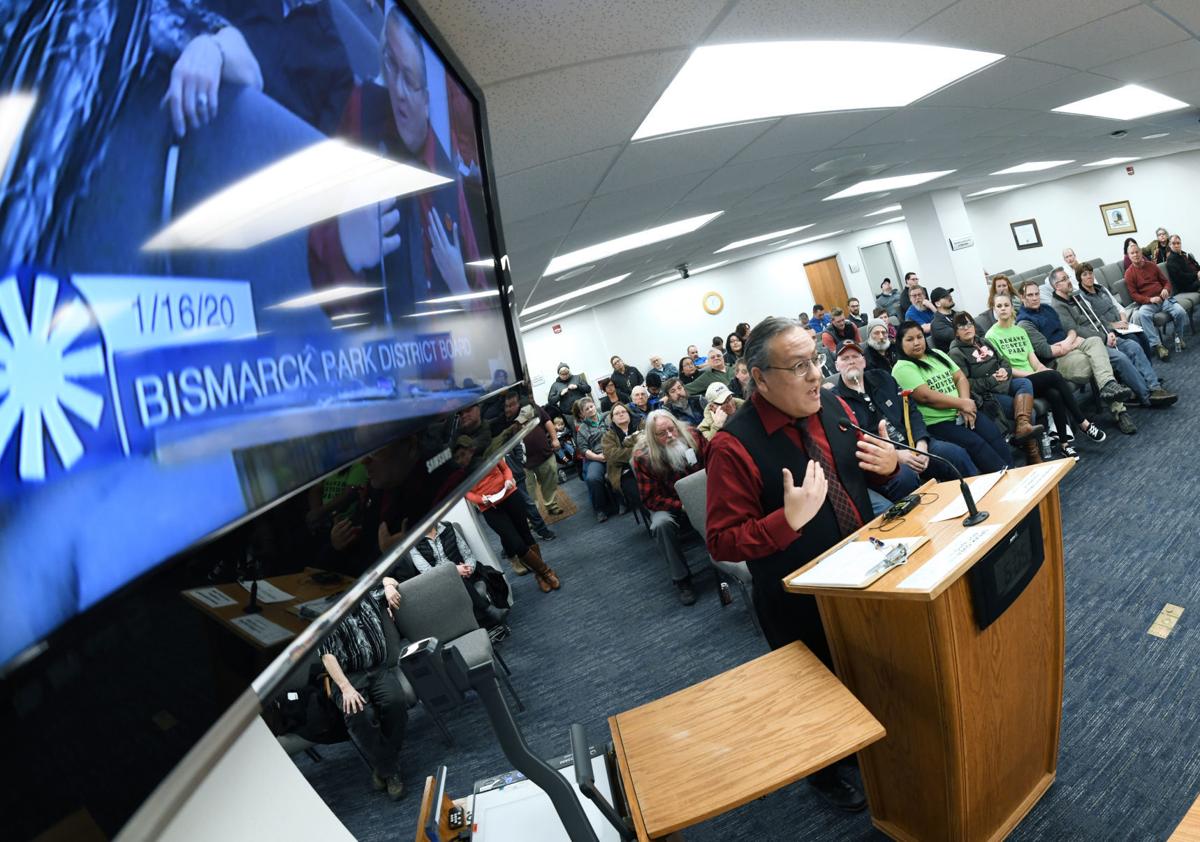 Bismarck Park Board members delayed taking action Thursday on a request to rename Custer Park after hearing passionate testimony from both sides.
About 110 people attended the meeting, with more than 20 members of the public weighing in whether to remove Lt. Col. George Armstrong Custer's name from a park near downtown.
The Bismarck Park Board decided in December to create a formal process to rename city parks. Guidelines are expected to be presented at a board meeting in February and would include details on what names are acceptable.
Two people opposing the name change said Custer's military experience during the Civil War made him a hero, suggesting his service may have brought a Union victory. Jeff Hoffer, a former historian of Fort Abraham Lincoln State Park, was one of them.
"We once lauded Custer for his accomplishments. During the Civil War, Custer was the iron that blocked Jeb Stuart's cavalry hammer against Robert E. Lee's infantry at Gettysburg in July of 1863," Hoffer said. "Such an outcome may have prevented any hopes of Union victory if the Union lost."
Two people in favor of renaming the park recommended changing the park's name to reflect Irish immigrants who used the park in the past. Bismarck resident Ann Vadnie said early residents settled near Custer Park and called the land "Kerry Patch."
"I just wanted to be one to let you know that little piece of green that a lot of those people probably thought was their 'new Ireland' in their adopted land and their adopted town of Bismarck has other historic things about it that a lot of people don't know," Vadnie said.
The request to rename the park was filed to the board by two Bismarck residents, Ali Quarne and M. Angel Moniz. Both are members of the "Rename Custer Park" Facebook group.
Moniz asked people in the community to stop messaging her "hateful comments."
"Right here in our state, Sullys Hill has been renamed. We need to move forward," Moniz said. "If there is one thing that you hear to tonight, you hear a great divide in opinion. This is not creating a closer-knit community, this is causing more divide. What can we do to move us all forward and bring us all together?"
Cheryl Kary, who is a descendant of the Dakota tribe, also spoke in favor of renaming the park.
"My people that Custer killed on his many campaigns to glory were permanently erased from history, and we are not allowed to have a future or to leave the history. I don't see the history being the concern," Kary said. "My people who survived the erasure of their very lives have not been preserved in the history books, not our perspective, not our grievances."
Turtle Mountain Band of Chippewa Chairman Jamie Azure spoke in favor of renaming the park.
"All we ask is that there is respect shown. It's 2020, we are in a data age. We can figure out the real facts of history with the click of a button," Azure said.
Custer rose to fame as a young Union Army officer during the Civil War. He lived at Fort Abraham Lincoln near present-day Mandan for three years before he was killed along with his men at the Battle of the Little Bighorn.
Custer fought against Native Americans on the Great Plains during the 1860s and 1870s. In 1868, he launched an attack on Chief Black Kettle's Southern Cheyenne Village near present-day Cheyenne, Okla., in which Native American women were raped and killed -- an event known as the Washita Massacre.
Bismarck resident Mike Carlson, who opposes renaming Custer Park, mentioned how George Washington owned slaves, and how Washington Street is one of the longest in the city.
"Where does it stop? Can this community afford to rename everything that offends (someone)?" Carlson asked.
Commissioner Mark Zimmerman said he was not ready to recommend a final vote at the end of the meeting.
"I truly think we would be in err to make that decision because if we decide whichever way tonight, we establish a policy, we could be right down to square one on that," Zimmerman said. "Allow us to determine a policy, it will come to the board."
Commissioner Mike Gilbertson said he doesn't think "one group of people should be allowed to tell another group 'you should feel this way.'"
"Here in the city of Bismarck we desperately need and, as a community, are hungrier for a coming together, which is bigger than the name," Gilbertson said. "There needs to be steps taken to come together as a community, everybody, because when we come together as a community, the community does better."
Be the first to know
Get local news delivered to your inbox!