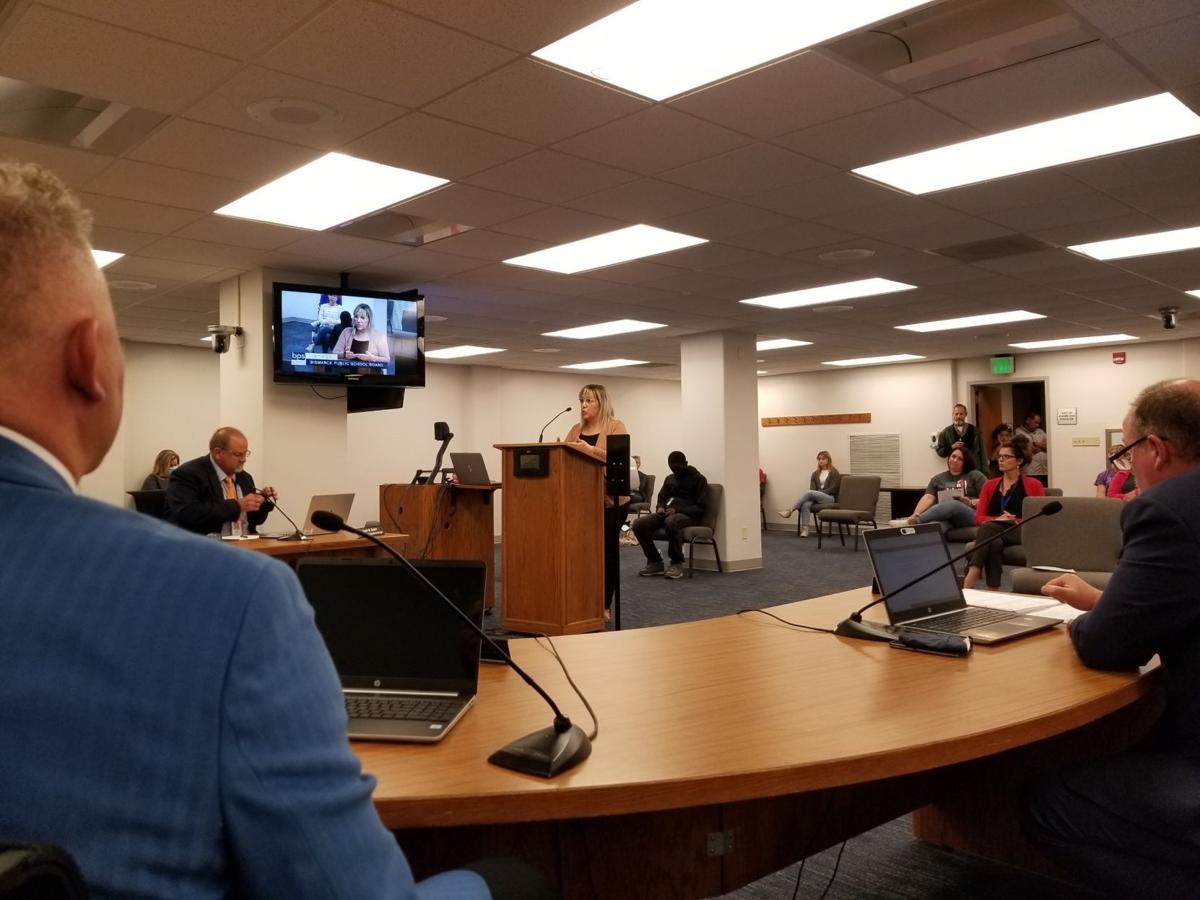 The Tom Baker meeting room at City Hall was at maximum capacity for about an hour and a half Monday night as people spoke against the Bismarck school district's mask requirement and detailed difficulties with distance learning.
Bismarck Public Schools began the year under a hybrid format, in which students are split into two groups that alternate between in-person and distance learning. The district also requires a mask to be worn on school property when social distancing isn't possible.
Lisa Klein, mother of a middle schooler and a high schooler, said her sons' mental health has gone downhill over the past year and they've both asked to be put back on ADHD medication so they can handle distance learning days.
"He looks at his distance learning plan that he gets on Mondays, and he's so overwhelmed when he gets home Tuesday that he doesn't even know what the teacher said," Klein said.
Legacy High School parent Justin Sabo said his daughter's education has been suffering due to hybrid scheduling. He also was critical of the mask requirement, saying that students are at low risk of being seriously impacted by COVID-19.
"This comes down to personal choice. Mask mandates and modified school schedules are only succeeding in making kids fearful of a virus that has over a 99% survival rate," Sabo said. "We ask that you let the families decide for themselves and get the kids to face-to-face learning."
Other parents who spoke also mentioned students' declining mental health and well-being related to masking, missing out on homecoming and other school events and not being able to see friends due to hybrid scheduling. Several referenced the recent suicide of an 8-year-old boy in eastern North Dakota.
The few students who spoke during the meeting were upset about issues including a lack of instruction time with teachers, breathing issues from wearing a mask during gym class and recess, back pain from carrying their books all day due to locker closures, and mental health concerns from a negative school environment caused by COVID-19.
Board members took the issues under advisement but did not immediately discuss any of them.
Superintendent Jason Hornbacher later in the meeting acknowledged that some students have struggled with the distance format but said he stood by the decision.
"Has it been perfect? No. Is there room for improvement? Yes," he said. "But the whole purpose for that was to make sure that we opened up in a platform that was safe until we could find enough additional information."
The district has now received that additional information in the form of county level data on coronavirus and the district's own internal COVID-19 dashboard, which was rolled out online last week. Hornbacher referenced low COVID-19 cases among the student population when he announced last week that elementary schools in the district would resume full time, face-to-face instruction starting Sept. 29.
Mask mandates have been a contentious topic within the Bismarck-Mandan community in recent weeks as active cases continue to rise. Burleigh County on Monday led the state with 513 active cases, and Morton County was fifth-highest with 216, according to state data.
A recommendation from the Burleigh-Morton COVID-19 Task Force for local government boards to discuss the topic of requiring a face covering in public brought throngs of people, both for and against masking, to local government meetings last week. The Morton County Commission rejected a mask requirement, and Bismarck city commissioners let the topic die for lack of a motion.
The Burleigh County Commission plans to discuss a mask mandate on Wednesday. Mandan Mayor Tim Helbling last week said the Mandan City Commission had no plans to discuss a mask mandate at its meeting Tuesday. There is no mask item listed on the agenda.
Be the first to know
Get local news delivered to your inbox!