Hundreds gathered in downtown Bismarck Saturday to honor the life of George Floyd and show solidarity with others around the country who are protesting his death.
The event began with the group lining opposite sides of Front Avenue near Peace Park, chanting for justice for the man who died in Minneapolis police custody earlier this week.
Protesters later walked through downtown Bismarck and toward the Capitol, carrying signs such as "I can't breathe," "Justice for George" and "White silence = violence."
"George Floyd was the tip of the iceberg," said Kumbia Johnson, 16, of Bismarck. "This is going to start something big. And it should've happened a long time ago."
In the beginning, Bismarck police were monitoring but did not have a visible presence. But as participants began blocking traffic, patrol cars followed the group and prevented traffic from coming down side streets.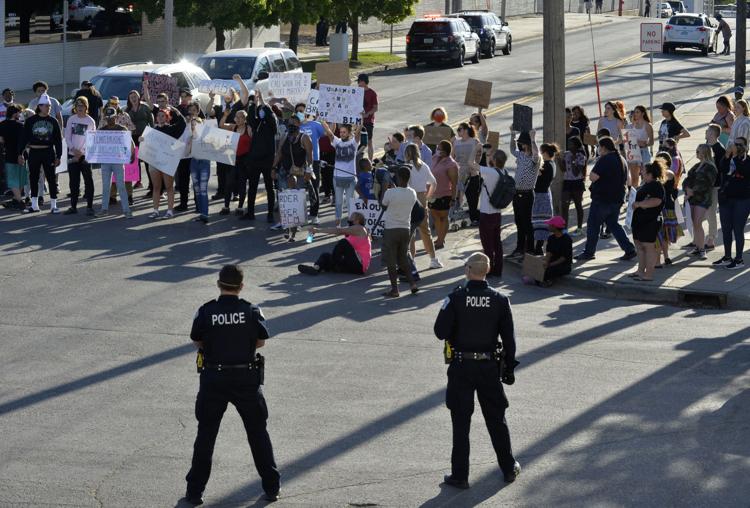 The officers, who were not wearing riot gear, stood silently outside of their vehicles as they monitored the participants. As of early Saturday evening, Bismarck Police Sgt. Darrin Heinert said the only issue reported with the protest was people blocking traffic.
Karen Clayton of Bismarck, who held a Black Lives Matter sign, said the event allowed people to share their grief and frustration and show solidarity.
"I'm really encouraged that so many people have come out to show support," Clayton said. "We all want justice, we want to be seen, be heard and be respected."
Amanda Harris, who said she sees injustice in her local law practice and is part of an interracial family, said she and her husband, Bryan, wanted to participate as a family to show their children it's important to stick up for one another.
"Enough is enough," said Bryan Harris. "It's time to start taking a stand."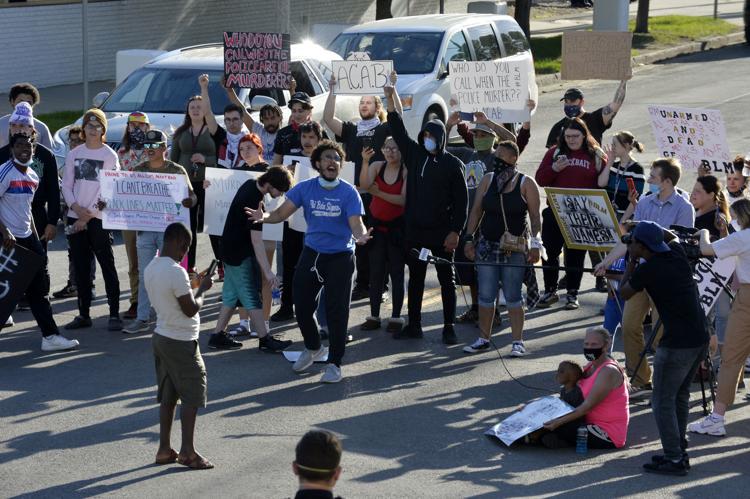 Alex Granfor of Dickinson said he was glad to see people of all ages and races participating in the Bismarck rally.
"Our voices need to be heard," Granfor said.
Allison Miller, 17, Bismarck, held a sign with names of people who have been killed by police officers.
"People should have been this outraged long ago, and I think they have been but I think that they have been fearing what could happen," Miller said. "Now, that fear is gone."
The event began with about 250 people around 4 p.m. near Peace Park, with more people coming and going into the evening hours. Participants marched around the state Capitol area before coming back downtown.
Around 7 p.m., as many gathered to hold a vigil in Peace Park and later a silent protest, another group down the block yelled obscenities at police who stood on the opposite side of the intersection.
Patrol cars formed a barricade that sealed off Front Avenue from traffic. Bismarck police were assisted by the North Dakota Highway Patrol and Burleigh County Sheriff's Department.
Katie Winbauer, who lives near the Capitol, said she witnessed a scary moment during the protest when she was outside of her home. Winbauer said she saw the passenger of a pickup point a gun at the protesters for less than a minute before pulling the weapon back into the vehicle. The pickup, which displayed a Confederate flag and a Trump 2020 flag, sped off in reverse, turned around and drove away.
Winbauer said she did not report the incident to police.
"I was honestly kind of in shock," she said.
Meanwhile, a protest in Fargo turned violent Saturday night, with Fargo police tweeting about 8 p.m. that tear gas was being deployed to disperse protesters. Fargo police also urged the public to avoid downtown and said on social media the protesters were throwing rocks at officers and had tipped dumpsters.
Be the first to know
Get local news delivered to your inbox!