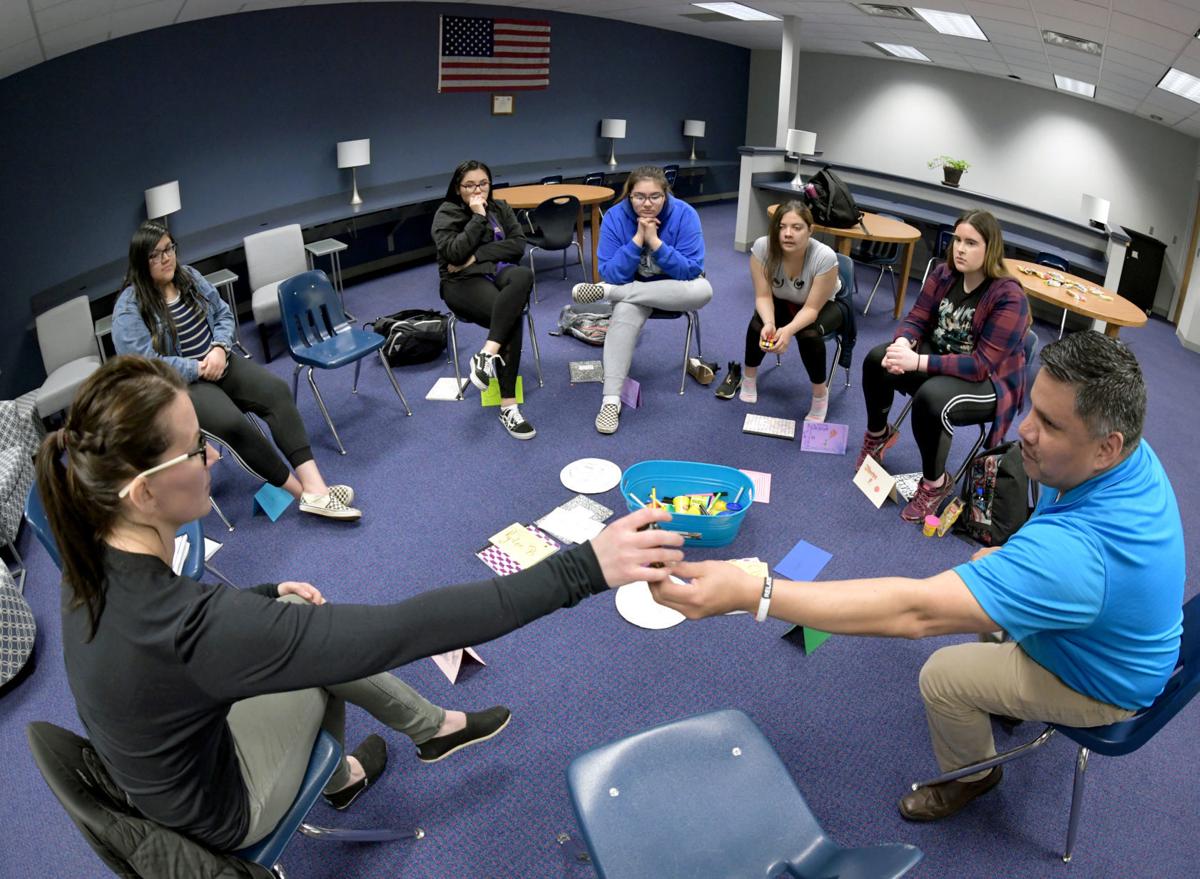 Transferring to Century High School this year was difficult for Deanna E. Milda.
Milda, a sophomore, attended schools on the Standing Rock Indian Reservation since second grade. Starting at an urban school was tough, particularly when policies varied.
"Sometimes, I feel like schools in the area are a little more black and white," she said last week, during a support group for Native American girls at Century. "I'm used to the rez school, where they understood if there was a suicide or something, (they'll) give you time ... they worked out something for me."
Crystal Dacar, an employee with Lutheran Social Services' restorative justice program, which aims to help at-risk kids, told Milda school policies often differ, but that doesn't mean she can't reach out for help.
"If you ever run into issues like that, talk to him," she said, referring to Bismarck Public Schools' cultural responsive coordinator, Donovan Lambert.
Lambert is one of two coordinators hired this year to support Native American students. Lambert and the other coordinator, Sashay Schettler, work one-on-one with Native American students and their families to help them navigate the school system, which can be difficult when moving from a reservation.
In Bismarck Public Schools, Native Americans make up about 9 percent of the student population. Yet, these students are disciplined in school at a far higher rate than their white peers, according to federal data.
In 2015, about 33 percent of Bismarck students who received out-of-school suspensions were Native, and about 67 percent of Bismarck students expelled were Native, according to data from the U.S. Department of Education's Civil Rights Data Collection.
Superintendent Jason Hornbacher said hiring cultural responsive coordinators is one way to address those discrepancies.
"I feel these positions meet a need not only for our schools, but our Native students," he said.
These positions are not new and may exist at other schools but under a different title, according to Lucy Fredericks, director of North Dakota Department of Public Instruction Office of Indian and Multicultural Education.
These positions help raise awareness about the Native American population in the state, can make students feel more comfortable and assist teachers in building relationships with their students, Fredericks said.
The cultural responsive coordinators are funded by federal grant money. Last fall, the district hired one coordinator, but he resigned after finding another job, according to Chadwick Kramer, coordinator of the district's Office of Indian Education.
Instead, district officials were able to use the funding for one position and create two, Kramer said, adding that the coordinators fill gaps in schools where there are no parent-family liaisons.
Both Lambert and Schettler started around late November.
Lambert has been with Bismarck Public Schools since 2016. He has a bachelor's degree in education from Minot State University and worked at United Tribes Technical College's admissions office for several years before starting as a teacher's aide at Dorothy Moses Elementary School. He also is a member of the Spirit Lake Tribe.
"Once I saw the (cultural responsive coordinator) position, I thought that's something I've kind of been doing already," said Lambert, who works at Jeannette Myhre Elementary School, Pioneer Elementary School, Legacy High School and Century. 
Schettler grew up in Bismarck and graduated from Bismarck High School in 2012. A member of the Three Affiliated Tribes, she has a bachelor's degree in American Indian studies and a minor in history from the University of North Dakota.
"This position was literally a dream job for me with my background and having a lot of people question what I was going to do with an American Indian studies degree," said Schettler, who works with students at Moses Elementary School, Northridge Elementary School, Will-Moore Elementary School and Horizon Middle School.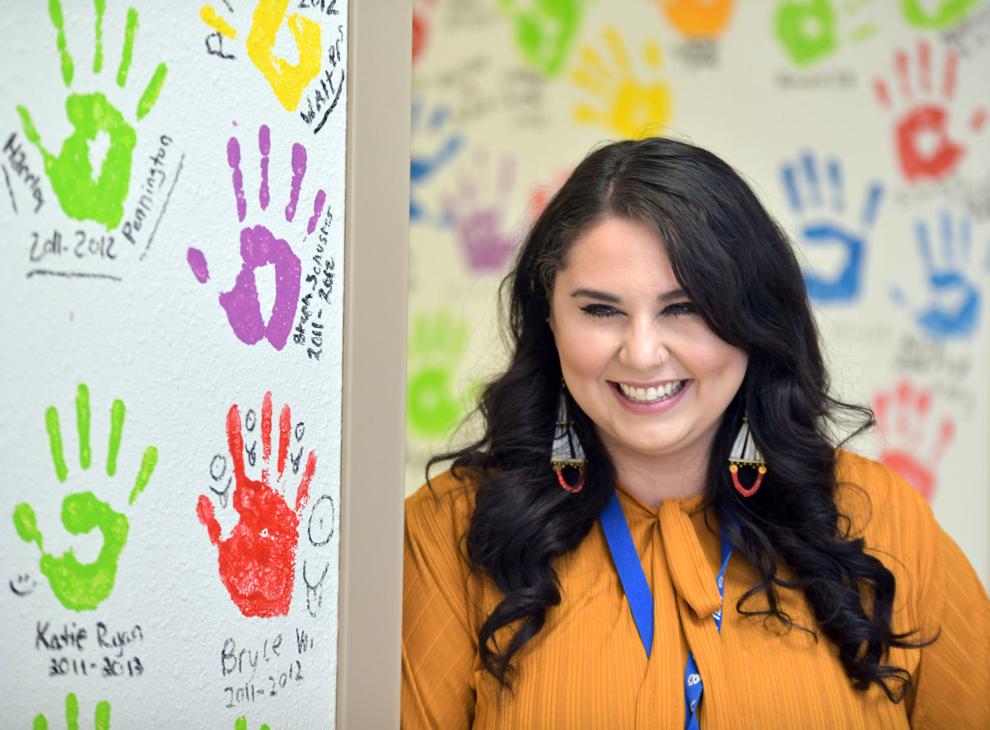 Both Lambert and Schettler say they work well together and are constantly coming up with ideas to better support the roughly 250 Native American students they each work with.
"I'm the good cop, she's the bad cop," Lambert joked. "We both have our strengths."
Growing up in Bismarck, Schettler said she understands the struggles of being a Native American student. She said it was often difficult to connect with teachers.
"For me, personally, I felt that in a lot of instances that they didn't care about where I came from and additional cultural information, which resulted in a lot of misunderstandings and miscommunication," she said.
Schettler said she supports more culturally responsive training for teachers.
"To know where our students come from and to know their unique challenges is important," she said.
Lambert does "circles groups," including the one with Milda and about a dozen other students at Century, as well as at Legacy, once a week. In these groups, students discuss topics such as school policies, race and relationship building.
The students have grown comfortable talking with him about their issues and their culture, he said.
Schettler said she does the same with her students and also teaches them life skills, such as resiliency and dealing with anger, grief and loss.
"If you don't see where our students come from and if you don't see that higher rate of trauma, then they're not going to retain what they're learning in the classroom," she said.
This year, Schettler and Lambert also are helping roll out the Native American Essential Understandings curriculum, which was developed by the Department of Public Instruction in 2015. The curriculum is another way to promote culturally responsive teaching in North Dakota Schools.
Fredericks, director of the state Office of Indian and Multicultural Education, said they're working on a pilot program this year with Myhre, Moses and Will-Moore schools. After the pilot program, they hope to roll out the curriculum statewide.
Kramer said the goal is to hire more cultural responsive coordinators in the years to come. He said he hopes he can get support from the district to make these permanent positions, rather than being tied to federal grant money.
"I really believe the district will see the need at some point and help us," he said.