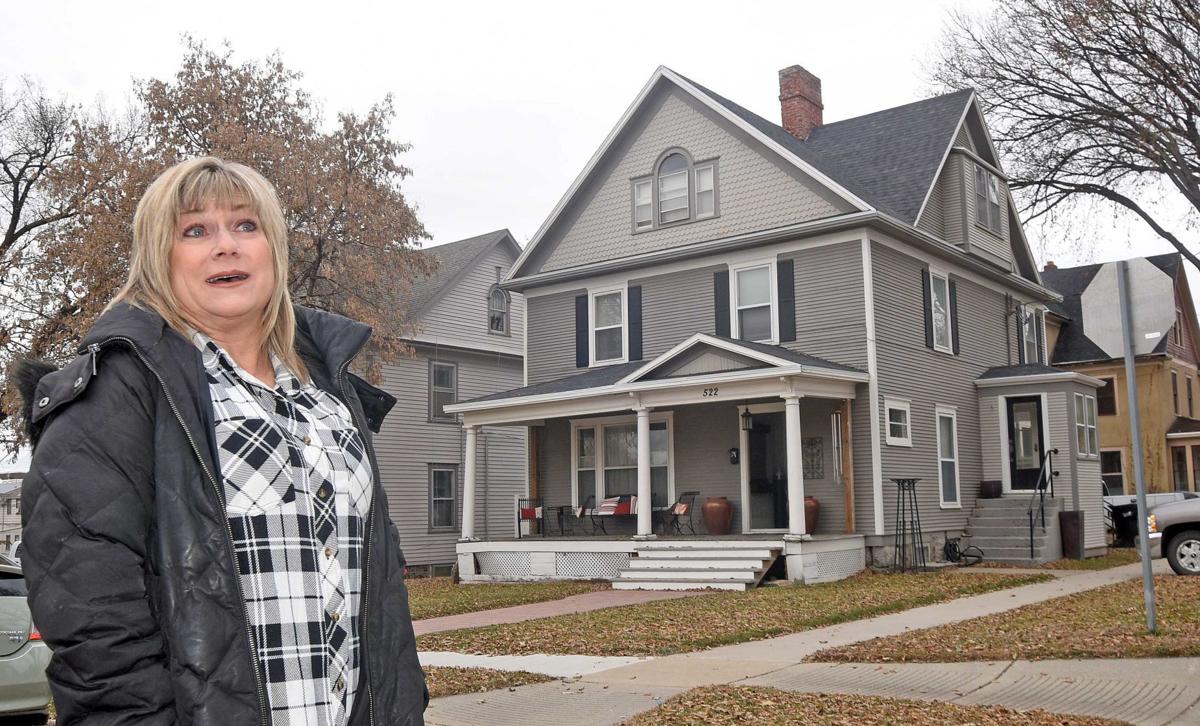 The Bismarck City Commission is considering changing requirements for some downtown single-family residential homes to receive tax breaks for property improvements.
The Bismarck Renaissance Zone Program includes residential areas around East Avenue A and East Front Avenue, as well as businesses along Main Avenue. The zone includes about 50 residential homes, Community Development Director Ben Ehreth said. Only two have received incentives over the past 11 years.
The purpose of the Renaissance Zone Program is to encourage reinvestment in downtown properties by providing property tax and income tax incentives to residents and businesses who invest in their buildings.
The city of Bismarck requires owners of single-family homes to invest 20% of the assessed value of their properties or invest a minimum $15 per square foot to qualify for incentives. City staff is developing a proposal on how much to change requirements for homes in the Renaissance Zone to qualify for incentives.
The Renaissance Zone Authority will hold a public meeting on Nov. 14 at 4 p.m. and then decide how to develop the proposal, before presenting it to city commissioners at a later date.
"The question at hand is how much investment should be necessary to qualify for these incentives," City Planner Daniel Nairn said. "If it's too low, it's too easy to qualify for it and the taxpayers don't receive the return on investment from the exemption they want to receive. If it's too high, the barrier is too high to qualify and it's not effective."
On Sept. 10, the Renaissance Zone Authority recommended the city commission approve one property owner's request to receive a five-year 100% property tax and state income tax exemption after she remodels a porch and replaces windows in her home within the city's Renaissance Zone Program area. 
The proposed project met the program requirements, said Jim Christianson, who chairs the Renaissance Zone Authority. But on Sept. 24, city commissioners rejected the proposal 3-2.
Homeowner Lisa Fleury, 60, told the Tribune that the planned improvements are to be among the finishing touches to eight years of house renovations done with her husband, who died this past summer. A photograph upstairs shows what the house used to look like: The exterior was patched with mold and peeling paint.
Although the total investments Fleury and her husband made throughout the years met the threshold, she said, she didn't request incentives until September because she couldn't afford to invest the required amount for a single project.
"We had to have so much money to put into it in order to qualify; we never had the money up until just recently because my mom had passed away and left us some money," she said. "And so, I finally had enough to be able to do the improvements on my house."  
Mayor Steve Bakken voted against the proposal. He said people shouldn't be seeking tax exemptions for maintaining their homes. 
"That's just something people do anyway. So is that the intent of the Renaissance Zone Program? I don't think so," he told the Tribune.
Commissioner Greg Zenker also voted against approving Fleury's request. He said he is in favor of raising requirements and giving owners a tax break percentage based on the "percentage you put into" the property.
You have free articles remaining.
"They should be raised so that way whatever you are investing in your home is satisfactorily going to be a benefit for the tax break that you are going to get," Zenker said.
Commissioner Nancy Guy voted in favor of granting tax exemptions to Fleury's property because she "fulfilled all the requirements of the program the way it is written." 
Guy said she doesn't yet have an opinion on whether to raise investment requirements to qualify for incentives, but that having single-family homes in the Renaissance Zone "encourages people to live downtown." 
"In order for all the economic development that happens downtown to be made more permanent, you do need to have a certain amount of people living down there to make it stay prosperous," she said.
Nairn said the city commission's decision prompted staff to reconsider the Renaissance Zone Program's requirements for single-family homes. 
"We are looking at the rules in place to make sure going forward we know which requests may be approved and which ones may not," said Nairn.
At the Oct. 22 city commission meeting, staff did not propose new standards but recommended commissioners "provide direction on potential changes" to the Renaissance Zone Program. Bakken said during the meeting that he would like to see the Renaissance Zone Authority "put some numbers together and have a little bit of a better formula for us to chew on a little bit."
"To equate it to a car, you have to change the oil every now and then; with a home you have to do upkeep and furnace upkeep. Where's that line for the return?" he said. "What's the benefit for increasing the value of the house versus what are some of the things that just need be done to the house on typical maintenance and home ownership?"
Christianson told the Tribune that things such as investing in carpeting would not count toward the Renaissance Zone Program for single family homes -- that only structural improvements would.
Kate Herzog, chief financial officer for Downtown Bismarck, a group that advocates for growth and development in the downtown area, during the meeting spoke in favor of keeping existing rules, in part because of a shortage of housing downtown. A recent study conducted by her organization found that 98% of downtown workers -- more than 20,000 people -- commute to work, she said in an interview.
"The investment is probably going to always be more than what is required already. So I don't know if you want to price anybody out (to qualify for incentives) if they don't necessarily need that," she said.
Christianson said Renaissance Zone Authority members didn't discuss lowering requirements during their last meeting, on Oct. 10.
"I didn't hear anybody suggest it be lowered. I don't see that as a result," he said.
Both Fargo and Grand Forks also require single-family homeowners to invest at least 20% of the assessed value of their properties to qualify for Renaissance Zone programs.
Fargo also requires a $25 per square foot minimum investment to receive exemptions for renovations to existing properties. For new residential construction projects, investment must equal $100 per square foot.
There is no minimum investment per square foot required for single-family homes to qualify for exemptions in Grand Forks, Deputy City Planner Ryan Brooks said. He has heard of only one home that received incentives through the Grand Forks Renaissance Zone Program.