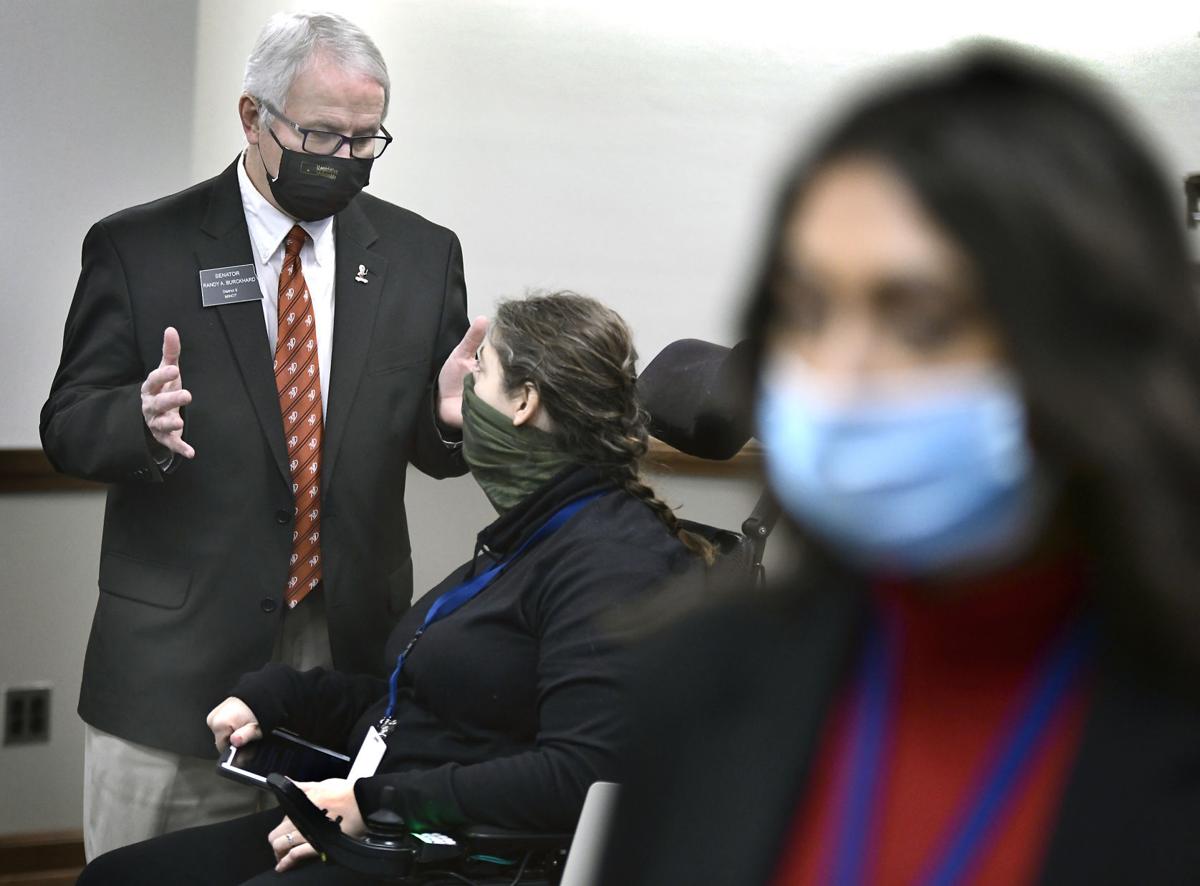 Overdue accessibility improvements at the North Dakota Capitol would get a jolt with hundreds of thousands of dollars proposed in a bill.
After a study of the building, the Legislature's interim Government Administration Committee introduced House Bill 1030. It uses $750,000 from a state building fund to bring spaces of the state Capitol grounds into compliance with the Americans with Disabilities Act of 1990 and install other accessibility improvements, including at entrances, restrooms and various rooms and chambers.
Jillian Schaible, who uses a wheelchair, told the House Government and Veterans Affairs Committee on Thursday that the $750,000 appropriation will help the Capitol come into compliance with ADA standards in effect for the past decade.
She works at the the first-floor information kiosk in Memorial Hall of the Capitol, but has to go to another floor to use a bathroom "because the one where I'm at doesn't work for me," she said.
"You need to let people know that they're welcome here," Schaible said.
Some bathroom improvements for hand dryers "help, but it would be nice that there are more places for people like me to use the bathroom," she said.
Schaible called it "very frustrating" to move around the Capitol "because I feel like I have to announce myself, and I don't want to always make everyone aware that I need to come into a room." She doesn't like to draw attention to herself until she needs to, "but I have to with the way that things are set up right now," she said.
Carel Two-Eagle, who uses crutches due to osteoarthritis, said the Capitol's interior has "still quite a number of things that need attention." She points out bathrooms that don't accommodate people who use wheelchairs, as well as a lack of signs.
"I just can't imagine how people could know about this -- and now you do -- and not do anything about it," Two-Eagle said. She hopes any forthcoming improvements involve people like her and Schaible.
Facility Management Director John Boyle said his office would have the improvements complete by mid-2023, and would immediately begin the work if the bill's emergency clause carries through. An emergency clause hastens when a bill takes effect as law.
Upgrades also would include accommodations for people who are deaf or hard of hearing, such as headphones and visuals, Boyle said.
"We have to think about every impairment and make sure we address every issue," he said.
The committee gave the bill a unanimous do-pass recommendation. The bill now goes to the House Appropriations Committee.