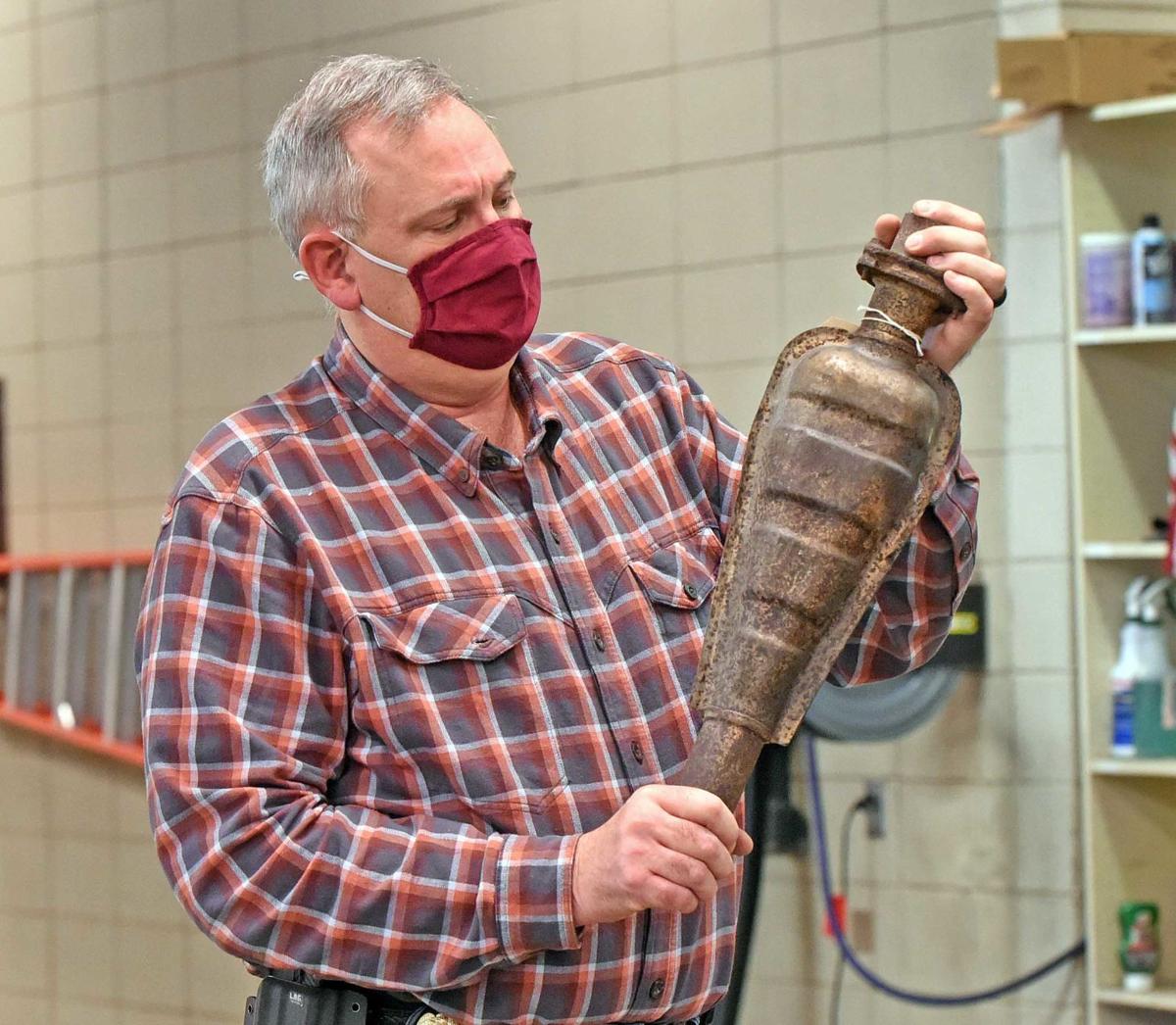 Some precious metals are riding around on the underside of gas-powered vehicles, and a thief with a battery-powered cutting tool doesn't need much time to take them.
A bill before the North Dakota Legislature would restrict the sale and purchase of pollution-reducing catalytic converters. Senate Bill 2242 is an effort to slow the theft of the devices, which are sought for the metals inside them. It came about in response to what co-sponsor Sen. Jordan Kannianen, R-Stanley, called "a growing problem."
"Once it was introduced the different businesses who saw it came forward and were happy with it," he said.
Catalytic converters -- devices mandatory on gasoline-burning vehicles since the mid-1970s -- are a hot item, and not just because vehicle exhaust passes through them. Inside each device is a sort of honeycomb lined with metals such as palladium, rhodium and platinum, which remove pollutants from the exhaust.
Palladium is worth about $2,400 an ounce, said Larry Schneider, owner of Bismarck Gold and Silver Exchange. That equates to about $85 per gram. 
Platinum is valued at about $1,300 per ounce ($46 per gram). Rhodium is worth about $20,000 per ounce ($706 per gram), Schneider said.
Catalytic converters on cars and pickups will contain 2 to 6 grams of the metals, which are used in varying ratios depending on emission standards and the cost of the metals. Vehicles with bigger engines could have as many as 30 grams. Recoverable amounts are smaller. 
The prices of palladium, platinum and rhodium have risen as more countries mandate the use of catalytic converters. That in turn makes the converters more valuable and susceptible to theft.
The bill would make it illegal for a core recycler -- such as recyclers, junk dealers, valuable metal dealers and pawn shops -- to purchase a catalytic converter that's not attached to a vehicle unless the recycler is a parts dealer or auto repair company. Some exceptions apply if the seller has proper documentation of ownership. Violators would face an infraction punishable by a $1,000 fine for a first offense and a more serious misdemeanor charge on subsequent offenses.
"The only way to go after the thief is to impose a penalty on the buyer," Kannianen said.
The senate passed the bill unanimously earlier this month, moving it to the House.
There was little opposition to the bill. Minor changes to the initial version addressed the concerns of do-it-yourselfers -- who might change out converters themselves -- and garbage collectors, because converters can still be found discarded in a dumpster from time to time, Kannianen said.
From September 2020 through January 2021, the Bismarck Police Department has taken 14 catalytic converter theft reports, according to Lt. Luke Gardiner. It's unclear how many converters have been stolen. Some thefts go unreported, and some reports might include the theft of multiple converters, he said.
Six catalytic converters were stolen in Mandan from June to October, Deputy Police Chief Lori Flaten said. Four other attempts were made but were unsuccessful.
A car will sound much different if the catalytic converter is missing.
"You can hear it," Gardiner said.
A car owner's only defense is to park in a garage or a lot that is fenced or patrolled, according to Gardiner.
"It's hard to prevent crime on something you can't lock up," he said.