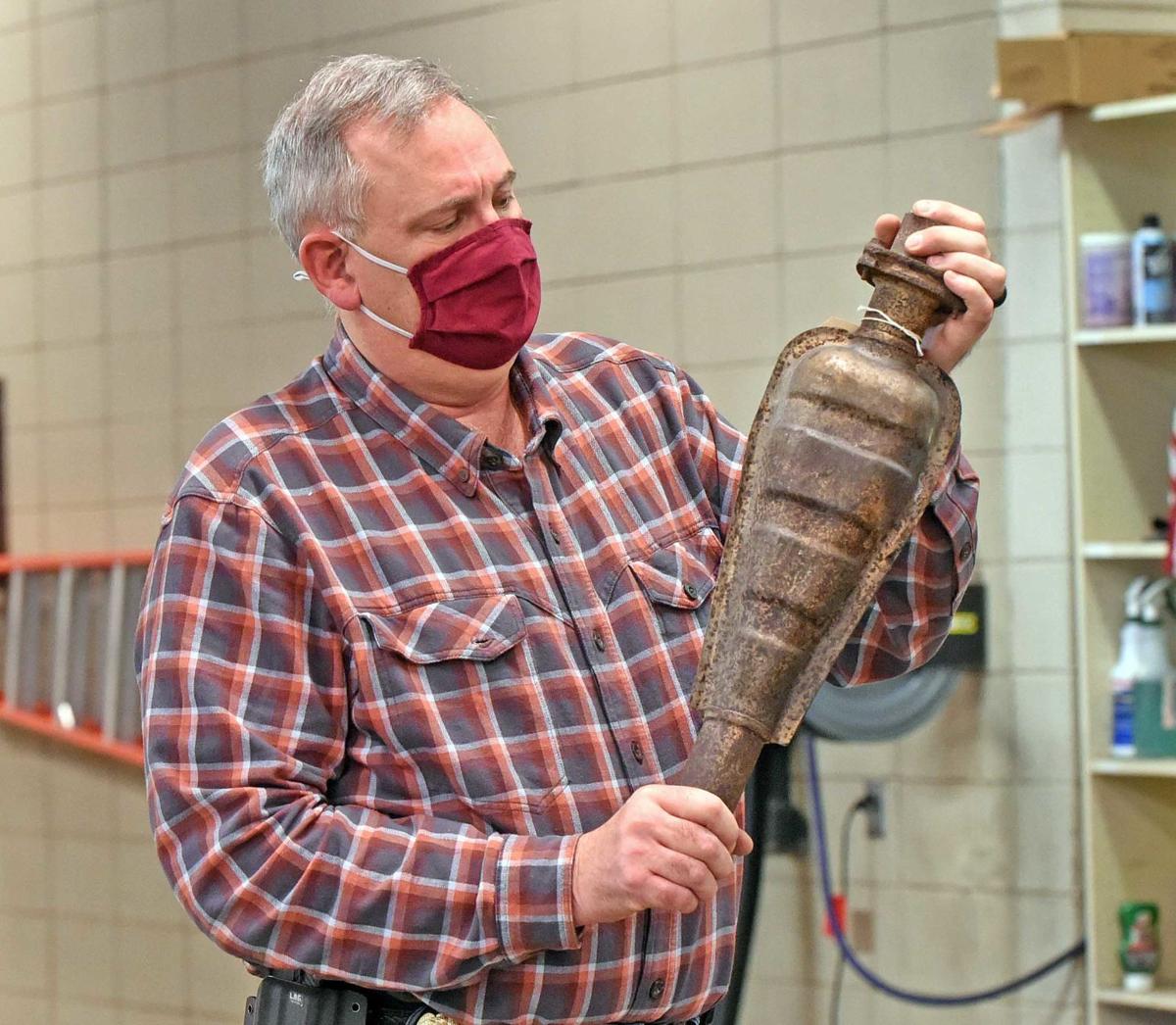 Thieves in the last year have twice targeted a car dealership on the Strip in Mandan to steal catalytic converters that can be sold for the precious metals they contain.
Such thefts are a growing problem, and some businesses in Bismarck-Mandan hope to thwart it by engraving identification numbers on converters.
The thefts set in motion a chain of greater problems -- missed sales, repair costs -- for dealers such as Travis Barth, corporate owner of Barth KIA and Bill Barth Ford. 
"It's very disheartening," he said.
The metals inside a catalytic converter -- platinum, palladium, rhodium and others -- remove pollutants from exhaust. Those metals also are valuable, making the devices a tempting target for thieves who sell them for salvage.
The culprits in the latest round of thefts at Barth KIA recently took catalytic converters -- or cats as they're known in the automotive industry -- off two dealership vehicles and five customer vehicles. Barth also lost six converters off new cars in a similar event a year ago.
He can't sell a car that isn't equipped with a cat and it can cost $3,000 to replace, if he can get one at all. 
"There's a national shortage of everything," he said. And car makers aren't yet building replacement converters for recent-model cars because they expect the devices to last several years.
The thefts push otherwise sale-ready new cars to the back lot until repairs can be made. With parts in hand the repairs are fairly routine, depending on the skill level of the person who stole the converter.
"These guys didn't know what they were doing," Barth said of the most recent incident. From some cars they mistakenly stole the resonator -- a sort of mini-muffler -- which Barth said is worth nothing but costs $2,500 to replace.
To combat the thefts, three area businesses are planning events at which car owners can get their catalytic converters engraved as a deterrent.
Mandan Tire, Bismarck Tire and Northwest Tire will engrave the devices with an identification code at no cost, according to the Mandan Police Department. The code will include information from the vehicle identification number so the device can be traced, Deputy Mandan Police Chief Lori Flaten said.
"I think it will help," she said.
Mandan Tire and Bismarck Tire will hold events June 17, June 24, July 1 and July 8. Hours at Mandan Tire are 8 a.m. to 7 p.m. Bismarck Tire hours are 8 a.m. to 5:30 p.m. The businesses will serve hot dogs and popcorn at each event.
Northwest Tire will provide engraving June 22, June 29 and July 6. Hot dogs and snacks will be available from 5-7 p.m.
Police officers will be on hand at the events to provide theft prevention tips.
Barth said he's open to the idea of engraving catalytic converters.
"I'm willing to listen to any option," he said.