A Bismarck man is charged with arson in a Wednesday morning fire that displaced residents in a 24-unit apartment building and caused much of its roof to collapse. No injuries were reported.
Eduardo Rodriguez, 45, also is charged with two counts of criminal mischief and one count of criminal trespass for allegedly breaking a window at nearby Pier One Imports and entering the building, according to the Bismarck Police Department. He will make his initial court appearance Thursday, according to court documents.
Police and firefighters responded to the fire at Washington Court on South Washington Street about 4 a.m. and were still at the scene when the alarm call at Pier One came in. Officers located Rodriguez in the area and arrested him. Authorities did not say why they linked Rodriguez to the fire. He is not a resident of the apartment building, Police Lt. Luke Gardiner said.
Rodriguez is being held in the Burleigh Morton Detention Center. Court documents don't list an attorney for him.
The building is managed by Burleigh County Housing Authority. Executive Director Dwight Barden said 20 residents were displaced and relocated to other units overseen by the housing authority. He did not immediately know how many people live in the fire-damaged building. The Red Cross reported helping nine adults and seven children of six displaced families. 
The building will not require a total rebuild, but "obviously it will take some work to get it back into shape again," Barden said.
You have free articles remaining.
Seven fire units and 18 firefighters responded to the blaze. The Burleigh County Sheriff's Department and Bismarck Public Works assisted. An arson dog from the Mandan Fire Department also was called to the scene.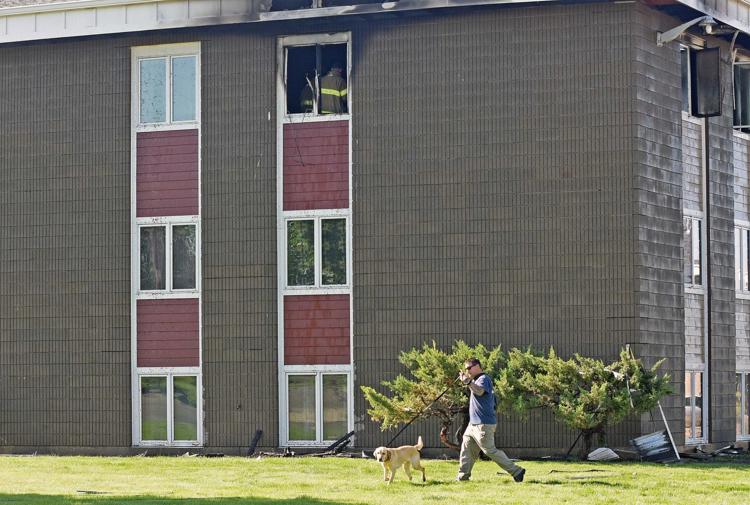 All of the occupants of the building got out safely, and there were no injuries to firefighters or other emergency responders, Fire Marshal Owen Fitzsimmons said. 
Fire and smoke were visible from a third-floor apartment when firefighters arrived. Neighbor Tanya Simonson said she watched the burning building for a few hours, starting from the time she heard sirens around 3:30 a.m. She lives next door to the apartments and was glad there were no trees or wind to spread the flames.
"I could feel the heat, literally, in my face," she said.