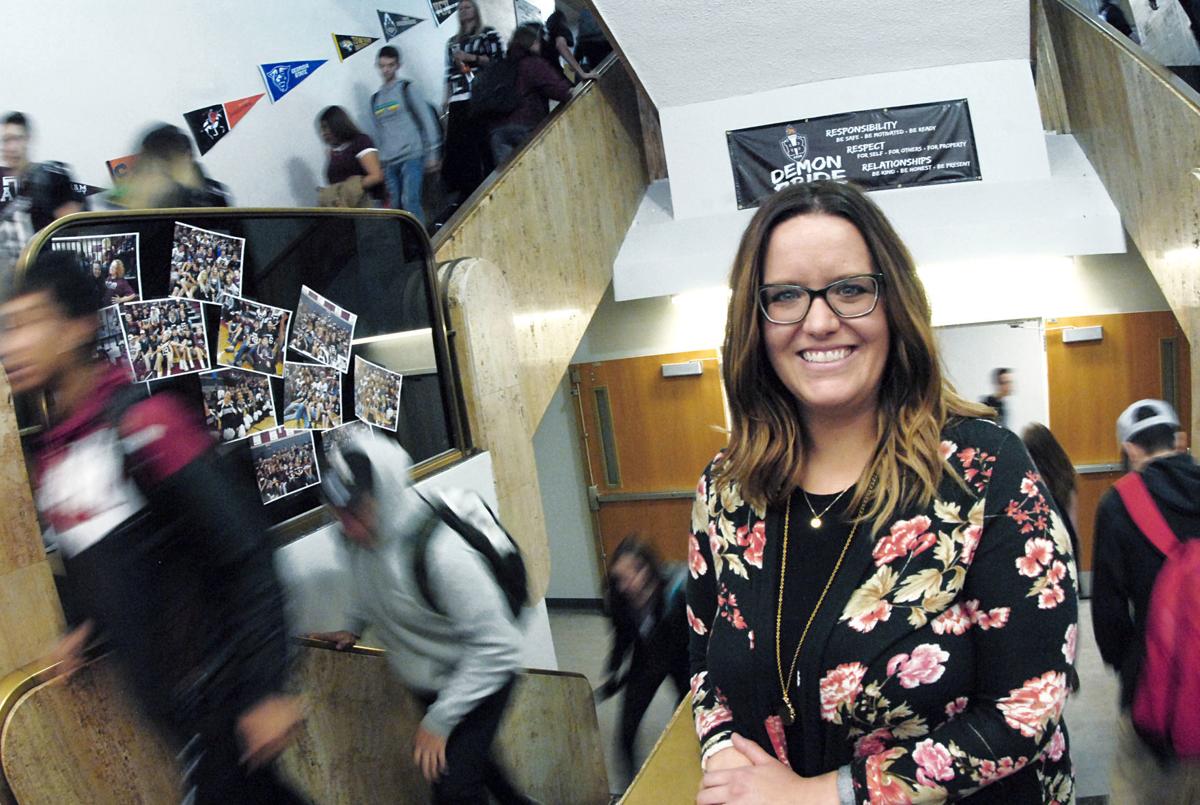 A few years ago, Bismarck High School administrators and staff recognized a "critical" need for students: mental health services.
A survey of a sample group of BHS students last year found 17.2 percent of students seriously considered attempting suicide. About 30 percent of students surveyed expressed prolonged feelings of sadness or hopelessness, which a local clinical counselor said would meet the criteria for a depressive disorder.
Recognizing the need, administrators and staff decided to do something. With a mix of district funding and community grants, the high school hired a mental health professional who provides therapy sessions to students during the school day.
"We saw a need, and the need was kids struggling with depression and anxiety and not able to get access to service," said Mike Yantes, a social worker at BHS.
Not just BHS, but other schools in the district have ongoing pilot projects this school year related to mental health. Simle Middle School received funding to offer additional mental health supports to students. Dorothy Moses Elementary School also has a therapist in the school.
"If we have kids struggling with depression, we can't just say, well, nobody's going to notice, and we're not going to talk about it. No, we need to talk about it," said interim BPS superintendent Jim Haussler, who petitioned the Bismarck School Board this year for additional mental health funding.
Schools in Bismarck offer various mental health supports for students, starting in the elementary schools.
Bismarck High began teaching a mental health "resiliency" curriculum to freshmen three years ago as a way to help students learn to deal with adversity. After that, high school staff and teachers noticed the students needed additional outside services.
"We saw it as critical," said Brenda Lipp, a school psychologist at Bismarck High, whose been employed by the district for 35 years.
This year, they brought in Megan Kraft, a clinical counselor with The Village Family Service Center, who has an office in the school. Part of the reason for hiring Kraft was to eliminate a major barrier to students: access to therapy.
Kraft provides treatment during the school day, so students aren't missing classes and may feel more comfortable in a familiar environment.
In mid-October, a couple weeks after Kraft started at BHS, she was referred about 20 students and began therapy with eight of them. The students are referred to a school counselor — often by a teacher or parent — who then refers them to Kraft.
The students Kraft sees are dealing with anxiety, depression and have a history of trauma, including abuse.
"I think it's been going really well," she said. "At least half of the students said they've gone to counseling before and it was not a good experience."
Though the agreement with Kraft this year is part of a pilot study, Ryan Johnson, assistant principal at BHS, said he hopes they can make it a permanent fixture at the school. Lipp, a school psychologist, said they'll also look at ways to expand the program to the two other high schools in the district.
Early intervention
Jason Hornbacher, principal of Dorothy Moses Elementary School, said school-based mental health extends beyond just therapy.
"What's more important is early intervention and early teaching," said Hornbacher, who's in his sixth year as principal of the school.
Similar to core classes, such as math or English, Dorothy Moses teaches its students social-emotional skills, including understanding emotions and how to manage them, empathy and problem solving.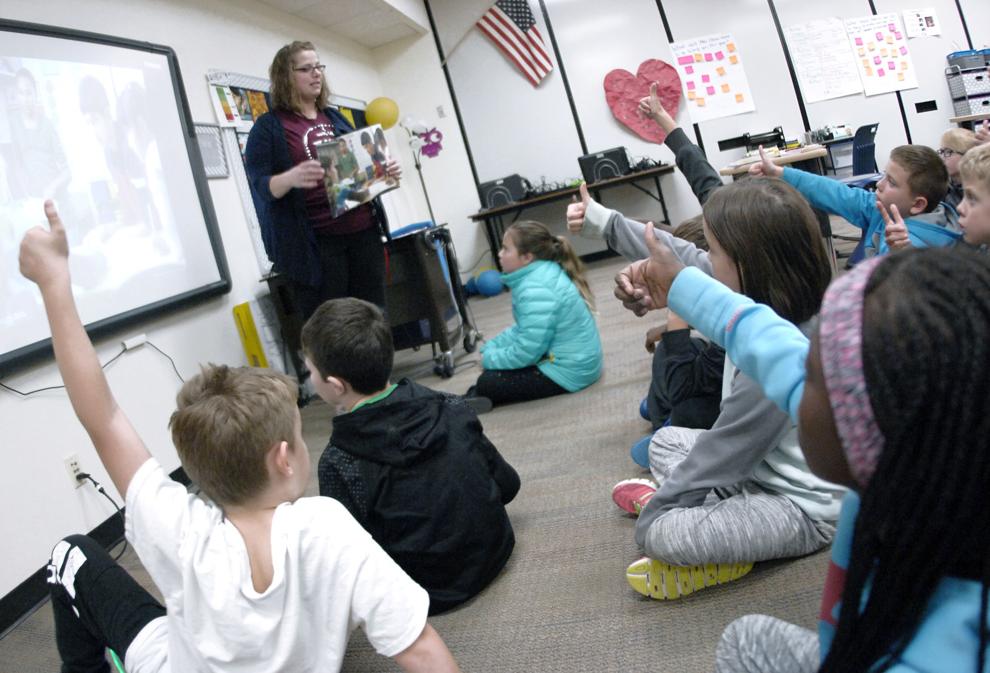 Tracy Famias, a social worker at the school, said mental health is often stigmatized, but it shouldn't be.
"Mental health is our social, emotional and behavioral well-being," Famias said. "And we all have mental health, and those are the things to help us cope with difficult things that happen in life."
To teach children how to cope, six years ago the elementary schools in Bismarck started teaching a social-emotional curriculum. However, more than a decade ago, some schools began utilizing a "continuum of supports" for students, Famias said. At that time, there was a "high number of students who were struggling with emotions," and many students in need of intensive services, such as therapy.
"If we taught (social and emotional skills) early, then we wouldn't have this need for intensive services," she said.
At Dorothy Moses, students in all grades are taught social-emotional skills through lessons, with one lesson taught each week, Famias said.
Though students are taught these skills, there are still students who need additional supports. New this year, the Dorothy Moses decided to partner with the West Central Human Service Center in Bismarck.
Famias and Hornbacher said there are challenges for students and their parents in accessing mental health services, such as access to appointments, transportation and financial hardships.
Once a week, a therapist and a case manager come to the school to provide weekly therapy sessions with students.
In addition, students receiving therapy also receive "intensive interventions" at the school, Famias said. This is for a student who may not be ready for a general education classroom to the point where it impacts the student's learning. Instead, students may be taken to a smaller classroom, where they work one-on-one with a teacher, social worker and counselor.
The goal is to have the students in the program for two weeks, Famias said. During that time, the school develops a behavior plan and works with West Central on a transition plan to get the students back into the classroom.
In mid-October, there was one student in the program, according to Famias. Hornbacher said the plan is to monitor the students' progress as they're in the program, and, in the spring, data will be compiled on the program's effectiveness.
Hornbacher said the program costs $75,000 a year for a teacher and instructional aide, which is funded by a federal grant. There's no cost to the district for the therapeutic services.
Tim Gienger, clinical director at West Central, said the collaboration with Dorothy Moses is a first for the organization.
"There's a lot of kids in the school that really fit our target of families we want to be working with," Gienger said.
West Central's "priority population" has a need for intensive services, including children in foster care or those with trauma, he said.
Once a week, West Central employees drive to Dorothy Moses to do a combination of behavioral health assessments and individual therapy with the kids, Gienger said. Eventually, they hope to get a group of children together to work on coping skills.
"The sooner you can get these kids engaged in some services, offering them some treatment ... the outcomes are just much better," Gienger said. "The younger you can do that, the better it is in terms of long-term health."