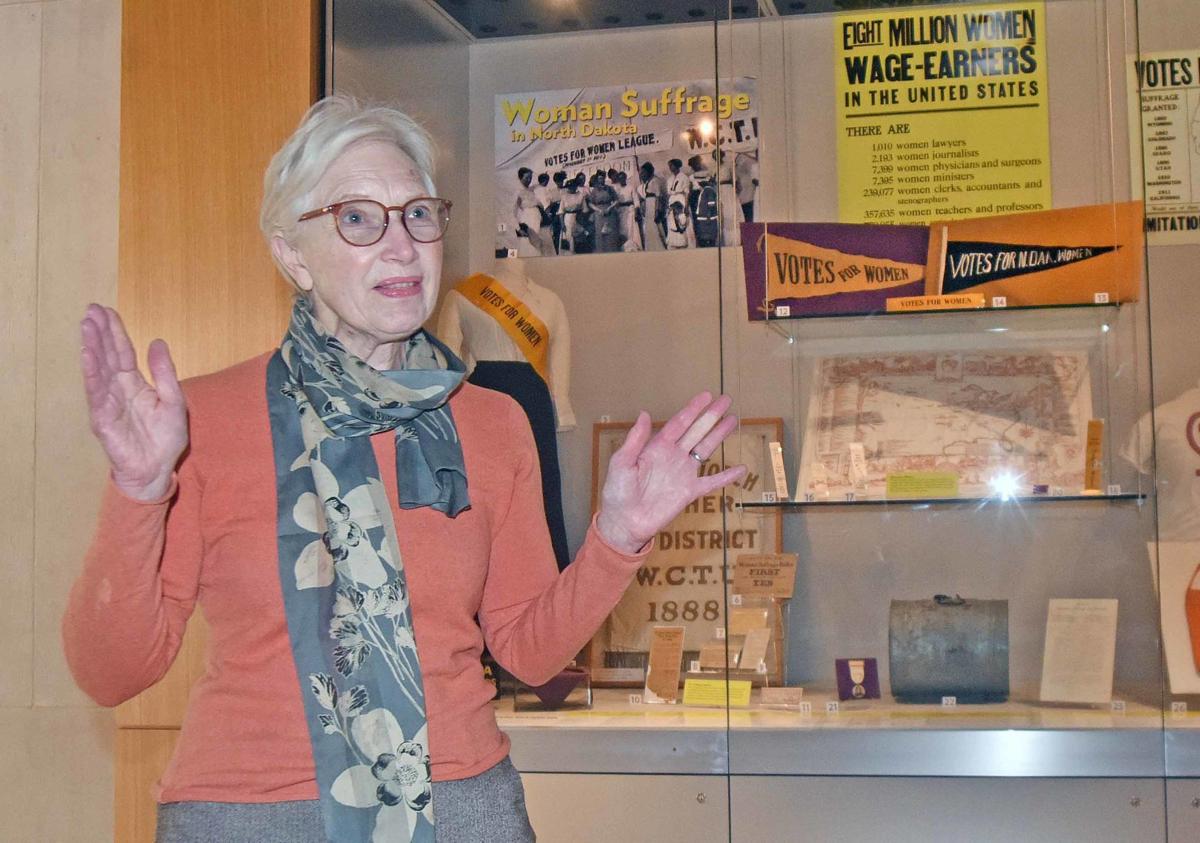 One hundred years ago Sunday, a group of men gathered in the House chambers at the Capitol in Bismarck to decide whether to allow their wives, mothers, daughters and sisters the right to vote.
Of the 108 lawmakers present, 102 chose to extend full suffrage to women, making North Dakota the 20th state to ratify the 19th Amendment.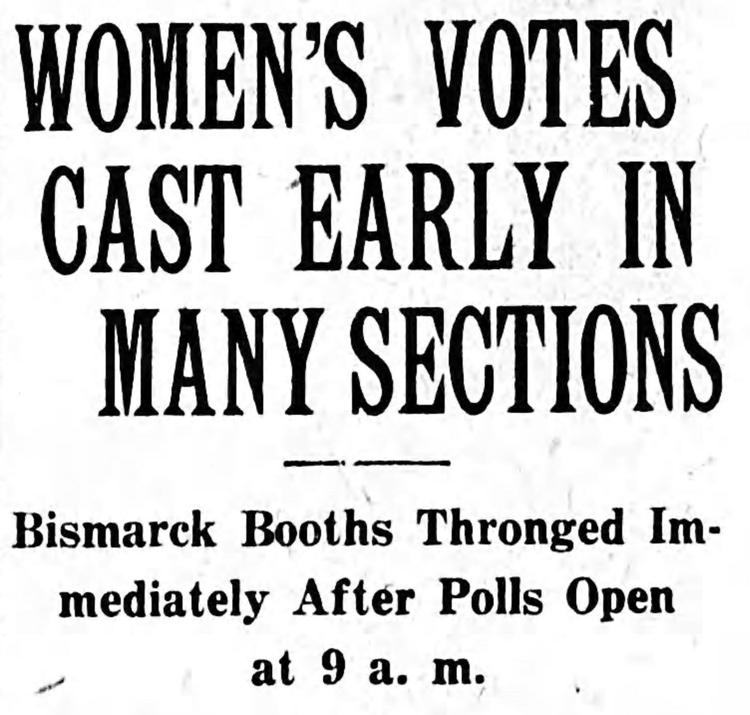 When enough states followed suit the following summer, women in North Dakota and beyond finally had equality at the ballot box.
And they showed up in droves on Election Day that November.
The Bismarck Tribune reported that before the polls opened at 9 a.m., "a crowd of women" had gathered at the new Richholt school.
Across town at the fire hall, the first three voters in line were Benedictine sisters who worked at St. Alexius Hospital. A journalist later counted 37 sisters marching together toward the polling place and noted that a woman whose leg had been amputated rolled up to a voting booth in a wheelchair, eager to cast her ballot.
"Mrs. Mary J. Barnes, aged eighty-five, walked four blocks to the polls yesterday afternoon and climbed a flight of stairs in the third ward to cast her vote," the paper reported.
The journey of women to the polls that day came after decades spent trying to convince the men who lived in the state and who made up the Legislature to let them vote.
The suffrage movement will be the focus of an event this Sunday at the North Dakota Heritage Center & State Museum organized by the North Dakota Woman Suffrage Centennial Committee.
"Realizing the amount of work and effort that suffragists put in so that I have the right to go to vote makes me realize how important it is to vote and express my views," committee co-chairwoman Susan Wefald said.
A decadeslong fight
In North Dakota, women's suffrage came about in stages.
Women earned some voting rights in 1883 when the territorial assembly passed a school suffrage bill, allowing women to vote on a separate ballot for local and state school officials and on education-related issues.
They nearly scored the ability to vote for all offices on the same ballots as men in 1885 when the assembly passed a bill extending full suffrage. But the governor, Gilbert Pierce, issued a veto.
Meanwhile, women across the state organized in suffrage "clubs." Over the years they rallied at conventions, wrote articles and distributed pamphlets to drum up support. They became even more active in the 1910s as a number of Western states approved suffrage bills.
You have free articles remaining.
"The thought is that the woman pioneers in the West were viewed as strong, independent women who were participating in their local affairs," Wefald said.
Eastern states, where men had run political affairs for centuries, were slower to allow women at the polls.
In North Dakota, male voters in 1914 rejected a ballot measure granting women full suffrage. Three years later, Gov. Lynn Frazier signed a bill allowing women to vote in municipal and presidential elections, but not for state officials.
Finally, in the spring of 1919, Congress authorized the 19th Amendment. It would grant women full voting rights across the country, but it required approval from 36 states.
Frazier convened a special session of the Legislature, which ratified the amendment.
Although passage of the 19th Amendment extended full voting rights to women, some still could not cast ballots. The state constitution contained a provision until 1958 that allowed Native American men and women to vote only if they were "civilized persons of Indian descent who have severed their tribal relations two years next preceding such election."
Running for office
Achieving suffrage opened doors for North Dakota women to run for office for positions outside of the school system.
Sen. Tom Pendray of Stutsman County saw that coming in late November 1919.
"I went into the cloak room to hang up my overcoat, and there on my hook I found a nice lady's coat and hat, or a lady's nice coat and hat, as you please," he told a Tribune reporter at the time. "I said to myself, 'Here's an omen, and it means that the next senator from Stutsman County will be a woman.'"
A handful of women became state lawmakers in the 1920s. Yet a century later, women are still underrepresented in many parts of government.
The Legislature has 31 female representatives and senators compared to 110 male.
Justice Lisa Fair McEvers is the fourth woman to serve on the North Dakota Supreme Court. Over the years, several dozen men have been elected justices.
Growing up, she said, she didn't have many female role models to look to in statewide office.
"It's really been in the last 35, 40 years that women are finally seeing themselves in these kinds of roles," she said.
If women don't see themselves reflected in government, she said, they won't necessarily seek those positions.
McEvers said she has had a lot of encouragement throughout her career from men, and she doesn't think of women running for office with an "us versus them" mentality. People of both genders should support one another, she said.
Wefald was the first woman to serve on the North Dakota Public Service Commission when she was appointed in 1993. She ran for reelection and remained on the commission for 16 years. Two more women have served on the PSC since her election.
"I always felt I had to do an exemplary job and know my stuff so other women would have an opportunity to serve after me," she said.