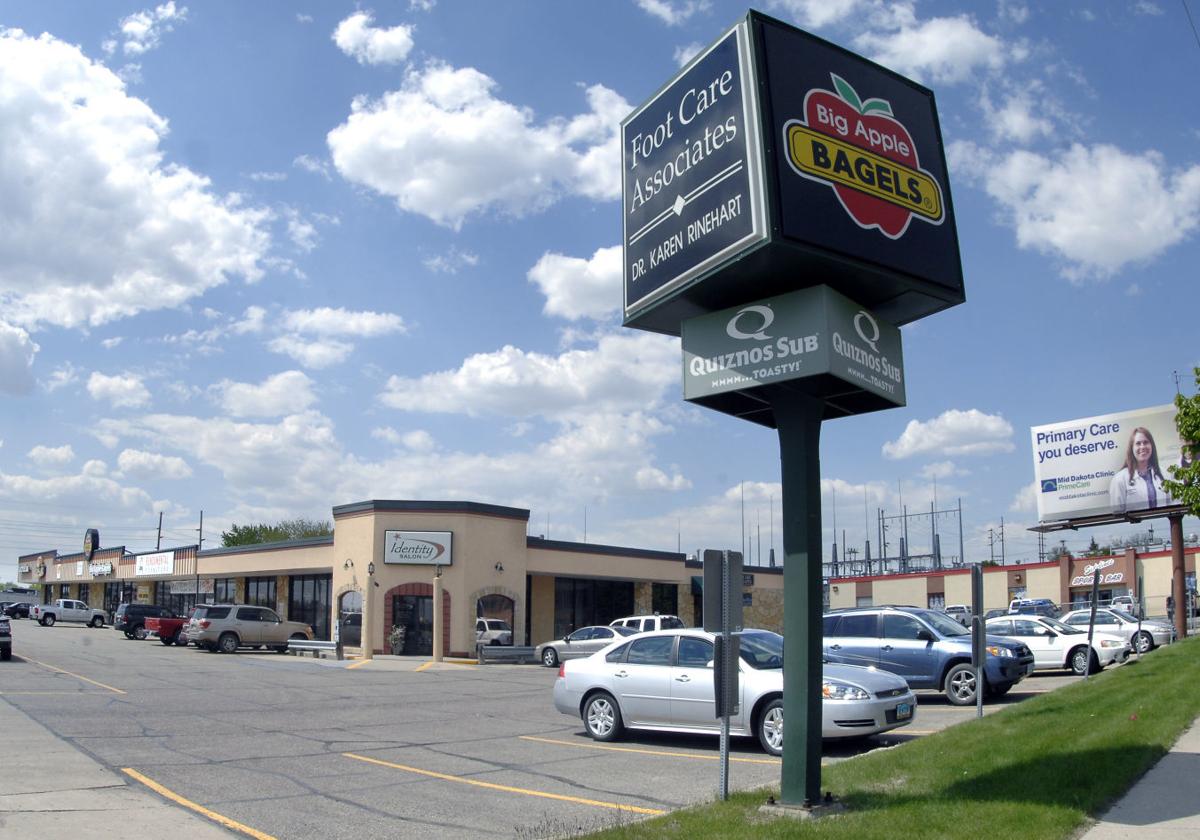 The Bowen Avenue Commercial Center is off the market, following the Bismarck City Commission's approval Tuesday of a $1.1 million purchase agreement with Bismarck Industries Inc.
The city first acquired the strip mall, located just west of the Bismarck Event Center, in 2010, at a purchase price of $1.85 million. The space was occupied by a sandwich shop, a tobacco store, a fitness center, a vacuum shop, a podiatrist and a salon at the time.
Initially, the property was to be used by the Event Center for its future needs. Then, in 2015, it was included in plans for the mixed-use FiveSouth development.
When the development agreement for FiveSouth was terminated in fall 2017, Bismarck Industries was granted a right of first refusal by the city to purchase the "block 67 property" in its entirety, should the city decide to sell it.
In September, the city commission authorized selling the strip mall, which currently has two tenants — Aerus Electrolux and Tobacco Row — and Bismarck Industries exercised its right of first refusal shortly thereafter.
According to City Administrator Keith Hunke, the city was having "difficulty" meeting revenue requirements to pay for the property's expenses.
Commissioner Steve Marquardt also questioned if the city should own and rent out property, serving as competition to businesses.
Bismarck Industries had two appraisals done on the property, which came in at $900,000 and $1.3 million, with the purchase price being the average of the two — $1.1 million.
At Tuesday night's city commission meeting, Mayor Steve Bakken and Marquardt voted against approving the purchase agreement.
"I think the dollar amount that we had originally paid for and then the two accompanying evaluations that we had … I have some concerns with the differences between those," Marquardt said.
The strip mall was built in 1970 and, according to City Attorney Jannelle Combs, Bismarck Industries is concerned about asbestos and mold in the near-vacant building.
As part of the agreement, the city must pay for the phase one environmental assessment on the property, which is estimated to cost about $2,500.
If the assessment comes back troubling, Bismarck Industries has the right to cancel the agreement, according to Combs.
"If something is shown, they could come back and say they don't want to proceed," she said.
Tobacco Row's lease runs through 2020, according to one of the appraisals.
City staff suggested Bismarck Industries plans to rehabilitate the space, based on recent conversations between the two parties.
"I think the immediate repurposing would be to continue to use it as it is, as a strip mall," Hunke said.
Get local news delivered to your inbox!
Subscribe to our Daily Headlines newsletter.