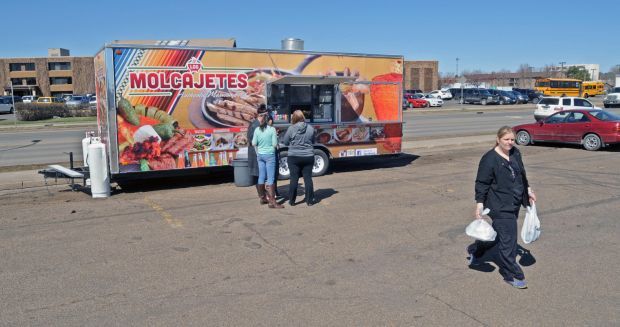 A revised mobile vendor ordinance was amended and approved by all five Bismarck city commissioners Tuesday to pull mobile vendors off the public streets and place them on designated alleys and parking lots downtown instead.
At first, commissioners struck a blanket time limit for vendors to operate -- 5 p.m. to 2 a.m. -- but then decided the city traffic engineer will determine how long vendors can operate at each designated site after testimony from a from a future vendor who wants to do a breakfast venue.
The city engineering department will issue permits to vendor applicants under the ordinance for $50 per year.
The ordinance allows private lot owners to let vendors operate on their property as long the vendor meets standards. 
"If a food vendor finds a private lot to operate on, they are welcome to. They just need to meet our health codes," said Commissioner Josh Askvig.
Darrell Matthews, owner of DJ's Smokehouse BBQ found the new ordinance more agreeable. "I ask you, look at the time constraints, maybe look at the lunch hour. My business is centered around those kind of things," he said before that portion of the ordinance was lifted.
"I think we did a good job coming up with something in the middle," said Kate Herzog, assistant director of the Bismarck Downtowners, who helped draft the new plan.
She cautioned the city needs to look at delivery areas and trash collection in some of the areas designated. She said the ordinance can always be adjusted.
Askvig explained 90-minute parking restrictions in downtown Bismarck made it difficult to keep vendors on the streets and allow them enough time to operate. Giving variances to certain vendors on the parking limits would open new issues up, he added.
Vendors must have at least $250,000 in general liability insurance to operate, have letters of inspection from the State Health Department and cannot operate within 50 feet of a business without tenant permission under the new law.