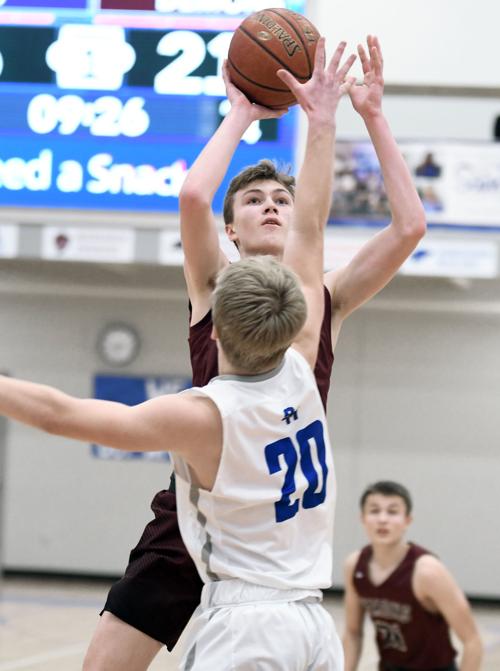 It took just a matter of minutes for Bismarck High to take command.
The Demons blitzed St. Mary's early on, jumping out to a big early lead and never letting up en route to a 98-67 West Region road victory over the Saints on Thursday night.
"We just played with great energy from the tip," Demons coach Jordan Wilhelm said. "You never know, going on the road in our league, we've never been in this building, what you're going to get. But that's what I've been most proud of with our guys this season is whether the shots are going in or the shots are not going in, we have had the ability to play with that intensity and that energy. I was proud of our effort tonight from the tip and all the way through. Our guys were bought-in and competing the whole night."
Four different players -- Kenyon Eagle, Gunner Swanson, Treysen Eaglestaff and Max Tschosik -- hit 3-pointers as Bismarck opened the game on a 24-7 run.
After Evan Gross hit the first shot of the game to give the Saints their only le4ad of the game, BHS reeled off 11 straight points and quickly jumped to a double-digit lead.
While the Demons were firing on all cylinders offensively, they also made things tough on the home team. St. Mary's didn't hit double digits for nearly 12 minutes and Bismarck led 49-24 at the half.
"We've had a couple nights where the shots aren't falling and sometimes your defense can lapse a little bit and not play with the same intensity and pressure," Wilhelm said. "Tonight the shots did fall. But that should never affect the way we play defensively."
A 16-1 burst by the Demons late in the first half pushed their lead to 28 points at 45-17 and they led by 25 at the break.
You have free articles remaining.
The fourth-ranked Demons (14-4, 13-4 West Region) won their third consecutive game since a loss at league-leading Jamestown on Feb. 4. BHS has won five of its last six games.
"For us right now, we're not looking for wins as much as we're just looking at improving," Wilhelm said. "We obviously want to be playing our best basketball in March so it's just every day in practice, just that day to day approach, that win the moment, be the best player you can be every day and keep improving from day to day. We know that the wins are going to pile up if you have that mindset."
The Demons spread the wealth offensively -- five players hit double figures and a dozen different Demons contributed in the scoring column.
"We think that's one of our biggest strengths," Wilhelm said. "When you're playing 12 or 13 guys a night, it's our guys trusting each other and trusting that other guys are going to step up when you're struggling. And we've seen that this year, we've had nights where our top scorers don't play necessarily as well as they have been and you see different guys step up each night.
"I love looking in the score book and seeing three, four, five guys in double figures. If we see five-plus guys in double figures, it's probably going to mean that we played well that night."
Swanson led the way with 19 points as the Demons pushed their led to as many as 39 points in the second half. Swanson, Tschosik and Eaglestaff each hit three of Bismarck's 13 3-pointers.
Eaglestaff finished with 15 points, Tarin Walker added 13 and Tschosik and Logan Schaubert each ended with 12.
Gross shared game-high honors with 19 to pace St. Mary's (5-13, 5-12 West Region). Zach Haas and Nick Schumacher each added eight for the Saints.
The Demons host Mandan and the Saints visit Century on Tuesday.