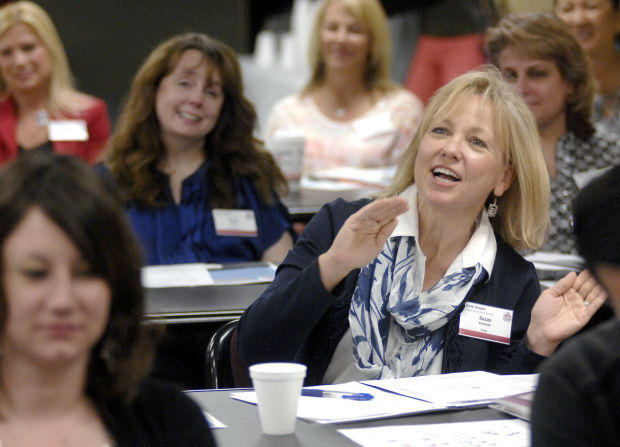 The North Dakota Imagination Library held its first statewide conference Tuesday. Panels at the Capitol discussed program success, fundraising and marketing and the next steps needed for further expansion.
The program, which is modeled after Dolly Parton's Imagination Library, mails a free, age-appropriate book every month to any enrolled child between birth and 5 at a yearly cost to the community of $25 per child. It is free to the child if the community decides to offer the program and cover the cost of the books. In North Dakota there are nine counties, 11 cities and 17 school districts that offer Imagination Library.
Pam Hunsaker, regional director of the Dollywood Foundation, conducted a panel on the foundation. Affiliates from different communities showed up to listen and give their advice.
First lady Betsy Dalrymple has spent the past two and a half years visiting communities and ogranizations to speak on behalf of this program.
"This is the first time we've had a variety of affiliates come out and share their successes," she said. "We're all hoping to learn from each other."
Dalrymple hopes the summit will answer questions for attendees and also create more enthusiasm for moving forward.
"Hopefully more communities will say, 'Oh, I can do that,'" she said. "I'm very interested in having all the attendees tell me how they think we keep expanding and where we go from here."
Kirsten Baesler, superintendent of public instruction, said she's committed to childhood education.
"There's something so inspiring about reading to and with young people," she said. "To begin that reading environment in homes is critical."
Baesler said children are the most eager to learn, which is why this program is beneficial.
"Books are coming to homes where the parent and the child are reading together and that becomes a part of their entire life," she said. "Not to mention the excitement of going to the mailbox and having a piece of mail in their name."
Jena Gullo, executive director of the Missouri Slope Areawide United Way, said the MSA United Way Dolly Parton Imagination Library serves Bismarck, Mandan, Lincoln, Wilton, Flasher and Napoleon.
There are 3,098 children locally enrolled in the program, primarily in the Bismarck-Mandan area.
"We are working with the first lady to expand the program to each community throughout North Dakota," she said. "MSA United Way has offered to provide the administration at no charge to any community willing to raise the dollars for children living in their community."
MSA United Way is able to absorb the administrative expenses through the help of long-term volunteer Laura Hermanson, who volunteers her time to come into the office and work on the project every week.
Dalrumple said programs much like this are instrumental to children and their future learning.
"Children ready for school are gonna do better and succeed," she said. "They will love books, and if they love books they will love school."