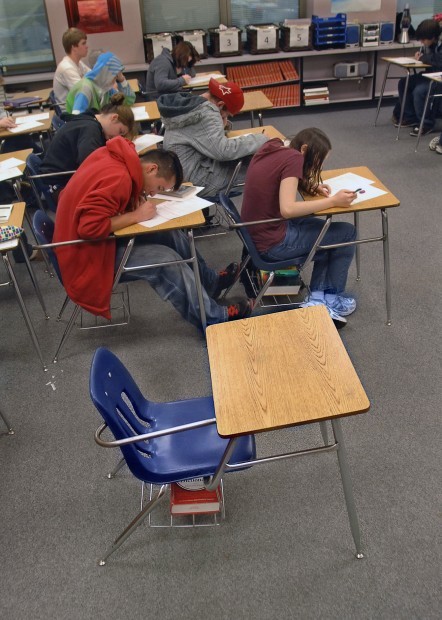 Any way you cut it, skipping class has consequences.
Attendance at school correlates to higher academic achievement, and the more likely students will perform well on standardized tests that are required for federal education accountability measures.
"We can't educate a child who is not here," said Mandan Superintendent Wilfred Volesky.
When students ditch class without permission, they are considered truant. It's an ongoing problem that is difficult to track because of inconsistencies in how truancy is reported to the state. The number of truant students in the state appears to have dropped 75 percent between the 2007-08 and 2008-09 school years, but even the Department of Public Instruction, which collects the data, doesn't believe it.
School administrators and school boards try to curb truancy through attendance policies, reward programs and partnerships with law enforcement. Now educators are looking to the state Legislature to make the truancy law more enforceable.
Chronic truancy can result in a student receiving a citation from police and losing academic credit. Parents also could receive citations for educational neglect.
Until the last legislative session, educational neglect was a felony charge, which prosecutors were unlikely to pursue. A change in the truancy law reduced the charge to a misdemeanor that could carry up to 30 days in jail and a $1,000 fine.
"We're not talking about a lot of parents," Volesky said. "A majority understand it is important for their child to be at school."
In addition to the change in law, the Legislature formed an interim committee to examine school policies on truancy prevention. The committee, which meets again in January, wants to focus on prevention rather than penalization, said Valerie Fischer, director of school health and adult education at the Department of Public Instruction.
In 2007-08, North Dakota accumulated about 15,500 truant days compared to about 3,500 reported in 2008-09. About 5,370 students accounted for the truancies in 2007-08 compared to 1,430 students in 2008-09.
"We're not making that many strong advancements," Fischer said.
Tracking truancy is important because it is a pathway to students dropping out of school. Research also shows a strong correlation to substance abuse.
"It's a really critical risk factor because it represents a disengagement at school," said Kim Henry, an assistant professor of psychology at Colorado State University in Fort Collins, Colo.
Henry studies truancy and substance abuse. Truant students are more likely to start using drugs or drinking because they are away from the school environment, usually unsupervised, with friends who might encourage the behavior, she said.
North Dakota is like the rest of the country in relying on self-reported data. Henry's research has shown that there are inconsistencies in how data is recorded and tracked by schools.
It is especially important to track this trend among minority student populations that historically have lower graduation rates than their white peers, said Louie Rodriguez, assistant professor of educational leadership and curriculum at California State University at San Bernardino. His research interests include truancy and school culture.
When students drop out, they sometimes earn their GED, but ultimately, the opportunities available to that student are diminished, along with their lifetime earnings. Chronically truant students, however, don't always realize the connection school plays in their future, Rodriguez said.
The state is concerned about truancy because truant students are most at risk for dropping out of school. This is because when students miss class, they miss the material that will help them perform well in class.
Schools report their truancy rates to Fischer at the Department of Public Instruction. Schools are supposed to include every hour a student is not in class, but some districts follow a different criterion. This makes the reports that Fischer receives inconsistent.
There's also a lot of under reporting of truancy. She knows when schools have under reported truancy, or when the number is fairly representative of what is happening at the school. Usually, when the numbers look off, she calls the school to reconfirm the number. Often, when schools review the numbers they come up with more truancies.
"Some do not report it because of fear of us (DPI), the school board or having the community see it's an issue," Fischer said. "They do not want to bring it to light."
More accurate data could help find the areas that need work, she said. In the Sioux Falls School District in South Dakota, a direct relationship was shown between the number of absences a student had and the student's grade point average, according to a report by the National Forum on Education Statistics released in February. This conclusion was reached after an analysis of attendance data.
Bismarck and Mandan middle and high schools, for instance, reported more hours truant by more students in 2008-09 than it did the previous year. Some schools report no hours truant. This is usually in rural schools, and can be fairly accurate, Fischer said.
High poverty areas, which include many of the reservations in North Dakota, have higher truancy rates than more affluent communities. There are many factors that contribute to high truancy among poor students. This is because students in higher poverty areas have to deal with more adult responsibilities than their more affluent peers.
"It falls on the lap of young people, even elementary students in fifth and sixth grade," Rodriguez said. "It is exacerbated in seventh, eighth and high school."
Students from poor communities are more likely to be caring for siblings because daycare is unaffordable, parents are more likely to have jobs with less flexible schedules and sometimes students are taking jobs to help the family.
"You see it as early as middle school because they have to help maintain the household," he said.
This can alienate students further from school, and make them question the importance of school when they are earning a paycheck instead, Rodriguez said.
It's hard to tackle truancy because there are many causes. For elementary students, it is usually a transportation issue. By middle school and high school, though, the students are taking the initiative to skip class and show up late.
"They don't think about skipping or cutting class," Fischer said about elementary students. "It is not in their realm of thought."
Cannon Ball School, like many reservation schools, has high rates of truancy. In an attempt to turn those numbers around, the school looked at the main reason many students weren't in school. It was missing the morning bus ride to school.
Two years ago, Cannon Ball School started sending a shuttle to pick up students who missed the bus.
"Once they miss the bus, that's it, they don't want to come in if late," said Cannon Ball Principal Wayne Fox.
It made an immediate difference in the school's truancy and absenteeism, Fox said. The shuttle was part of a grant that the school wrote to the Shakopee Sioux Tribe in Minnesota.
Students or parents can call the school to pick up a child that missed the bus. Once the school has a handful of students who need a ride, the shuttle goes out to get them.
Another change Fox made to help students get to school on time was starting the school day later, at 9 a.m.
Other ways schools can help older students get to school include a morning phone call, a way to school or a favorite class scheduled during first or second period.
"Once they get to school, they stay there," Fischer said.
Mandan Public Schools is making a good effort at reducing truancy, Fischer said.
What has helped the most is the district's relationship with the Mandan Police Department. They have Heidi Schuchard, a police program worker, track students' attendance and meet with students who are chronically truant. With the change in state law, Schuchard now tracks elementary schools in addition to middle school and high school.
"We have our share of truant kids, like anyone else," said Mandan High School Principal Mark Andresen.
Having her work with the elementary grades should help, Andresen said. This is because when they looked at trends among the most chronically truant students, they already showed attendance problems in elementary school.
"What starts off as something minor becomes a habit," Andresen said.
The schools track attendance closely, and send out warning letter when a student accumulates three unexcused absences. When a student receives five unexcused absences the student will have a meeting with their parents and a police youth worker and when the student racks up seven unexcused absences the student will be cited for truancy.
Truancy does not affect the district financially. The district receives funding based on how many students are enrolled at school for at least a third of a year, up to the whole year. The district receives a full foundation aid payment for students who are enrolled the entire year, and partial payments for students there a fraction of the year. It does not matter how many unexcused absences the students have.
A student is considered truant at Mandan High School if they miss 49 hours, or the equivalent of seven days. If a student accumulates more than 12 absences, then they are withdrawn from a class, unless they participate in the credit buy back program. They can earn back up to two days of unexcused absences by spending time in detention. During this time, the student cannot accumulate any more unexcused absences or be late to class.
Some North Dakota schools try to use test exemption policies to "reward" students for good attendance by not taking a test. Mandan and Bismarck high schools have a final test exemption policy. If students do not have more than two excused absences, two tardies and no unexcused absences, they do not need to take all of their semester finals.
The policy was changed in Bismarck a few years ago so that students take a final during one class period, regardless of attendance record. The test exemption policy seems to work, according to Century High School Principal Mike Heilman. He could see how well the policy was keeping kids in school when it was suspended this semester because of concerns over H1N1 influenza. Once students knew the policy was suspended, absences almost doubled.
Mandan High School also has a test exemption policy, but students see it more as a penalty, Andresen said. They don't want to take the final tests, and they see it as making them take the test if they don't meet the requirements.
"Does it help attendance? You bet it does," Andresen said.
School administrators might see this as being proactive against truancy but college officials are concerned it could harm a student's ability to perform well in college if they are unprepared for taking tests, Fischer said.
Whether the test exemption policy is an incentive is debatable, but there are incentives that schools can use to encourage attendance. Incentive programs that reward students for a specific behavior and mentorship programs can be helpful, Rodriguez said.
In addition to the buses, Cannon Ball School also started a student recognition program that recognizes students with perfect attendance. Each month, the students who have good attendance and no discipline referrals get to watch a movie and have popcorn and drinks. The reward is incentive for other students to also keep good attendance, Fox said.
From a school perspective, more needs to be done to make students feel connected to school, Rodriguez said. It's easier in elementary school for students to feel connected, when one teacher provides all the academic content. In middle school and high school, however, it takes longer to forge a connection with a teacher because students only see them for 45 to 50 minutes a day, he said.
"We need to find ways we can connect every student with an adult," he said.
It doesn't cost any money to get to know students, he said. It's about building relationships with the students. This sense of connection can make students feel successful.
Rodriguez relates how he was a mediocre high school student who was not a high achiever and wasn't treated like college material. When he went to college, however, he found that connection that was missing in high school and it propelled him to succeed.
"I felt a culture of support ... that ultimately catapulted me to Harvard," he said.