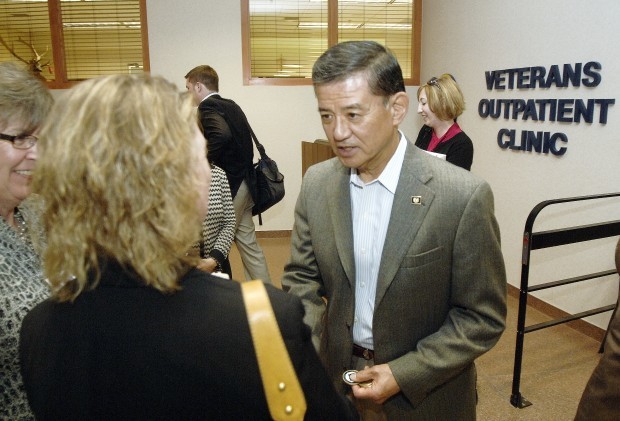 North Dakota tribal leaders want more Veterans Affairs services on the reservations.
They told Veterans Affairs Secretary Eric Shinseki Tuesday that there is a need for housing, health care and access to other VA services on the reservations.
"We all have friends and relatives who have served," said David Gipp, president of United Tribes Technical College.
Shinseki was at United Tribes Technical College Tuesday morning for a listening session with tribal leaders and American Indian veterans. He also visited the VA Outreach Clinic at Gateway Mall in Bismarck, and spoke with members of the tribes about what services are available.
The crowd in the Healing Room of the United Tribes Wellness Center provided examples of what Veterans Affairs has done right and where they could improve serving the population of veterans. In some cases it was offering help for job training or creating culturally-relevant services, such as a sweat lodge. Former state senator, Richard Marcellais, recalled an outreach program by the Fargo-based VA office in Turtle Mountain.
"They saw 100 veterans in three days," he said. "That was four years ago and they have not done it since. I feel it should be done annually."
He also would like suicide prevention programs on reservations to include veterans and grave markers that help identify veterans. The VA offers headstones or markers for unmarked graves or markers for marked graves if the veteran died after Nov. 1, 1990. The VA also offers mental health programs, including programs for post traumatic stress disorder.
Housing also is a huge need, especially for homeless veterans. "They come back and have no place to stay," Marcellais said.
The VA does offer some services and aid for homeless veterans.
The American Legion post in Turtle Mountain could help meet that need if it had its own building, he said. The group meets in the back of a gas station, he said. Land is already set aside for a facility, but funding is needed to build it.
Funding for housing was a recurring theme from the people who spoke. Reservations have trust land that makes it ineligible for traditional forms of financing for housing, said Tex Hall, tribal chairman of Three Affiliated Tribes. Additionally, veterans who go to VA homes end up leaving their communities because there is not a VA home on the reservations.
"We look to our elders as keepers of our language and the sharer of our stories," Hall said. "When they are taken out of our community, we lose that story."
Shinseki recently started the VA's Office of Tribal Government Relations.