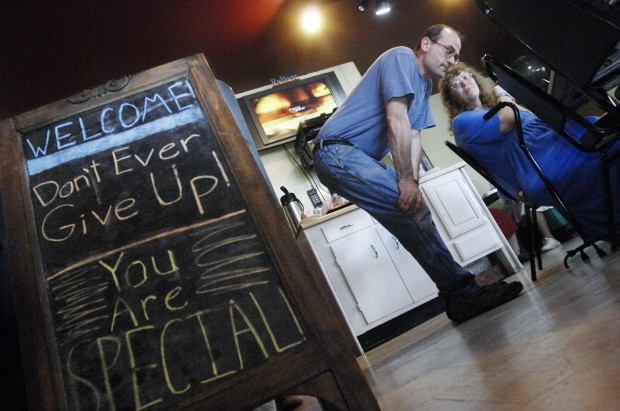 There is no long line of hungry and eager people taking up space. Instead, they wait seated in booths or at the long table  — perfect for socializing — in the middle of the room.
Heaven's Helpers Soup Cafe opened in a converted gas station in March 2009. The meals are free and the servers don't expect tips. The only rule is that nobody wastes anything.
No questions are asked and the customers are not rushed out after they finish their meals. Coffee and free desserts —including a table of take-home caramel rolls and bread loaves — are offered along with television and Christian music. But for the daily patrons, the socializing is the most tantalizing item on the menu.
"It's truly a mission fueled right here in Bismarck," said owner Mark Meier. "No one should go hungry."
Most soup kitchens are open certain days of the week with limited hours, but Heaven's Helpers is open 11 a.m. to 7 p.m. Monday through Friday and 1 to 5 p.m. Saturdays.
"(Heaven's Helpers) is pretty much the only place in town that is available every day pretty much," said Heidi Selby, vice president of the Missouri Valley Coalition for Homeless People.
During the past year, the soup cafe has only gotten busier, racking in 40-70 visitors per day in the beginning of the month, when food stamps are still in fresh supply, and 60-120 during the final days of the month.
For Sandy Hegel, the people are what keep her coming back every day. The free food when her disability checks run low is an added bonus.
"You can sit and visit; even if I don't say much I listen," Hegel said.
She sits across from Jerry Nagel almost every day. The two met at the soup cafe and now see each other regularly as they relax and enjoy a cup of coffee.
This little community shares meals and stories about the tough times — something more and more Americans are experiencing. The soup cafe is located at 619 Memorial Highway, a part of town that has a little bit more need, Meier said.
"I know a lot of my clients really enjoy going there," Selby said.
Heaven's Helpers Soup Cafe is a member of the Missouri Valley Coalition for Homeless People. It not only serves the homeless but anyone who has difficulty making ends meet.
Hegel is on disability from a hip problem that made her quit a nursing job. Nagel is a veteran and receives aid from the government.
On top of being unemployed, Hegel has three daughters. Her daughter Rose just finished her first year at Bismarck State College and still lives at home. She also attends Heaven's Helpers or just stops by to see her mom.
Other patrons — Meier said about 25 percent — can afford to pay for their meals.
"They can get a good meal here and pay for someone who can't afford it," Meier said.
Broccoli cheese soup and minestrone, ham sandwiches and hot dogs made up a recent menu. But Nagel said the knoephle is his favorite, a recipe that sometimes includes Olive Garden's alfredo sauce instead of milk, depending on what is available.
Part-time volunteers and donations run Heaven's Helpers. Meier said he does not make a weekly grocery list. Instead, he bases the menu off of whatever "God provides." The food comes from the Great Plains Food Bank and local restaurants like Olive Garden.
"What's been amazing for me is how God provides," Meier said.
"From the very start, he's paid for the rent, lights, food and everything along the way."
Meier said he has seen the soup multiply in the pot and watched the donation box fill with more than $500, without which he wouldn't have had money to pay the rent.
"This is the Lord's, not my ministry, and he takes care of his children," Meier said.
Meier started the Heaven's Helpers organization in 2007, according to the website Heavenshelpers.org. It provides help in understanding the Bible and encourages people to "do what Jesus did" by helping those in need.
But for Meier, that wasn't enough. He quit his job as a Xerox salesman and opened the soup cafe.
"I'm just a servant of the Lord," Meier said. "I really foresee working for the Lord for the rest of my life."
Now he works at the soup cafe 70-80 hours a week without pay.
"I probably work harder than I have in the past," Meier said. "Even though I'm working longer hours and harder, it seems easy."
The confirmation of faith and joy of serving those in need makes the extra hours, work and lack of pay worth it.
Heaven's Helpers doubles as a Christian ministry providing non-denominational Bible fellowships on Sundays with a meal, free of course, afterward. Meier also holds a men's Bible study at 7 p.m. on Tuesdays, one for kids on Wednesdays and one for everyone on Fridays.
"We believe what the Bible says and that is what we go by," Meier said. "We try to show the love of Christ every day here."
Whether the regulars attend for spiritual guidance, which Meier will gladly provide while serving up a bowl of soup, or just for a free meal, Heaven's Helpers Soup Cafe is a staple in their lives.
"It does good to come in here," Hegel said.
Be the first to know
Get local news delivered to your inbox!