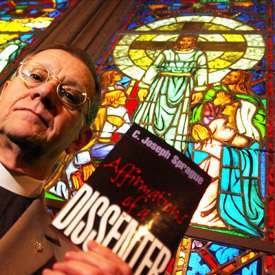 Heresy trials, a distant echo of witch burnings, have reappeared on the American religious scene as part of a bitter struggle between progressives and conservatives.
Ministers outspoken on thorny social issues have been summoned to defend their views before church tribunals. So, too, have clergy whose preaching goes beyond a literal interpretation of Scripture.
Today's church courts don't send people to the stake, of course. But they can strip clergy of their ministerial authority and of the paycheck with which they support their families.
"The contemporary church is on the razor's edge, and these people get cut," said Jay Demerath, a University of Massachusetts professor specializing in the sociology of religion.
Most recent accusations of heresy have taken place in the so-called mainstream Christian churches, such as the Methodists, Lutherans, Presbyterians and Episcopalians. Inhabiting the middle of the religious spectrum, they house both a traditionalist and a modernist wing.
Where those factions are locked in combat over issues like whether gays have a place in the church, liberal ministers can find themselves vulnerable to being attacked as heretics - then served legal papers summoning them to an ecclesiastical tribunal, where they have to defend their beliefs and actions.
Those filing the charges say it is their way of trying to protect the faith from being transformed out of all recognition by clergy too interested in change and too little beholden to religious tradition.
The Presbyterian Church U.S.A. currently has 28 cases involving heresy-related charges working their way through the denomination's judicial bodies, said Jerry Van Marter, director of the Presbyterian News Service.
"Most years, the average is zero," he said. Sometimes the accusations of heresy will be thinly veiled by technical charges of violating stated procedures, he said.
Jimmy Creech, a Methodist minister in Omaha, was charged twice for performing gay marriages. Narrowly acquitted at his first trial, he was convicted by a second tribunal that took away his credentials as a minister in the United Methodist Church.
"It was painful to see the church invest its time and money to prosecute me and to uphold institutional bigotry," said Creech, who subsequently became chairman of the board of Soulforce, an interfaith gay-rights group.
Terry Gray, an elder in the Orthodox Presbyterian Church, a conservative group that split from other Presbyterians in the 1930s, lost that status at a trial in 1995 because he taught evolution as part of his duties as a professor of biochemistry at Calvin College in Michigan.
"I was charged with holding the view that Adam had primate ancestors," Gray said. "I wouldn't wish the experience of a heresy trial on anyone."
In the United States, most previous charges of heresy were clustered in two earlier periods: the colonial era, which witnessed the Salem witch trials, and the 19th century, when denominations were establishing seminaries. Some pioneering religion professors were charged with corrupting young people with heretical doctrines.
But in the 20th century and especially since World War II, heresy trials have been relatively few, experts say.
"It could be that heresy trials are making a comeback because there is a very conservative movement afoot in Protestantism that parallels the conservative mood of the country," said George Shriver, a professor emeritus at Georgia Southern University who edited "Dictionary of Heresy Trials in American Christianity," the definitive study of the subject.
The increase also is connected to a backlash against the ecumenical movement that has brought together members of different religious communities. Some traditionalists are uncomfortable with the assumption that no one denomination can claim a monopoly on religious truth.
Rev. David Benke, pastor of a Lutheran church in Brooklyn, is one of a number of ministers facing charges of heretical beliefs. He has been accused of "syncretism" and "unionism." One of his accusers, another Lutheran minister, simplified the matter, saying Benke consorted with "pagans."
His troubles began when he participated in a community gathering in Yankee Stadium just after the Sept. 11, 2001, terrorist attacks, sharing the stage with Muslims, Sikhs and Hindus, as well as Christian clergy of other denominations.
"My accusers said I'd violated the 1st and 2nd Commandments by praying in front of other gods," said Benke, who is awaiting the decision of an ecclesiastical tribunal of the Lutheran Church-Missouri Synod, whose finding could be announced Monday.
The number of people caught up in such theological civil wars is growing. In February, Bishop C. Joseph Sprague, the Methodist bishop of Chicago, was cleared of heresy charges - for the third time.
The most recent accusations came after conservative Methodists heard that in a theology school lecture, Sprague said he didn't believe Jesus' Resurrection "involved the resuscitation of his physical body." That theme was repeated in Sprague's recent book, "Affirmations of a Dissenter."
"One reason I wrote the book is that the progressive side has been hesitant to speak out for fear of being labeled heretical," Sprague said. "The right side of the theological aisle has clearly captured the point of influence and power in the church."
Amid his own difficulties, it fell to Sprague to bring charges against one of his ministers. Some clergy were outraged that Rev. Gregory Dell had blessed a union between gay partners, and it was Sprague's episcopal responsibility to set the church's judicial mechanism in motion. Dell and Sprague both noted, though, that the bishop made it clear that his own position on gays in the church is closer to Dell's than to his accusers'.
"The (1999) trial was like a criminal procedure with a prosecutor, a defense attorney and a jury of my peers," said Dell, who is back as pastor of Broadway United Church in Chicago after a one-year suspension. "The technical charge was violating church rules, but the reality was that I was being accused of heresy. It's all about enforcing conformity of thinking."
To date, the revival of heresy trials has been an American phenomenon - though an Irish cleric, Andrew Furlong, resigned his office in the Church of Ireland in 2001, on the eve of what would have been that church's first heresy trial in 100 years. Heresy trials are also a Protestant phenomenon, as the Catholic Church deals with the issue through a Vatican administrative office, the Congregation for the Doctrine of the Faith.
Rev. Stephen Van Kuiken, a Presbyterian minister in Cincinnati who was tried and convicted this year, attributes the upsurge to the inherent difficulty a religious institution has in adjusting to new times and changing mores.
"The church is notorious for being not the engine but the caboose of change," said Van Kuiken, whose charges stemmed from marrying people of the same sex. Though given a mild punishment - a public rebuke and orders not to perform any more gay unions - Van Kuiken is appealing to the church's equivalent of an appellate court. He sees it as a defensive move.
"The tribunal made it clear that the next time I married a gay couple, I wouldn't get off so easy," Van Kuiken said. "And I have every intention of doing just that again."
He said his actions did not only reflect a personal commitment to gay rights; they also flowed naturally from the demography of his congregation, a third of which is gay and lesbian.
Some on the other side of the theological aisle similarly invoke statistics to explain why they have chosen to file charges of heresy against their opponents.
Rev. Thomas Lambrecht, a Methodist pastor in Greenville, Wis., was among those who brought the accusation against Sprague. Lambrecht said he and other conservatives feel the bishop's views violate the established theological position of the United Methodist Church.
As in all disputes, he said, some people are in the middle.
"But if you ask clergy, especially at the upper levels, I think you'd find about 40 percent subscribe to Sprague's approach and 20 percent support our view," Lambrecht said. "With the folks in the pews, my guess is the proportions are just the reverse."