Jim Fuglie and Lillian Crook weren't having much luck for panfish last week at Sweet Briar Lake.
"Catching bullhead like crazy," Fuglie said when the couple was out with Crook's father, Garland, testing the waters with worms and minnows on a beautiful day.
"My father-in-law is 93, doesn't get to fish much anymore," Fuglie said. "Mostly, we're having a picnic and doing a little fishing, just to get him out here on the water."
Located about 20 miles west of Mandan, Sweet Briar Lake is one of several fishing holes throughout Morton County. The lake is currently under a blue algae bloom advisory from the North Dakota Department of Health.
Hot spots depend on what you're looking for, according to Paul Bailey, supervisor for the North Dakota Game and Fish Department's south central fisheries district.
"If you're looking for bluegill, Harmon Lake and Crown Butte Dam are a couple of the better bluegill fisheries," he said. "Crown Butte and Fish Creek (dams) would be good bets for largemouth bass. Nygren Dam, I'd say, is good potential for largemouth bass and smaller bluegill, and Sweet Briar is a good mix of everything."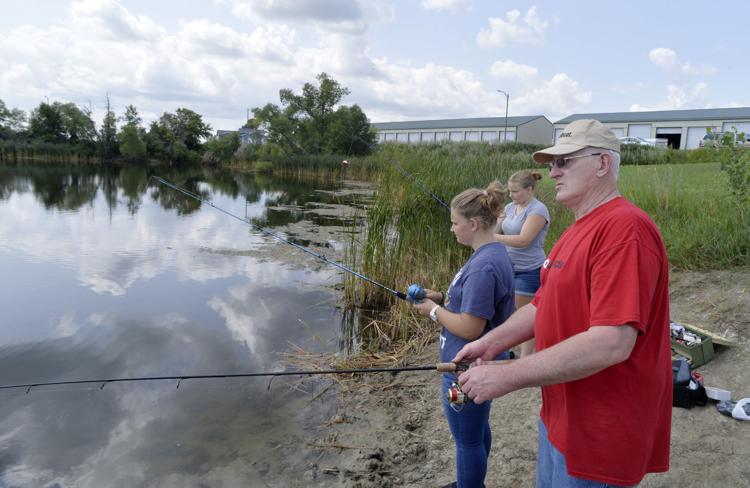 You have free articles remaining.
Many of the dams and ponds throughout the county are fairly accessible, from Crown Butte and Sweet Briar along Interstate 94, to Porsborg Dam in northwest Mandan.
"It gets a lot of traffic from neighborhood kids, especially there," Bailey said. "I would say it's a well-kept secret, but it certainly does get a lot of attention there."
Between Glen Ullin and New Salem, Danzig Dam has offered a walleye bite. Jeff Hendrickson, supervisor for the western fisheries district, said walleye are doing well with a good catch rate, sized all the way to 4 pounds.
"Right now, it's got a good walleye population," he said, while perch and bluegill have struggled at Danzig Dam.
Game and Fish stocked the reservoir about four years ago after an eradication project for carp and bullhead, though Hendrickson said some still remain. Bailey said Game and Fish stocks "quite a few" of the dams in Morton County, based on current management needs.
Morton County ranks "probably middle of the pack" for fisheries in North Dakota, he added — typical of other counties, but not as many as the prairie lakes near Ashley, Wishek, Tuttle and Robinson. But Morton County's drainage topography has its advantages for dams.
"Generally, these dams were constructed with angling opportunities in mind, for sure," said Bailey, adding that many of the dams see year-round use due to their proximity to Bismarck-Mandan.
"They receive pretty extensive use," he said.
"It (Porsborg Dam in Mandan) gets a lot of traffic from neighborhood kids, especially there. I would say it's a well-kept secret but it certainly does get a lot of attention there."

Paul Bailey, with the North Dakota Game and Fish Department