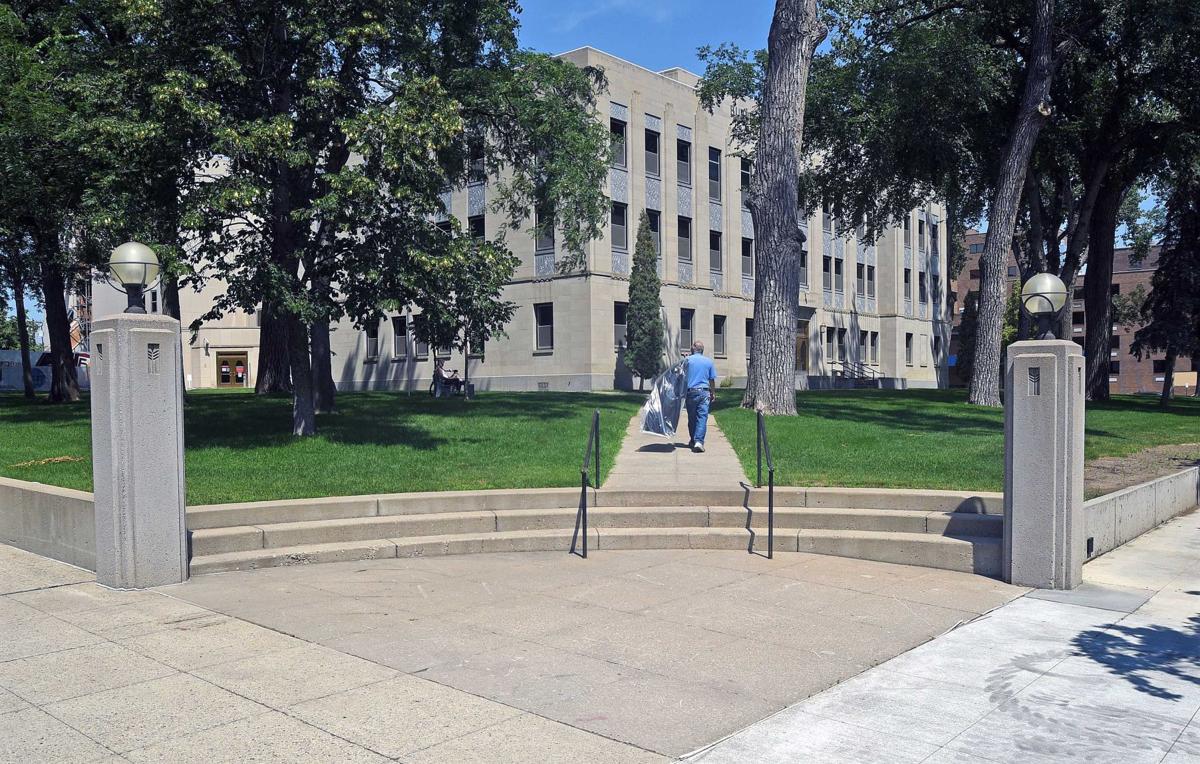 Burleigh County officials have settled a dispute over expenses from an employee's trip to a conference in Las Vegas, during which he stayed an extra day and rented a luxury vehicle.
Code Enforcement Officer Marvin Dahle attended a conference hosted by the International Code Council in March. County officials contested some of his expenses, including his flight and rental car, and ordered him to reimburse the county more than $400.
Dahle's supervisor disputed the demand for reimbursement. After several rounds of communication last month with the supervisor, Burleigh County State's Attorney Julie Lawyer suggested in a June 24 memo bringing the matter before the county commission or taking it to small claims court.
Before commissioners could discuss the issue at their meeting Monday evening, those involved reached an agreement for $103.06 in reimbursement.
"He spent $103 more than what he could have," Lawyer said.
Building official Ray Ziegler, who initially approved the expenses as Dahle's supervisor, submitted a check for that amount to the county on Monday.
County Auditor and Treasurer Kevin Glatt received the check, but he said he still doesn't agree with the resolution.
"It doesn't smell right," he said.
Glatt said he registered several red flags when Dahle's expenses first arrived at his desk for review.
For one, Dahle had rented a Cadillac XTS vehicle at $45 per day and opted to prepay to have his fuel refilled upon return of the vehicle, a $58 charge.
"I just find it hard to justify renting a luxury vehicle," Glatt said.
Ziegler, speaking on his employee's behalf, acknowledged "it may not look good" to have rented the Cadillac. But, he said, it was the cheapest option and came about from a free upgrade under Hotwire's "deal of the day."
Lawyer, in analyzing the expenses in early June, wrote in a memo that she looked at deals for two weeks out, which correlated with the time frame during which Dahle booked his travel. She said she found that while Hotwire's "deal of the day" seemed to offer the best discount, there were cheaper options. For example, a compact car would have cost just $23 per day.
You have free articles remaining.
Another point of contention surrounded Dahle's airplane ticket. The conference ended on a Friday evening, and he returned to Bismarck on Sunday.
Ziegler wrote in a May memo that Dahle flew on Allegiant Air, which did not offer a return flight on Saturday. As a result, Dahle spent an extra night in his hotel, which cost $260, received a per diem of $61 and was paid $308 for overtime for flying in and out of Vegas on Sundays, according to the analysis by Lawyer.
Lawyer pointed to another flight option that she wrote could have saved money.
Ziegler said the flight Dahle took was the cheapest reasonable option, as other less-expensive flights would have arrived in Las Vegas after midnight the day of the conference.
Lawyer said she chalked up the dispute to an inadequate analysis ahead of the trip that did not fully consider the additional hotel, per diem and overtime costs.
Both she and Ziegler agreed it's difficult to identify comparable travel costs retroactively, given that prices change depending on the time of year. Various methods Lawyer and other county officials used to determine cheaper options resulted in initial estimates that Dahle could have traveled to the conference for $400 to $731 less than he did.
Lawyer and Ziegler finally settled on a time frame and agreed on which travel costs to consider, resolving the matter with a $103.06 reimbursement.
Both said the dispute could prompt more discussions among county officials about how to best track and approve employee expenses.
Lawyer said it would be helpful for departments to keep their cost analyses after considering various travel options.
Ziegler suggested more specific guidelines on travel could come from the county auditor and treasurer, including clarity on whether rental cars are the best option for ground transportation. Lawyer, in a memo, noted that there were public transit and cheaper ride-sharing options available to get to and from the conference.
Glatt said he had not encountered similar expense disputes in recent years.
"We rely on department heads to ensure that effective and efficient spending is done," he said.
Within the building, planning and zoning department, that falls to Ziegler.
"As department heads we have a lot going on," Ziegler said. "We do the best to get the best deal for the day to get things to work."