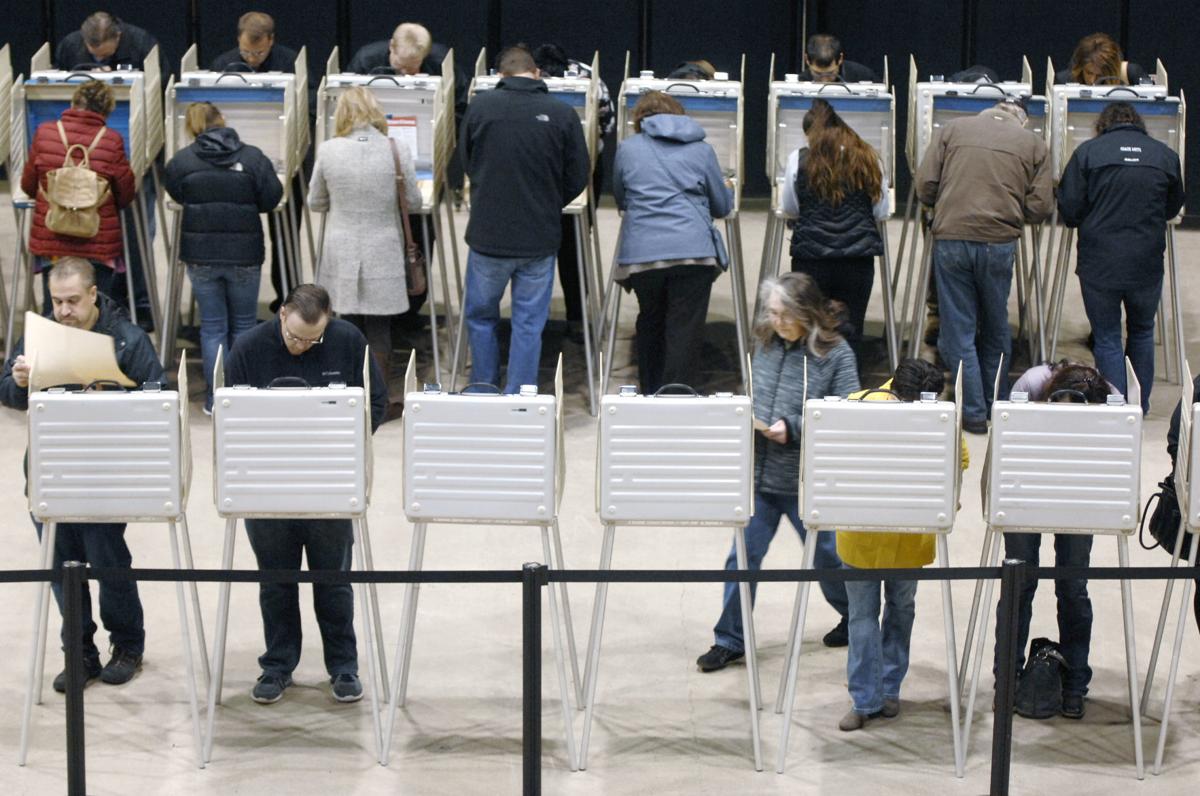 Turnout in North Dakota's midterm election bested the 20-year average, according to unofficial results.
About 57 percent of eligible voters, or 329,086 people, cast ballots, compared to the 46 percent average across the five midterms since 1998. 
"It's up there," North Dakota Secretary of State Al Jaeger said Wednesday, noting 61 percent turnout of eligible voters in 2016, a presidential election year.
Different population figures have their effects on the percentages, he added, while it appears the state's U.S. Senate race and Measure 3 for marijuana legalization drew more participation — about 324,000 votes cast for each race.
For example, there were about 10,000 more votes cast on Measure 3 than each of the other three measures, according to unofficial results. Only Measure 3 failed.
Eligible voters also increased by about 34,600 people, with ballots cast Tuesday up about 74,000 from 2014's midterm, Jaeger said.
Meanwhile, early voting set a record: About 46 percent of ballots were cast before Tuesday, according to Jaeger.
"We generally have talked about a third to 40 percent, so that 46 percent that were cast before Tuesday strikes me as being somewhat significant," Jaeger said.
Burleigh County Auditor/Treasurer Kevin Glatt said Burleigh County saw a record for a midterm turnout, with about 40 percent of ballots cast before Election Day.
"The numbers don't lie," he said.
He also said the Senate race and Measure 3 attracted voters and had an effect on the "type of voter," specifically younger people. 
"Anecdotally, this election we probably sent more absentee ballots to college campuses than ever before," Glatt said. "And the requests were not generated by Mom and Dad. They came directly from the student." 
Jaeger said he hadn't heard anything specifically after Election Day related to issues with the state's voter ID law, which critics said burden Native Americans who lack a street address.
Glatt said he saw "probably more confusion yesterday than I've ever seen" over voter ID, leading to congestion at polls.
"We have made the DOT driver's license division the gatekeepers of elections in this state," Glatt said. "And we've seen many, many, many people who have not updated their driver's license, and so we spent considerable resources, time, talent, efforts on getting people updated through the use of supplemental information."
Burleigh and Morton counties both had about 64 percent of eligible voters turn out, according to unofficial results. Each county also had about 70 percent turnout in 2016, and about 54 percent in 2014.
Two legislative races in the Grand Forks and Wahpeton areas may see recounts, as well as a handful of county commissioner races.
Republicans swept statewide races in North Dakota, further cementing their supermajority.
Jynette Larshus, political science coordinator at Minot State University, said even though no Democrats won statewide races, they made gains with slimmer margins. 
"While it didn't translate into a W, the impact of that has in a sense illustrated that the Democratic party in North Dakota is getting back to their roots and becoming more vocal," Larshus said. 
The North Dakota Canvassing Board meets Nov. 16 to certify Tuesday's results.
Be the first to know
Get local news delivered to your inbox!