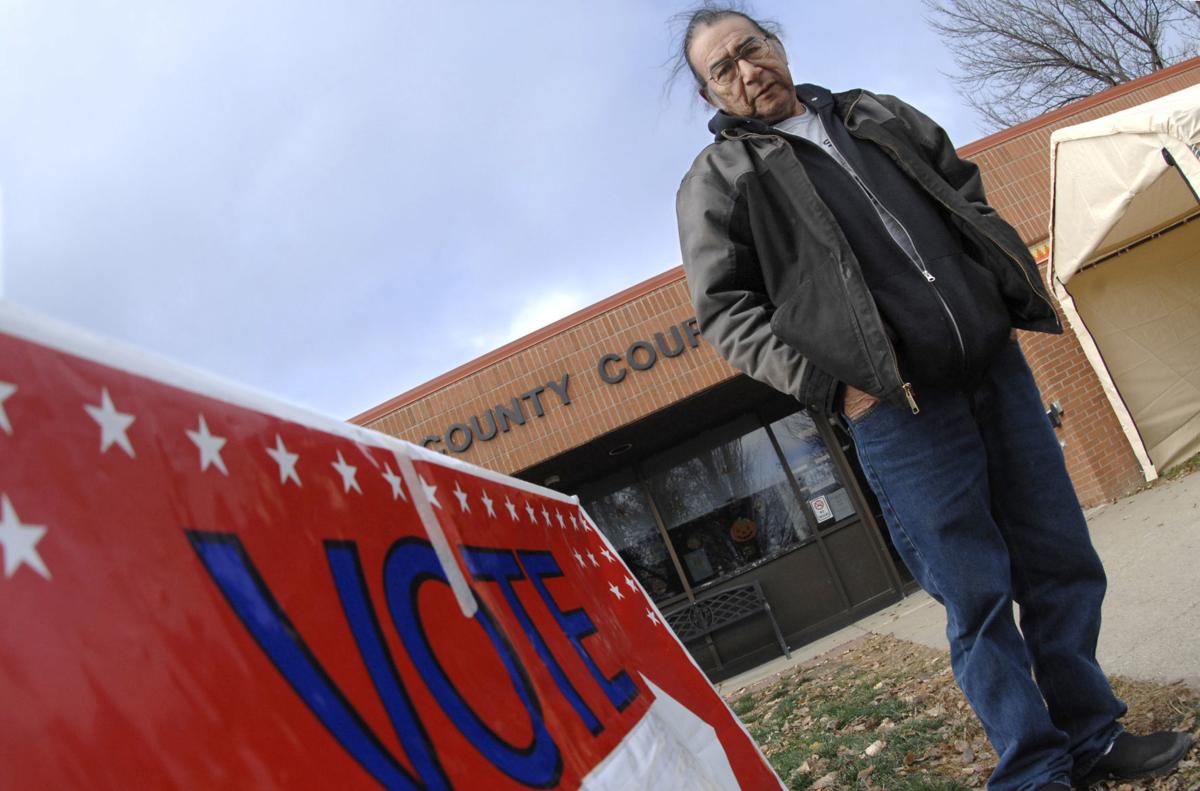 STANDING ROCK SIOUX RESERVATION − Terry Yellow Fat has voted in every election since the 1960s, but Tuesday was the first time he needed an order from a federal judge.
The Standing Rock Sioux tribal member ran into confusion in his attempts to comply with North Dakota's voter identification law, which no longer allows tribal members to use post office box addresses to vote.
In his efforts to obtain an accurate street address to vote, Yellow Fat said he was assigned five different addresses for the same home in Fort Yates, where he has lived since 1988. Three different addresses were given to him by Sioux County, one by the tribe and one on his state-issued driver's license, Yellow Fat said.
"It's been such a hassle to vote this year," he said.
Concern about potentially not being able to vote led the 69-year-old to join a federal lawsuit filed last week that challenges North Dakota's voter identification law.
U.S. District Court Judge Daniel Hovland denied a motion to block the law from taking effect Tuesday on reservations, but granted an order allowing Yellow Fat and five other plaintiffs the ability to vote.
"I think that's the only reason I got a ballot because Judge Hovland signed it," said Yellow Fat, a retired educator who used to teach a democracy class.
Even with the judge's order in hand, Yellow Fat said it took 20 to 30 minutes of talking to the poll workers before he was given a ballot. One worker wanted to write down his tribal enrollment number, Yellow Fat said, but he wouldn't allow it.
"I was getting mad. The bottom line is, why do they put us through this? They've made it so difficult," Yellow Fat said. "But I think it backfired. It's just causing everyone to come and vote now."
Sioux County Auditor Barb Hettich was expecting record voter turnout, as tribal leaders and volunteers worked to help people get new tribal IDs and provide transportation to vote. Some polling places ran out of ballots and the county had to send more, she said.
Four Directions, a nonpartisan Native voting rights group, has representatives working with the Standing Rock Sioux Tribe on voter outreach.
"Our goal is simply to get people to vote and help Native Americans have equal access to the ballot box," said William "Snuffy" Main, a board member for Four Directions.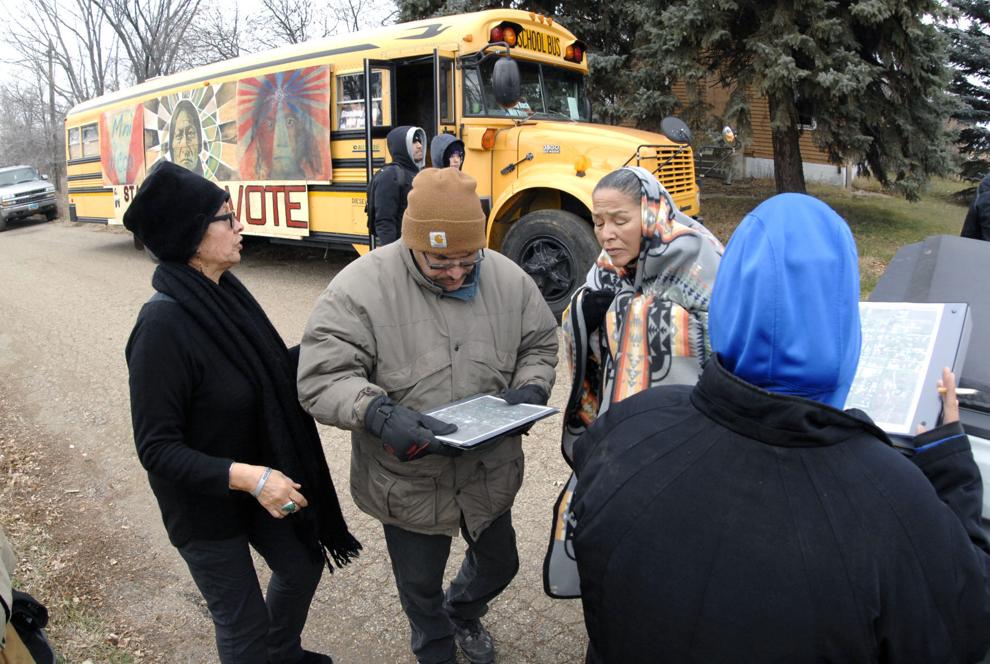 The tribe provided more than 750 new tribal IDs since Oct. 15 and continued to print new IDs on Tuesday, said Danielle Finn, external affairs director for the Standing Rock Sioux Tribe.
About 330 absentee ballots had been returned as of Tuesday, a record for the county that typically sees about 125, Hettich said. More than 400 absentee ballots were requested.
Unofficial results Tuesday night showed 1,444 people voted in Sioux County. The previous record was in 2016 with 1,257 votes.
About 75 people, primarily local tribal members, volunteered with Four Directions on Tuesday to go door to door on the reservation and offer rides to people who wanted to vote. The volunteers also had a voting hotline to answer questions.
Judith LeBlanc, who works with Four Directions, said the group of volunteers was welcomed at the Cannonball Community Center but didn't feel welcome at the Selfridge Public School polling place.
"As soon as we walked into the polling place, they were already unhappy to see a group of Native people," LeBlanc said.
Darlene Chasing Hawk, a Standing Rock tribal member who was among the volunteers, said she asked a school employee how the voting was going and the woman made a disparaging remark about Native Americans.
"I felt hurt," Chasing Hawk said.
School Superintendent Jim Gross said he was concerned about the security of the school after the group arrived on buses and congregated outside and in the hallway. Gross said the school will not serve as a polling place in the future.
Chris Redmann, Sioux County state's attorney, said at 5 p.m. that two people had been turned away from voting, but neither lived in the county.
Two polling places on the Standing Rock Reservation didn't open until noon on Tuesday, which is allowed by state law for precincts that had 75 or fewer votes cast in the last general election.
Finn said the tribe requested for the polling places to open at 9 a.m. so the hours were consistent across the North Dakota side of the reservation.
Some tribal members used letters from the tribe as identification. Poll workers in Fort Yates made copies of the letters, but in rural precincts the workers did not have access to a copy machine. In those cases, the poll workers kept the letters so the county can change the addresses in the election system, Hettich said.
The county plans to return the letters to voters, Redmann said.