By this time next week, North Dakota's U.S. Senate race will be over.
Whew. Of course, it is only done if there is no call for a recount of a close race. At least, there likely would be relief from the political advertisements.
Meanwhile, Democrat incumbent Heidi Heitkamp and Republican Rep. Kevin Cramer will be on the road in these final days, with big names joining them in their last big push before Election Day, Nov. 6.
The president's son, Donald Trump Jr., was stumping for Cramer in Williston on Tuesday night. Former Vice President Joe Biden is kicking off Heitkamp's statewide bus tour Thursday from Fargo. 
As they crisscross the state, both candidates said their messages are clear.
"People are going to have to decide, do they want someone who's going to vote with the president 100 percent of the time or exercise their independent judgment?" Heitkamp said by phone Monday, traveling to six cities from Lisbon to Jamestown.
Before a tribal leaders forum on Monday in downtown Mandan, Cramer said he'd put up his record against Heitkamp's "every day," while touting his accessibility through talk radio and town halls.
"She talks to associations. I talk to people," the third-term congressman said. "I've shown up for six years. I've shown up. I show up at a lot of places and make myself available."
Down to the wire
Bo Wood, professor of political science and public administration at the University of North Dakota in Grand Forks, said the race will likely come down to turnout. Who can mobilize voters? 
National issues, from the president's behavior to recent news items, may be what invigorate the campaigns' "worker bees" to get out the vote, according to Wood.
But the race is still a "moving target," he added.
"It really comes down to who can get their people to stop what they're doing and go to the polls," Wood said. 
Heitkamp said her campaign will be "barn-storming" towns across North Dakota.
"We're going to be in a lot of small towns and a lot of big towns, getting out the enthusiasm for this midterm race," she said.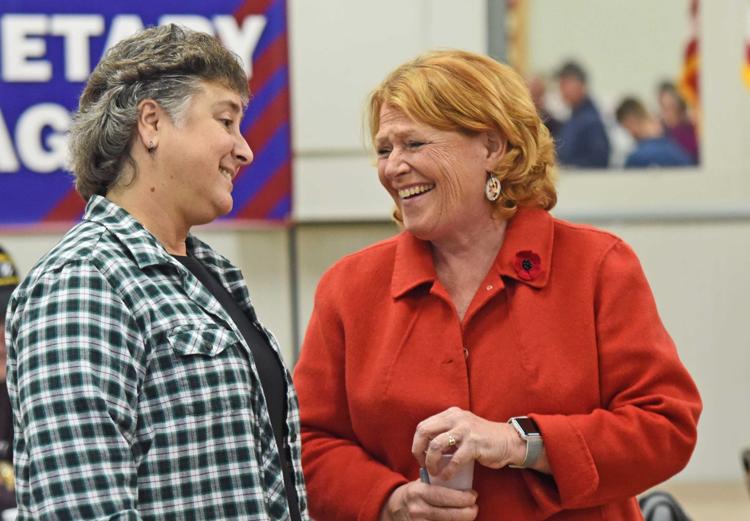 Cramer said he plans to hit towns, such as Tioga, Stanley and others along U.S. Highway 2, after Tuesday's rally, while keeping a "loose" schedule to be available anywhere.
He said the race will have its place in history for a few reasons: For one, its likelihood of being the "most expensive per capita." From campaign finance filings, Heitkamp has raised more than $27 million; Cramer about $5.6 million.
But also, a Cramer victory in the Senate race would cement a Republican hold on all partisan statewide offices, assuming the incumbents also win. As state party chairman at a time when Democrats held many more seats than now, Cramer said the election of Republican Gov. Ed Schafer in 1992 began to turn the tide.
Heitkamp said she "intends to win." For her, "politics is personal" in North Dakota, with an intimate trust involved.
"I think people know you," she said. "They know your family. This is a small state. This is like a small town."
Final stretch
October was a bit of a bumpy road for Heitkamp, who opposed Brett Kavanaugh in his stormy confirmation to the U.S. Supreme Court. She also apologized for a newspaper ad that misused names of women who experienced sexual assault or domestic violence.
The ad was a response to Cramer's comments in a New York Times interview in which he criticized the #MeToo movement.
Heitkamp said her campaign continues its attempts to reach out to women whose names were misused in the ad: "We're going to try and make this right."
Cramer said the ad was an exercise in "bad judgment."
With their two debates done, Cramer said he felt "really good" after the first one and "even better" after his second match with Heitkamp.
"She hasn't been able to use the last six months to catch up to the last six years," he said. "And by that I mean, my being up for re-election every two years, my accessibility, unedited by newspapers, unedited by newscasts, through town halls and radio call-in shows and whatnot."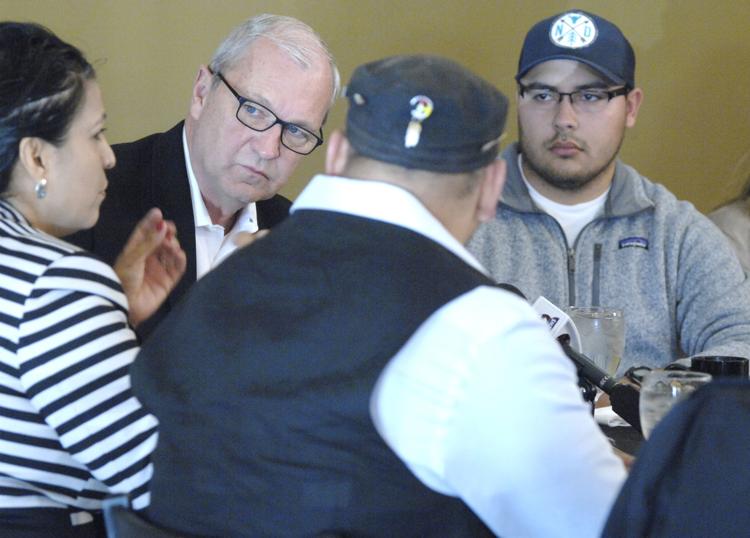 Heitkamp said the debates painted a clear difference between her and Cramer on topics such as health care and the farm economy. She also senses an enthusiasm building among voters.
"I think at the end of the day, the person who works the hardest is going to be the one winning," Heitkamp said.
Defining factors
Former Gov. Schafer, who is voting for Cramer, said the race is too close to predict, but suggested a faction of truly undecided voters may swing it — quite possibly for Cramer, given the national issues.
"If you look at a defining factor, one is tax cuts," Schafer said. "One candidate voted for them and one candidate voted against them, and so how do North Dakotans feel about that?" 
A few other issues may define voters' choice, he added, such as their bases of values — i.e. Kavanaugh's judicial philosophy — and the basic question of who voters want "driving the bus."
"It's that constant tug of war that we always have: Is government driving the picture, or is it individuals driving the picture?" Schafer said.
While Heitkamp may be behind in polls, Schafer said Election Day is the true measure. And Heitkamp was behind by as many as 10 points in 2012, when she beat Republican Rick Berg with fewer than 3,000 votes.
At a "Veterans for Heidi" luncheon in Bismarck, Allan Stanek said Heitkamp has his vote as she's "for the people of this state."
Though control of the U.S. Senate may hang in the balance of North Dakota's race, Stanek said he's solely concerned about Heitkamp.
"That's what I want: somebody that supports the people of this state," Stanek said.
Meanwhile, the infusion of $12.5 million into Heitkamp's campaign in about three weeks in October creates an interesting situation, Wood said.
"How do you possibly make use of that much money in that short time window?" Wood said. 
Schafer said the national interests — such as those who generated the millions for Heitkamp earlier this month, after the Kavanaugh vote — in North Dakota's Senate race have their own agendas. 
"They don't care about Kevin Cramer. They don't care about Heidi Heitkamp," Schafer said. "They care about putting someone in a chair who's going to vote the way they want them to vote. I just hate that stuff because it isn't North Dakota. It doesn't reflect North Dakota."