Sen. Heidi Heitkamp and Rep. Kevin Cramer crossed swords Thursday night in their first debate of North Dakota's U.S. Senate race, hitting each other on campaigns ads and their allegiances.
Heitkamp opened her remarks in the debate hosted by the North Dakota Newspaper Association in Bismarck with an apology over an open letter advertisement that recently ran in newspapers statewide and misused names of women included in the letter as victims of sexual assault or domestic violence.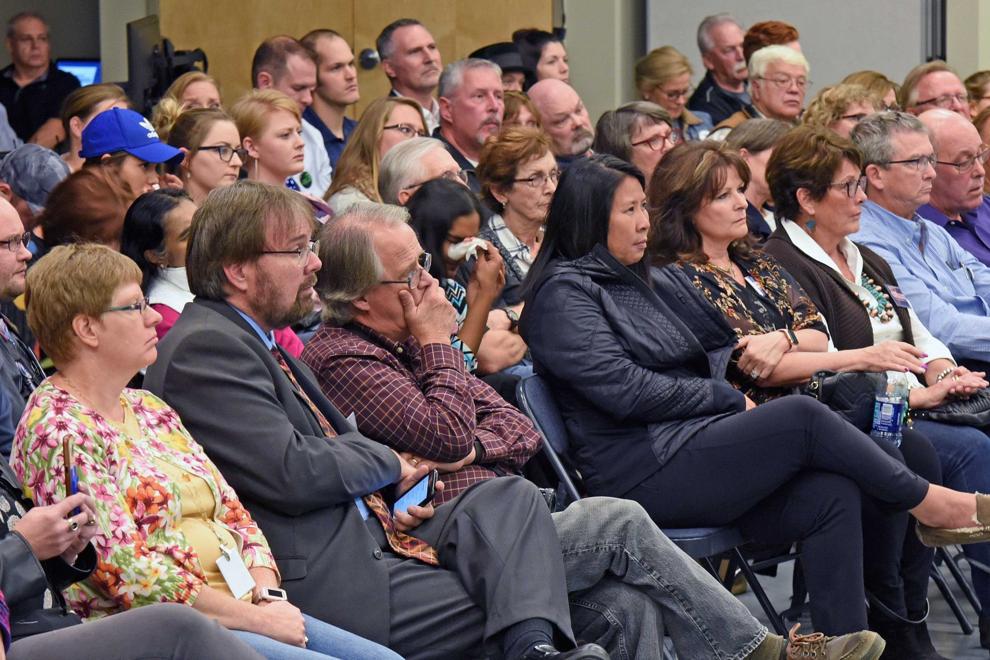 The ad was intended as a response to comments from Cramer to the New York Times in which he criticized the #MeToo movement. 
"I can only say this is a terrible mistake, and the last thing I would ever want to do would be to cause trauma for any victim of violence," the first-term Democratic senator said.
"My parents taught me that, if I make a mistake, my obligation was to take responsibility and then try to make things right. I don't know that I could ever expect that these women could accept my apology, nor would I ask that they accept my apology."
Cramer highlighted the parallel time frame of his and Heitkamp's terms in Congress, each first elected in 2012 and serving in the same congresses, voting on the same bills. 
Debate questions focused on health care, school safety, improving the U.S. Postal Service and also campaign ads, specifically which one each candidate has felt was most "disingenuous." 
Cramer lit into Heitkamp over an ad that portrays him as giving himself a $23,000 raise to his salary as a North Dakota public service commissioner. He later used his time to ask Heitkamp a question to further grill her on the "blatantly untrue" ad. 
"You know that's not true. You know that's impossible. You know that's against the rules," he told Heitkamp, a former state attorney general. 
Heitkamp said it was "inappropriate" for him to receive a salary increase before his next term on the PSC, as she said she only received a raise as attorney general in her second term. 
She used her question to dig into his stance and comments on "cutting" Social Security and Medicare. Cramer said he's only talked about "reforming" Social Security and Medicare to allow more revenue and to benefit future generations. 
One question asked the candidates to weigh what the public wants versus what they see as right, to which Heitkamp referenced her no vote on Judge Brett Kavanaugh's confirmation to the U.S. Supreme Court. 
"I will tell you this, you're elected to exercise your judgment, your path forward," she said. "I have to make a decision on my independent judgment, and, with a Supreme Court nominee, there's no do-overs." 
Cramer upheld Kavanaugh's qualifications for the highest court and said "being independent isn't an excuse for being wrong." 
In closing, Cramer highlighted his accessibility via talk radio town halls, participating in more than 200 a year.
Heitkamp said she's made specific efforts for bipartisan cooperation, naming her work to lift the 40-year-old ban on crude oil exports and develop the Section 45Q tax provision for carbon capture technology. 
"I bring North Dakota commonsense and North Dakota compromise to Washington, D.C.," she said. "They don't need another person to vote with one side 100 percent of the time."
"I will talk about the tough issues," Cramer said. "I don't pretend they're going to solve themselves." 
Jason Renz, 19, a student at Bismarck State College, took a selfie with Heitkamp before she entered the debate. Renz said he wanted to attend the debate to see the differences between candidates, but plans to support Heitkamp.
"I think she's the better of the candidates," Renz said.
Rebecca Warren, a teacher at Mandan Middle School, said it was the first debate she attended in person.
"There's been so much controversy in their advertising, I thought it would be nice to see them in one room looking at each other and sharing their thoughts and opinions," Warren said.
Alan and Charlotte Heim raise cattle north of Bismarck. Though they've already made up their mind about how they plan to vote — Cramer campaign buttons pinned to their chests — they're excited to be part of the political process.
North Dakota's U.S. Senate race has generated national interest as its outcome may determine the balance of power in the U.S. Senate, now a 51-49 Republican majority. 
"This is a historical thing, don't you think?" Charlotte Heim said.
Cramer and Heitkamp will next debate Oct. 26 in Fargo, hosted by the North Dakota Broadcasters Association. An Oct. 5 debate with Prairie Public and AARP was canceled due to the the U.S. Senate's votes on Kavanaugh. 
Tribune reporters Amy Dalrymple and Jessica Holdman contributed to this report.