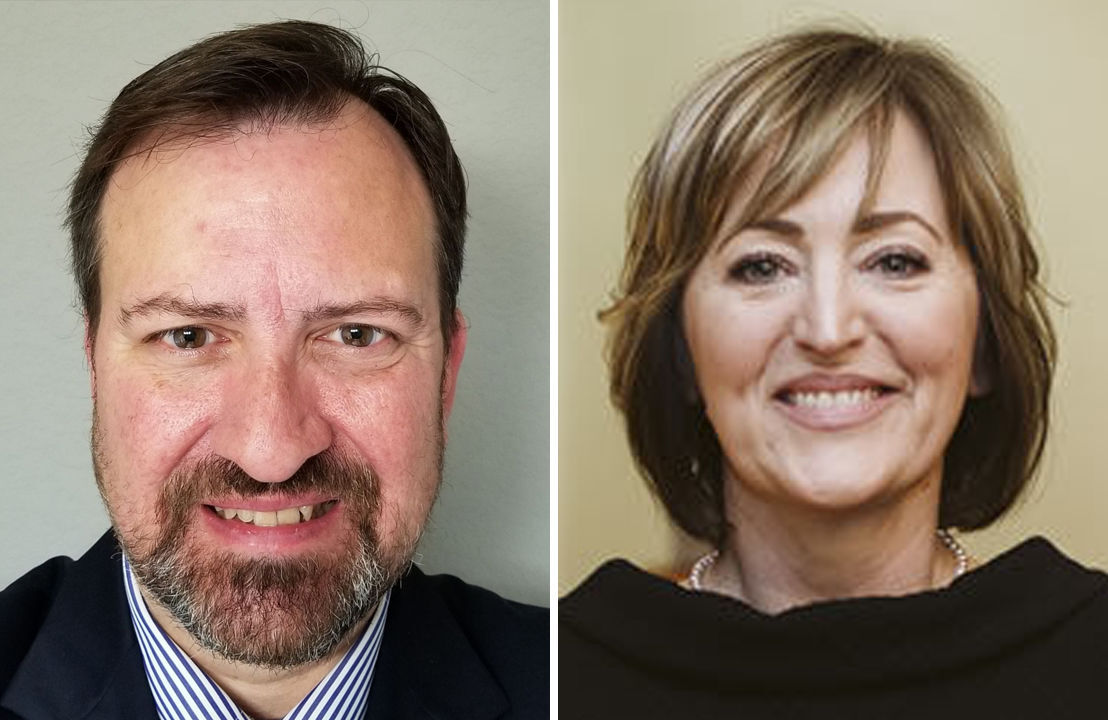 Two Bismarck attorneys with differing ideas about the judicial system and a judge's role are candidates for a South Central District judgeship in the general election.
Scott Miller has served as assistant Burleigh County state's attorney since April 2019. He holds master's degrees in business administration and accounting, and graduated from Case Western Reserve School of Law in 1993. He's served as a judicial extern in U.S. District Court and as a law clerk in state trial courts, and also has worked in private practice and in the banking industry.
Bonnie Storbakken since January 2017 has been executive secretary of the North Dakota Board of Medicine. She served as counsel and senior policy adviser to North Dakota Gov. Jack Dalrymple for two years, and prior to that was commissioner of the North Dakota Department of Labor and Human Rights. She also worked in private practice for eight years, and served for a year as staff attorney and program director with the State Bar Association of North Dakota. She holds a bachelor's degree in education and in 2004 earned a juris doctor from the University of North Dakota.
The two seek a seat that is held by Judge Thomas Schneider, who announced last year that he would not seek reelection. He has held the position since the 1980s.
Incumbents are running unopposed for three other South Central Judicial District judgeships. Judges James Hill and David Reich will fill six-year terms. Judge Douglas Bahr, who was appointed to fill a vacancy in 2018, will serve until the end of 2022.  
Miller
Miller, 53, said he would like to see changes in the way justice is administered and would bring a "tough but fair" philosophy to the bench.
"We listen to jail phone calls," Miller said. "What we hear is essentially our prisons are referred to as Camp Snoopy. We want to have people be rehabilitated if possible, but there should be at least some fear of consequences."
He cited a recent case he prosecuted in which a woman stole $750,000. He asked that she be sent to prison for 15 years, and the judge in the case sentenced her to five years.
"I'm concerned that the word on the street is if a crime is committed they're not going to be punished very severely," he said.
Miller touts his courtroom time in both criminal and civil cases as being important experience for the judgeship. A judge "doesn't have to be Perry Mason," he said, but added "you have to have spent at least a fair amount of time in court to realize how it works."
A judge also needs patience, good listening skills, and common sense to evaluate the "litany of excuses" that a defendant can present, according to Miller.
"My philosophy is to enforce the law as written, but sometimes there are ambiguities where the Legislature has not made things very clear," he said. "I think a judge has to have some good common sense in bringing things together."
The COVID-19 pandemic presented courtroom challenges to which Miller said he has adapted. The situation has shown that many hearings can be handled remotely, which takes away the need to transport prisoners.
"We can use a lot of the things we learned from the pandemic as far as conducting these remote hearings in the future," he said.
Miller in 2004 was involved in an Ohio election ballot issue that went to the state's Supreme Court. He attempted to use the middle name Russo -- which at the time was the last name of the county auditor and five county judges -- on the ballot when he ran for a judgeship. Miller at the time said it was a tribute to an Italian ancestry, but election officials called the change deceptive and an attempt to gain name recognition.
The incident was a long time ago, Miller said, adding that he was "never disciplined and never violated any laws."
Miller was not disciplined for the incident in Ohio. He has never been disciplined for anything in North Dakota; nor has Storbakken.
Miller has handled mediations and arbitrations, interned for a federal judge while in law school, and worked for state court judges during and after law school. The work he did for the judges gave him behind-the-scenes knowledge about how decisions are made, he said.
A judge should look at a case and not care who wins, according to Miller.
"The people who live in the South Central Judicial District need a judge who has been in court, who has criminal experience, civil experience and recent court experience," he said. "To sum up my judicial philosophy, it would be tough but fair."
Storbakken
It's a belief in the judiciary and a respect for the law that have prompted Storbakken, 48, to seek the judgeship, she said.
"I truly believe in and am passionate about accountability," Storbakken said. "A judge is in a unique position to adhere to the law, hold folks accountable under the law, and be respectful and compassionate at the same time. And that's really my goal."
Storbakken said the main role of a judge is to make decisions under the law and to uphold the integrity and independence of the judiciary. Judges must conduct themselves in such a way that "the faith in the judiciary remains," she said.
"Maintaining high standards of conduct, being able to make decisions without fear or favor, completely independent of outside influence," she said. "It really comes down to respect for the law, the law as it's written and not as one person may wish it to be."
Attorneys sometimes forget that being in court is stressful and not an everyday occurrence for most people, Storbakken said. Treating everyone with respect and dignity "is extremely important," she said, adding that a judge has to be fair-minded, open-minded, and not prejudge an issue until all the facts are in. Knowledge of the law and procedure are first and foremost "in every single matter before the court," she said.
"Then it comes down to the individual facts of the case and how they apply to the law as it's written, being able to analyze and look at the important facts and what rises to the level of decision-making," she said.
Dealing with the COVID-19 courtroom protocols in place would be similar to adjustments she's been through in her current position, Storbakken said.
"It's kind of an evolving situation," she said. "Whatever decision is made by the judiciary is what you have to adapt to."
Storbakken has not previously run for elected office. She was appointed labor commissioner by Dalrymple and later served as his legal counsel. She also helped train mediators in the North Dakota Supreme Court's Family Mediation Pilot Project and has practiced law in several areas.
The variety of experiences she's had in private practice, as labor commissioner and when advising Dalrymple "would lend themselves to the bench quite nicely," Storbakken said.
"My promise is that I will approach all matters with an open mind and fairness and compassion, and above all I will adhere to the law as it's written," she said. "I think that's the most important thing I can put forward, is my respect for the law and for the people in front of the court."
Judicial survey
Storbakken in a judicial candidate survey before the June primary received higher ratings than Miller in every category.
"It's humbling and an honor to receive the high recommendation from my peers," Storbakken said.
The survey was conducted by the North Dakota State Bar Association and included responses from attorneys across the state. More than half of the responses were from attorneys in the South Central District. Of the 247 attorneys responding, half said they did not have enough knowledge about Storbakken to evaluate her; three-quarters of the respondents said the same of Miller. Those respondents did not evaluate the candidates in the survey questions.
Respondents to the survey were asked about the basis of their evaluation. Two categories -- professional reputation and social or personal contacts -- left room for respondents to evaluate candidates without ever seeing them in a legal setting, according to Miller.
"Essentially, the survey is a glorified popularity contest with little to no validity," he said. 
Be the first to know
Get local news delivered to your inbox!