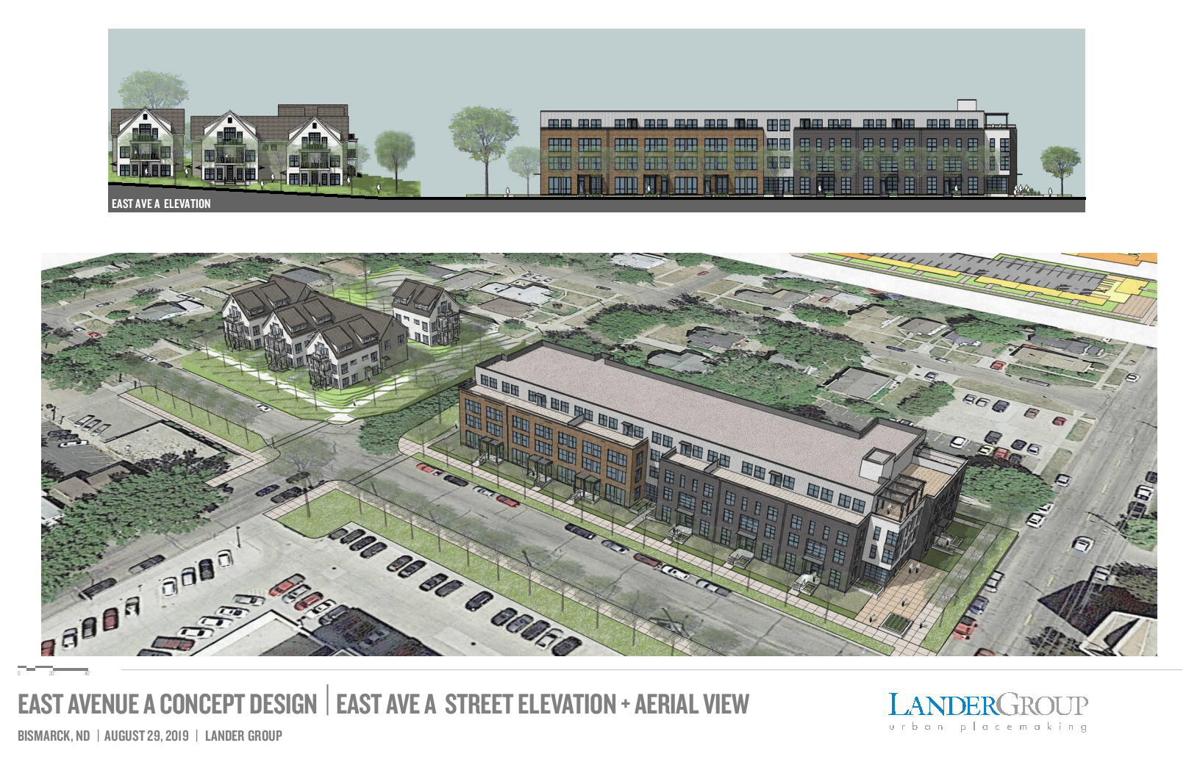 Commercial developers are proposing to build 91 apartment units in downtown Bismarck, a move that excites business advocates who have called for more housing downtown.
Minneapolis-based The Lander Group is working with local property owners The Boutros Group to construct five apartment buildings along East Avenue A, a street shared by the Bismarck Veterans Memorial Public Library and Trinity Lutheran Church.
"If you want a new apartment in a walkable location, this is really, I would argue, the first offering in Bismarck," said Michael Lander, president of The Lander Group. "We are really excited about that combination, and there have been so many other things going on downtown, that's what's attracting us. We know people would want to live near all the cool stuff down there."
The projects are expected to cost a total of about $16 million, Lander said.
Developers are calling the largest of the proposed projects -- a planned 68-unit, four-story building -- "The Renaissance Lofts." It will be located along East Avenue A, east of North Second Street.
The Renaissance Lofts will include a "deck" on the fourth floor, Lander said, with a view of the North Dakota State Capitol building.
Two structures occupy The Renaissance Lofts' proposed site: an apartment building and a storefront that formerly housed J's International Enterprises, which sold African products.
The Lander Group is calling its proposed 23-unit apartment, west of North Second Street, "The Grove." The proposed housing development is planned to including four buildings. 
You have free articles remaining.
"Our tenants will have a little different offering to them than the Renaissance Lofts," Lander said, adding that some of its units might be appealing to dog owners who want to live in one accessible to the outside. "In the Grove, you park in a garage and then you walk (out) your door just like in a house."
Currently the site is occupied by four single-family residential buildings owned by The Boutros Group that the developers plan to demolish.
The Grove units are planned to look like "four large houses," Lander said. "We think that side especially is really a transition site between the core of downtown and a single-family or residential neighborhood to the north and west." 
Daniel Nairn, a planner with Bismarck's community development, said he checked to find the properties aren't on the National Register of Historic Places, the federal government's official list of places it deems worthy of historic preservation.
The city's Renaissance Zone Program encourages reinvestment in downtown properties by providing property tax and income tax incentives to residents and businesses who invest in their buildings. The seven-member Renaissance Zone Authority approved for the projects to receive tax exemptions, which the Bismarck City Commission approved in February.
"One of the goals of the Renaissance (Zone) Authority is to increase the housing opportunities downtown," Nairn said. "There has not been, in recent years, that many new housing units created."
The Renaissance Lofts building is planned to provide 54 parking spaces inside the 68-unit building, and an additional 16 parking lot spaces that aren't "dedicated" to tenants and "may be shared," Lander said.
Last month, developers requested a variance, which would allow their projects to be an exception to some zoning requirements, which the city commission will consider at its next meeting, Nairn said. If passed, the proposed variance would reduce the number of required parking spaces from 96 to 54.  
City planners don't have a date on when the city commission will decide on approving the projects, Nairn said. The planners are waiting for commissioners to vote on the variance request and for developers to submit a site plan outlining the apartment projects.
Be the first to know
Get local news delivered to your inbox!