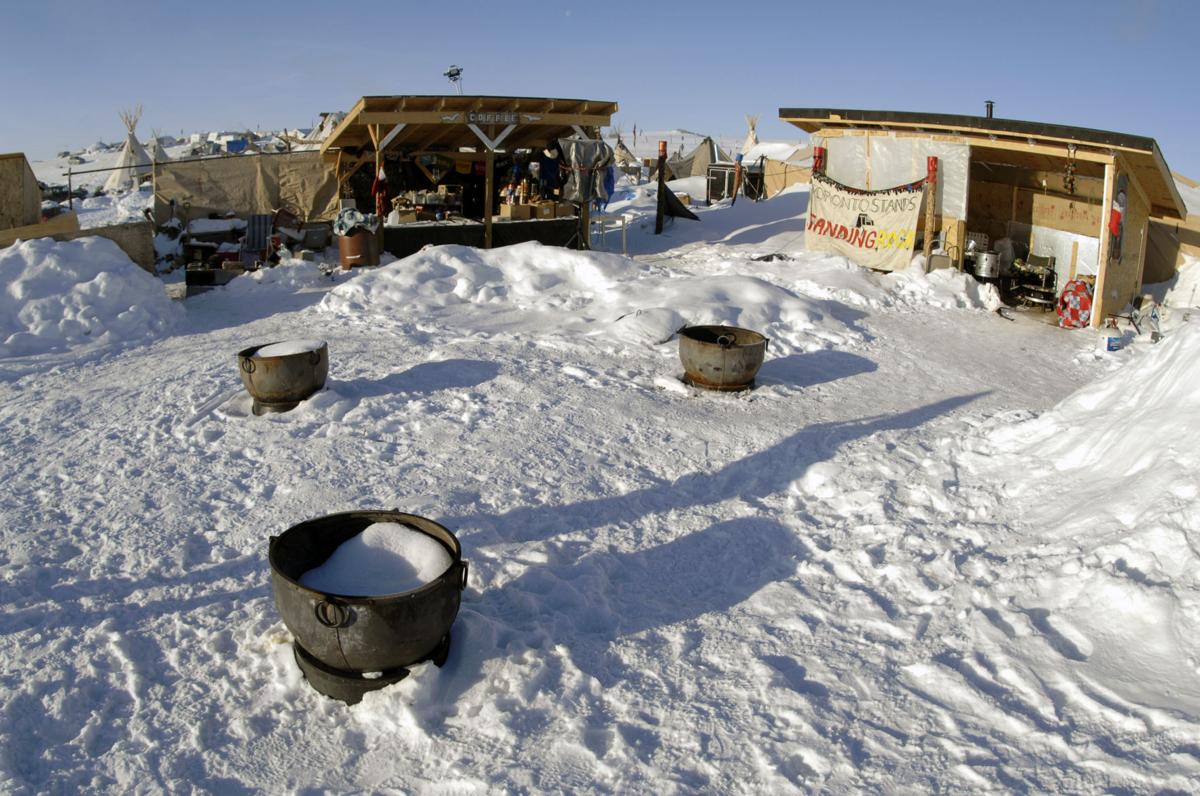 The Standing Rock Sioux Tribe has disavowed any perceived connection to a group of protesters, including Chase Iron Eyes, who set up a short-lived camp on private property on Wednesday.
"This group's actions do not represent the tribe nor the original intent of the water protectors," Chairman Dave Archambault II said in a statement Wednesday night. "If we are to fight for treaty rights, then we must all work together. Tribes came to Standing Rock in support of our tribe's effort with the recognition that it will reflect back on us all. This type of action was not undertaken in that spirit, because, instead of empowering us, it undermines us."
A group of protesters established the Last Child Camp atop a hill across from the main Oceti Sakowin camp early Wednesday on land owned by the pipeline company. The camp consisted of multiple teepees and a new sacred fire, where some could be seen praying on live-streamed videos. 
Brandon Kemble, a Ponca pastor from Oklahoma staying at the main camp, said the Last Child Camp was about asserting treaty rights to the land and moving to higher ground that would not flood in the spring.
"They're not going south; they're going forward," Kemble said. 
After failed negotiations between police and leaders of that camp, a contingent of law enforcement drove down Highway 1806 and raided the camp, arresting 74 people from the road and hilltop, according to Maxine Herr, spokeswoman for the Morton County Sheriff's Department. 
During the eviction, some people resisted arrest but there was not much violence toward the officers, Herr said. Law enforcement carried riot control weapons but did not use them, and there were no reported injuries on either side. National guardsmen assisted with blocking people from going up the hill but did not make arrests.
Authorities did not enter the main Oceti Sakowin camp, where cleanup efforts are underway with the help of the tribe.
Formal charges are pending against those arrested, who are held at jails across the state. They are expected to make initial appearances in court on Friday.
Former congressional candidate and attorney activist Iron Eyes was one of those arrested on the hill. On social media, he encouraged people to come back to the state and join the new camp. 
On a live-streamed video Wednesday morning, he called for "thousands of people" to return to North Dakota and "lay our bodies in the way of the destruction of our children's futures."
"We are going to hold it down on the high ground here," Iron Eyes said of the new camp, which he indicated was out of the flood plain. "We don't have a choice but to be that inspiration the world is depending on."
That message runs directly counter to the request of the tribe for people to stay home and allow its fight to be continued through the federal government and court system.
"Every action taken here is scrutinized at the highest level and taints the capacity for goodwill," Archambault said. "We need to take the lessons from this experience and get ready for the next battle; there are many to come with this new president."
Also arrested Wednesday was Jenni Monet, a freelance journalist who reports for Indian Country Media Network, Reveal (Center for Investigative Reporting) and PBS Newshour. 
Despite this mass arrest, the tribe and state say they are continuing to work together to re-open the Backwater Bridge. Gov. Doug Burgum visited with the residents of Cannon Ball on Wednesday night to hear their concerns about the protest's effect on their community. 
Archambault said it was a sign the new governor is "willing to work for all citizens of North Dakota, including tribal communities."
At the Morton County Courthouse on Thursday afternoon, several people were gathered in the hopes their friends and family would have a chance to appear in court and bond out. 
Among them was Kemble, who waited outside the second-floor courtroom for his sister. He was anxious: He didn't know what to expect for charges, bail or when there would be a hearing. 
He described many who were arrested as among the most passionate in the pipeline fight, since they're still in North Dakota.
"To see those key people get arrested is very disheartening for me," Kemble said.
Unlike the chairman, he doesn't believe the on-the-ground fight should be over.
"They're a government and they have to look out," Kemble said of the tribe. "A protector doesn't have to follow those same rules. What initially started as a call from the Standing Rock Sioux Tribe, it's evolved from that."