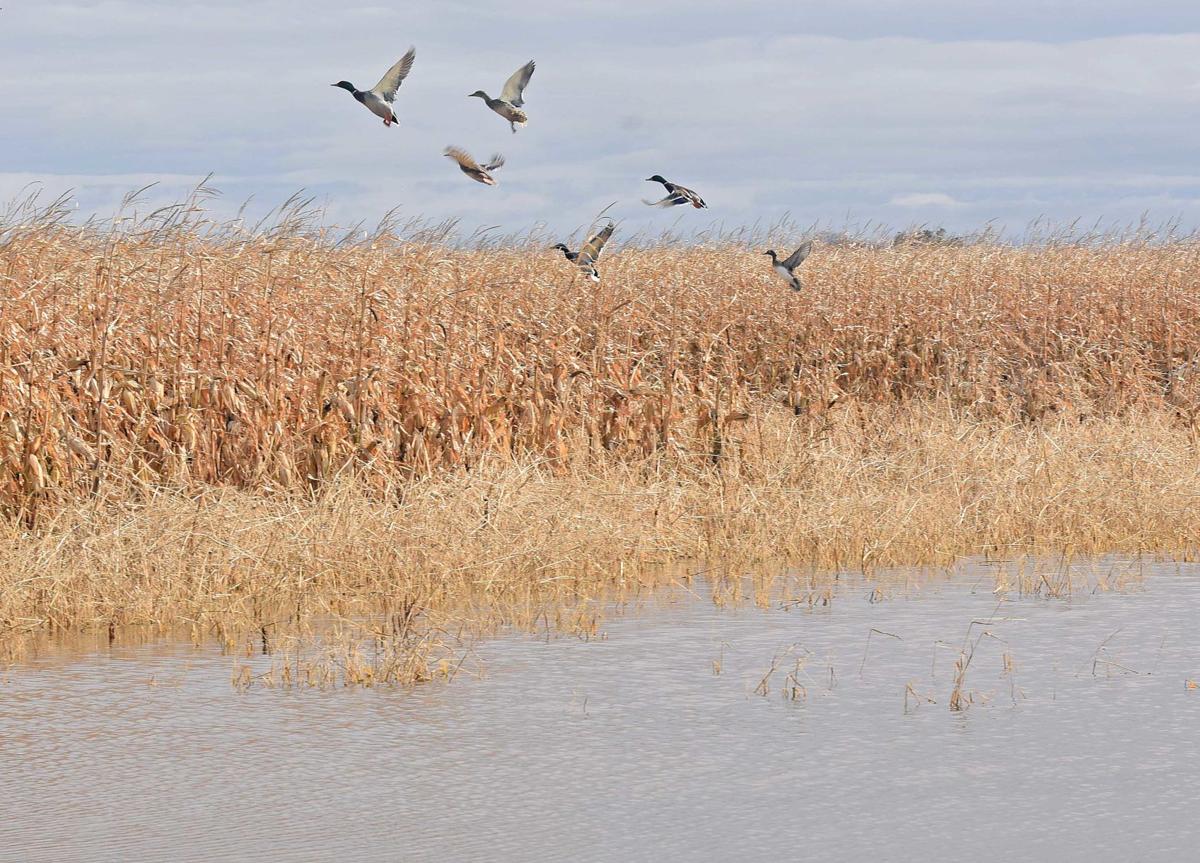 U.S. Agriculture Secretary Sonny Perdue on Friday designated a disaster in 47 of North Dakota's 53 counties in the wake of record-setting wet weather and a historic early fall snowstorm.
The designation, requested last week by Gov. Doug Burgum and backed by the state's congressional delegation, paves the way for federal assistance for farmers still struggling to get crops off the field.
The announcement came as USDA Undersecretary Bill Northey visited the Red River Valley to hear about and see the problems firsthand. Northey, hosted by U.S. Sen. John Hoeven, R-N.D., who serves on the Senate Agriculture Committee, oversees the Farm Service Agency, which handles federal farm programs.
"We deeply appreciate Secretary Perdue's quick response to our request, because help can't come soon enough for our farmers and ranchers facing one of the most difficult and stressful seasons on record," Burgum said in a statement. "We continue to explore every available avenue to make sure our ag producers have the resources and tools they need to cope with these unprecedented wet conditions that are delaying the harvest and hurting our livestock producers."
September 2019 was the wettest on record for North Dakota, according to the National Weather Service. The overly wet month broke several precipitation records across the western part of the state and was followed by an early October snowstorm that dropped historic amounts of snow in some areas -- as much as 2 ½ feet in the Harvey region. The winter blast brought an already delayed harvest to a halt, and farmers are still trying to rebound.
The latest crop report from the National Agricultural Statistics Service, released Monday, shows harvest of late-season crops still remains well behind average in North Dakota. For example, only 10% of the corn crop is harvested, compared to the long-term average of 60%. The soybean harvest has just passed the halfway mark, when typically it would be wrapping up. Only about one-fourth of the sunflowers are in the bin, compared to about two-thirds of the crop on average.
"The designation makes resources available to help alleviate the difficult situation North Dakota agricultural producers are facing," said state Agriculture Commissioner Doug Goehring, who is in Mexico with Perdue on a trade mission.
The secretarial disaster designation allows for implementation of such programs as FSA's Emergency Farm Loan Program and the Small Business Administration's Economic Injury Loan Program for farm-related businesses. The Wildfires and Hurricanes Indemnity Program+ also is available to eligible producers in presidential disaster-declared and secretarial-designated primary counties.
Burgum, who declared a statewide flood emergency in late October, in recent days also has temporarily eased some driving restrictions for commercial truckers hauling hay and livestock, and for truckers hauling propane, gasoline and diesel fuel to retail suppliers.
Of the 47 counties included in the designation, 45 have experienced a minimum 30% production loss of at least one crop due to natural disaster, and the other two -- Morton and Billings -- are eligible for the designation because of the inability to secure commercial financing to cover losses, according to Burgum and Goehring.
The six counties not included in the designation -- Barnes, Burleigh, Dickey, Logan, McLean and Richland -- are requesting a deferral from the secretary to allow more time to harvest fall crops to determine if there is a loss, according to state Agriculture Department spokeswoman Michelle Mielke.
Since those counties are contiguous to disaster counties, farmers are still eligible for FSA emergency loans, according to Hoeven spokeswoman Kami Capener. In addition, producers outside counties with a declared disaster may also be eligible for WHIP+, but they must supply documentation establishing that crops were directly impacted by a qualifying disaster event.
The extreme weather has caused hundreds of millions of dollars' worth of commodity losses in North Dakota, according to estimates reported to the Farm Service Agency. The crop loss estimates don't include what officials say are significant livestock losses suffered by cattle ranchers across the state.
People affected by flooding and adverse conditions can find information on other farm and ranch assistance at www.NDResponse.gov.
Be the first to know
Get local news delivered to your inbox!