Strong storms pounded parts of western and central North Dakota on Tuesday and into early Wednesday, damaging trees and crops, flooding and washing out rural roads, and causing small power outages.
A second round of severe storms with the potential to cause even worse damage was expected Thursday.
Lightning and rain delayed the opening round Tuesday of the state Class A boys golf tournament at Bismarck's Hawktree Golf Course. In Mandan, a portion of Old Red Trail -- from Collins Avenue to Missouri Valley Petroleum at 1722 Mandan Ave. -- was temporarily closed Wednesday to all but local traffic including refinery employees after it was swamped by overnight rains.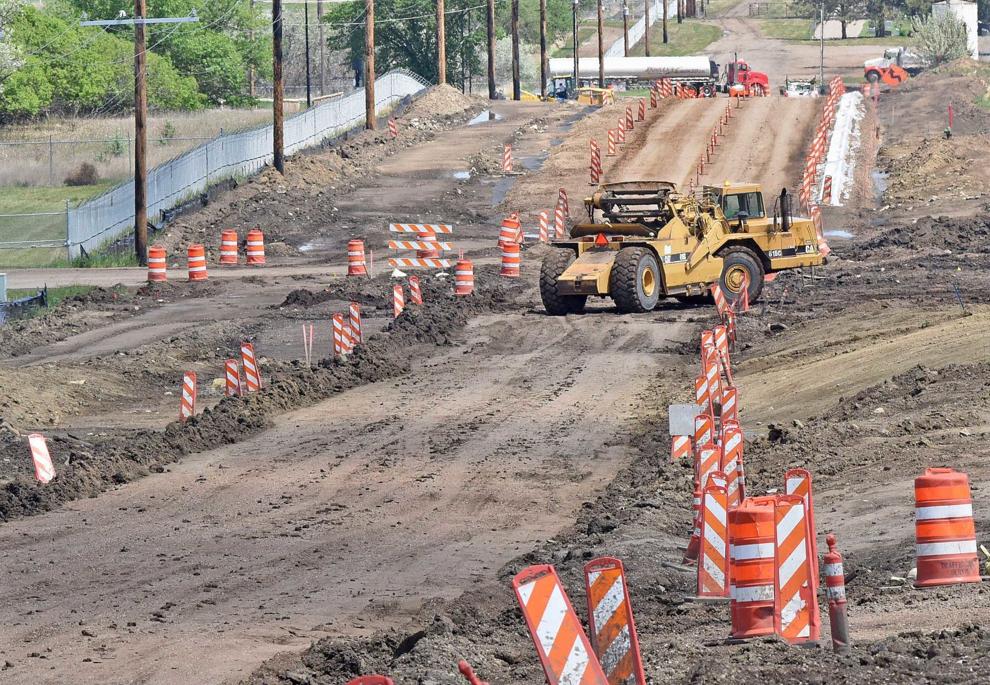 Tree branch damage was reported throughout Bismarck-Mandan, which saw winds gusting nearly to 70 mph. National Weather Service and AccuWeather reports show similar wind gusts in other areas of western North Dakota and also in Stutsman County to the east. Building damage was reported in the Stutsman County community of Medina.
Weather service official reports show more than 5 inches of rain in Stutsman County, with about 4 inches in Kidder County and nearly 4 inches in Emmons County. The totals reflect storms late Monday through early Wednesday. Some ranchers in Emmons County reported to the Tribune that they had as much as 10 inches of rain on their property.
Braddock-area rancher Jayce Doan, 28, was returning from Montana when he learned about a flash flood over the road to his home in Emmons County.
"It literally looked like the Missouri River down there," Doan said.
Two creeks traverse his ranch, and at least 40 feet of a county road leading to his place washed out. 
He managed to get to his house by traveling in his pickup along a section line, but he's using a four-wheeler to get in and out.
Flash flooding also wiped out fencing on Doan's land. His crew worked until dark on Tuesday fixing fence along the road so his buffalo didn't wander, with likely several miles of more fence to get to.
He spoke Tuesday night with county officials, who told him they'd address the road quickly, that "mine was by far the worst of anywhere they'd been."
Washed-out roads left Anthony and Jessica Baumgartner with no way in or out of their family farm northwest of Braddock.
"Worst damage I've ever seen; the 2009 spring flood was bad but not even like this," Anthony Baumgartner said. "Crops will take a few days to see for sure, but it's looking like a total loss."
There were reports of baseball-size hail in eastern Montana's Wibaux County and western North Dakota's Golden Valley County, which neighbor one another, along with similar-size hail in Emmons County.
Becky Small, who lives northeast of Hazelton in Emmons County, said iron doors on the family's Quonset were damaged and fences were washed away. Some of their hay bales -- which can weigh up to 1,600 pounds -- were damaged or missing. They had at least one dead cow and a missing calf.
To the southwest of Bismarck-Mandan, house shingle damage and a brief power outage were reported in the Almont area in Morton County, and there were reports of grain bins toppled south of Flasher, in Grant County, according to Morton County Emergency Manager Cody Mattson.
The weather service on Wednesday issued a flood warning until Friday afternoon for the Cannonball River in Morton and Sioux counties. Minor flooding was occurring.
The weather caused scattered small power outages throughout the region. One impacted 176 people in south Bismarck for more than four hours late Tuesday, according to Montana-Dakota Utilities spokesman Mark Hanson.
PowerOutage.US, which tracks major power providers in the state, showed only 15 customers without power statewide on Wednesday morning.
Looking ahead
This spring has been marked by widespread extreme and exceptional drought in North Dakota, but a recent shift in the weather pattern has created conditions ripe for wetter weather, according to Michael Hollan, a meteorologist at the weather service office in Bismarck.
"The jet stream is a little bit closer to our area, as opposed to much farther north or much farther south; it's a favorable pattern for us to get numerous thunderstorms," he said.
Storms are moving eastward from the Pacific Northwest, and the next round expected Thursday "has the potential to be much worse than Tuesday's outbreak," according to AccuWeather.
Thursday storms are "likely to bring the full spectrum of severe weather, including tornadoes, to part of the north central states," AccuWeather Meteorologist Matt Benz said. "In addition to the isolated tornado threat is the likelihood of storms with powerful wind gusts, as well as the potential for hail and flash flooding.
"Gusts with some of the storms on Thursday afternoon and night might even exceed 100 mph," Benz added.
The weather service forecasts numerous severe storms Thursday west of a line from Crosby to Medina and then south to the South Dakota border, with scattered or isolated storms east of that line.