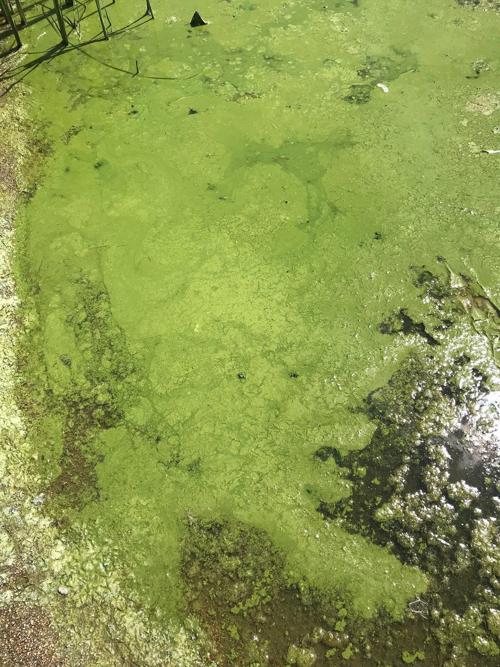 Blue-green algae is killing livestock in central North Dakota, and state officials are urging ranchers and recreationists to be aware of the danger.
The algae can produce toxins in the water called cyanotoxins. People and animals that swallow water containing cyanotoxins can become sick or even die.
One pond in the region that recently tested positive for cyanobacteria was linked to the death of nine head of cattle, according to North Dakota State University Extension.
Health officials in 2016 created a blue-green algae surveillance program in response to increased public reports of the algae in the state.
Blue-green algae is caused by excess nutrients in a body of water which come from a variety of sources, including farm fertilizers, stormwater in urban areas, leaking septic systems, as well as natural sources, according to the state Department of Environmental Quality. Warmer water helps the algae thrive, allowing it to reproduce quickly.
"Areas of the state experiencing drought have an increased risk," said Miranda Meehan, NDSU Extension livestock environmental stewardship specialist.
The latest U.S. Drought Monitor map shows the western two-thirds of North Dakota as being either abnormally dry or in moderate drought.
Blue-green algae discolors the water and can cause foam, scum, or mats to appear on the surface. In severe cases, the water can have the appearance of spilled green paint or green pea soup. 
Symptoms of cyanotoxin poisoning include diarrhea and vomiting; numb lips, tingling fingers and toes; dizziness; or rashes, hives or skin blisters. There are no known antidotes. More information from NDSU Extension can be found at http://tinyurl.com/NDSU-blue-green-algae.
For more information on the effects of blue-green algae blooms on pets and livestock, contact the North Dakota Department of Agriculture's Animal Health Division at 701-328-2655.
For more information on public health issues or to report a suspected blue-green algae bloom, go to the Environmental Quality harmful algal blooms website at https://deq.nd.gov/WQ/3_Watershed_Mgmt/8_HABS/Habs.aspx or contact the department's Division of Water Quality at 701-328-5210.
Be the first to know
Get local news delivered to your inbox!