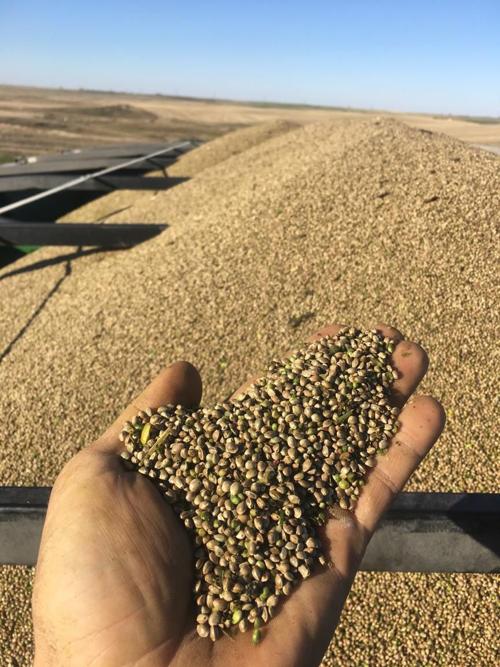 North Dakota and Montana were among states that sent a hemp plan to the U.S. Department of Agriculture early last year. North Dakota's plan was rejected, however, and Montana's revised plan is still under review amid THC testing requirements that were more stringent than expected.
Hemp is a cousin of marijuana that contains trace amounts of THC, the chemical that causes a marijuana high, though hemp does not produce the same effects. The sturdy, fibrous plant is used to make an assortment of products including paper, rope, clothing and cosmetics, and many in the agriculture industry see it as a potential cash crop.
North Dakota and Montana both have decided they will continue operating their hemp programs under the 2014 hemp pilot rules, which is allowed through Oct. 31.
North Dakota Agriculture Commissioner Doug Goehring told the Williston Herald that when North Dakota submitted its plan in early 2019, it had seemed that only minor modifications would be needed to the plan North Dakota already had in place for its pilot program.
That turned out not to be the case.
"One thing we didn't keep in mind, and this is probably the challenge that USDA had to contend with, is that CBD was brought into the mix," Goehring said. "That changed the dynamics of it."
With the Department of Justice's Drug Enforcement Agency and the inspector general for the Food and Drug Administration both weighing in, testing requirements for hemp increased dramatically. That's mainly due to the CBD oil produced by hemp flowers.
CBD, or cannabidiol, is a compound that many believe has health benefits. Others say more research is needed. CBD does not produce a high.
Under the interim rule USDA posted, growers must have an authorized federal or USDA agent collect hemp plants from their fields for testing 15 days before harvest. The samples will then be sent to a lab registered by the DEA. The agents are to collect one plant per acre for lots of 10 acres or less. For larger farms, there is a formula to determine sampling frequency.
The sampling frequency is set up to ensure a 95% confidence level that no plants in the field are producing more than the 0.3 percent limit set for THC in industrial hemp.
Plants testing above the limit are to be immediately destroyed.
Goehring, who also is president of the National Association of State Departments of Agriculture, has asked USDA to consider splitting out grain and fiber production from CBD, to try to ease the pain for at least some hemp growers.
"CBD is probably going to need a more robust inspection program," Goehring said. "That I absolutely understand. But to go out and sample every 2 acres of a 300-acre field is cost-prohibitive and labor-intensive. The testing, when you are talking about $100 to $115 per test, would break the grower and the program."
It also would serve no real purpose for those growing hemp only for fiber or grains. In general, approved hemp varieties for industrial hemp do not produce appreciable amounts of THC. But if there were any to be found, it would be in the flowers. That is where CBD oil is produced and harvested.
"Too much was designed for CBD and not the grain and fiber side of it," Goehring said. "So we are sorting that out, and we will be working with USDA this next year, to try and see what they may come up with."
After that, Goehring said, he will resubmit a new plan.
"To their credit, they do recognize that we are regulators by nature and that we do a very good job," he said. "I think, with our input over this period of time and working with the states and with NASDA, we will be able to synthesize this down to have a workable program that states feel comfortable executing."
Otherwise, Goehring added, the hemp price tag may get too high for many states to operate.
"It will cost them too much money and manpower," Goehring said. "Sampling everything 15 days before harvest -- what do you do if you have 12,000 acres of hemp grain growing out there?"
That was the same question Montana Hemp Program Coordinator Andy Gray had. Montana grew the most hemp in the nation last year -- 50,000-some acres.
Testing that many acres as outlined by USDA's interim rule in just 15 days isn't feasible, Gray told the Herald.
Montana has submitted a new plan, but it doesn't adhere to that 15-day window.
"Where they say no post-harvests sampling is allowed, and that you must sample within two weeks of harvest, we disagreed with those," he said. "We made some adjustments, but we didn't say that we are not going to do post-harvests reports, and we didn't change our pre-harvest sampling to two weeks."
Be the first to know
Get local news delivered to your inbox!