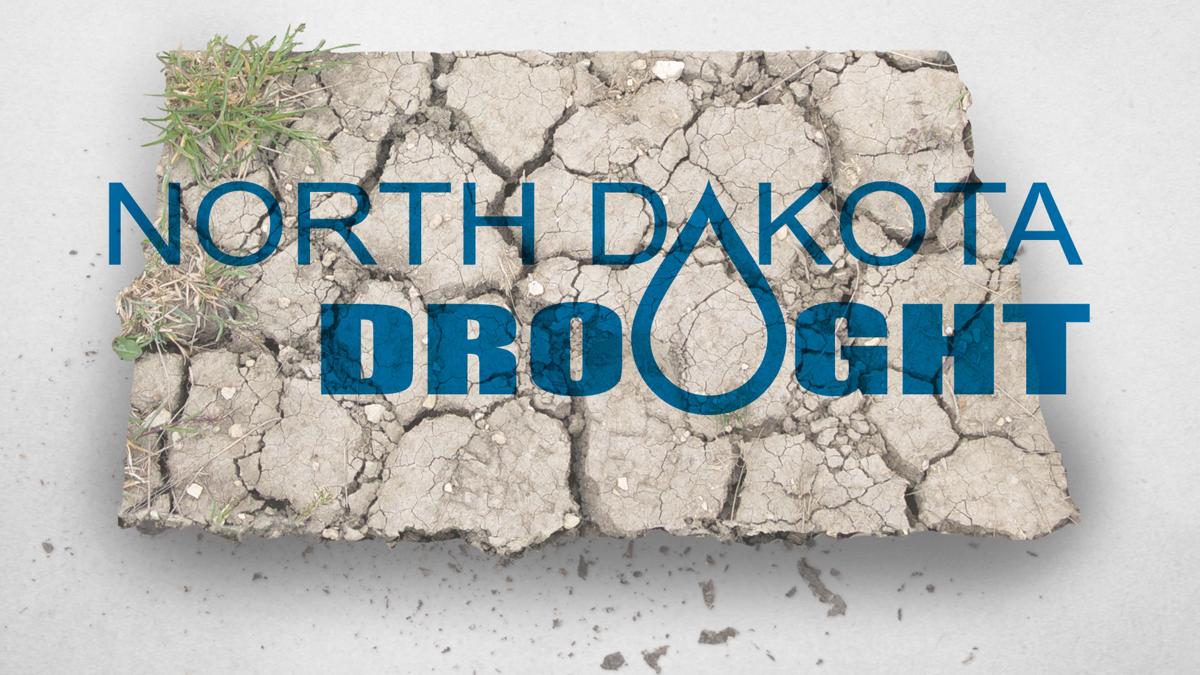 Recent rainfall has improved drought conditions in southwestern North Dakota, though that region is still overly dry and much of the north central part of the state remains mired in exceptional drought.
Meanwhile, state officials have beefed up the funding for a program that has helped hundreds of North Dakota ranchers maintain a water supply for their livestock.
This week's U.S. Drought Monitor map, published Thursday, shows a nearly 10% drop from last week in North Dakota in extreme drought, the second-worst of four categories. Most of the southwest is now in severe or moderate drought, two lesser categories.
However, nearly all of North Dakota remains in some form of drought, and exceptional drought -- the worst category -- still covers nearly one-fifth of the state. It's the only part of the country in exceptional drought outside of the Desert Southwest.
"Portions of southwest North Dakota and northwest South Dakota were reassessed this week to take into account the wetter pattern lately," National Drought Mitigation Center Climatologist Brian Fuchs wrote. "Improvements to the severe and extreme drought conditions were made based upon this reanalysis of data."
Heavy rainfall this week leading up to the release of the weekly drought map "will be addressed next week when the full extent of the rains can be taken into account," Fuchs said.
A shift in the weather pattern, with the jet stream moving closer to the Northern Plains, has created conditions ripe for wet weather this week, according to Michael Hollan, a National Weather Service meteorologist in Bismarck.
"It's a favorable pattern for us to get numerous thunderstorms," he said. "Unfortunately, not every spot is going to get significant amounts of rain. But it's certainly nice that we are seeing some nice amounts of precipitation across the area."
Rainfall totals from a first round of storms late Monday through early Wednesday totaled several inches across much of southern North Dakota. Totals posted by the weather service included more than 4 inches in the Tappen-Dawson area, 6.5 inches in Selfridge and 10 inches in Marion, southeast of Jamestown. Some ranchers in Emmons County told the Tribune they measured 10 inches on their properties. More heavy rain was expected in a second round of storms later Thursday.
The U.S. Drought Monitor is a partnership of the National Oceanic and Atmospheric Administration, the U.S. Department of Agriculture and the National Drought Mitigation Center at the University of Nebraska-Lincoln.
Struggling crops
The weekly crop report from the National Agricultural Statistics Service rates 84% of topsoil and 80% of subsoil in North Dakota as being short or very short of moisture, up from the previous week.
About 29% of the spring wheat crop and 45% of the winter wheat crop is rated in poor or very poor condition, both up slightly over the week.
Pasture and range conditions are rated 67% poor or very poor -- no change over the week -- and stock water supplies are 74% in those categories, up from last week. The first cutting of alfalfa hay is getting underway; more than half of that crop is rated as poor or very poor.
Widespread rainfall in recent weeks has helped bring precipitation amounts to near-normal in some parts of North Dakota, according to the National Weather Service's latest drought briefing, issued June 4. However, the state has been warmer and much drier than average since the beginning of October, and "widespread improvement (in drought) is not expected due to long-term precipitation deficits being so large," the agency said.
Above-average temperatures are expected across the entire state in June, according to the weather service.
Wildfire update
Dry conditions this spring have led to more than 1,370 wildfires in North Dakota scorching close to 100,000 acres -- about eight times what burned in all of 2020. However, the pace of new fires has slowed in recent weeks with the wetter weather.
Grass greenup is occurring, slowing the active spring fire season, but the summer and fall fire season could see an early start if drought continues, according to the weather service.
North Dakota is experiencing some "unusual" fire conditions, according to the National Interagency Fire Center's latest outlook. Cured grasses from last year are standing upright because there wasn't enough snowpack to compress them, making them more exposed. And some vegetation that typically doesn't burn isn't immune this season.
"During large wildfires in North Dakota, it was noted that the 'bromes' and woody fuels that are usually somewhat resistant to fire spread were burning completely, as was stands of hardwood ash coulees that ordinarily would not burn," the agency said.
All but five of North Dakota's 53 counties continue to have some form of outdoor burning restrictions in place. All of North Dakota was in the "low" or "moderate" fire risk categories on Thursday, according to the state.
More information
Gov. Doug Burgum in April declared a statewide disaster. The State Water Commission reactivated the Drought Disaster Livestock Water Supply Project Assistance Program, and the State Water Commission on Tuesday approved an additional $2 million in funding, bringing total authorized funding to $4.1 million.
Since the program's reactivation on April 8, more than $2.2 million in funding has been approved to support 573 projects for 398 producers. The program provides 50% cost share assistance of up to $4,500 per project. For more information, go to www.swc.nd.gov or call the Water Commission at 701-328-4989.
The state Agriculture Department has reactivated the Drought Hotline and interactive hay map. For more information, go to www.nd.gov/ndda.
Information on federal tax relief options available to farmers and ranchers who have sold or are considering selling livestock because of drought is at https://bit.ly/3vGf6OR.