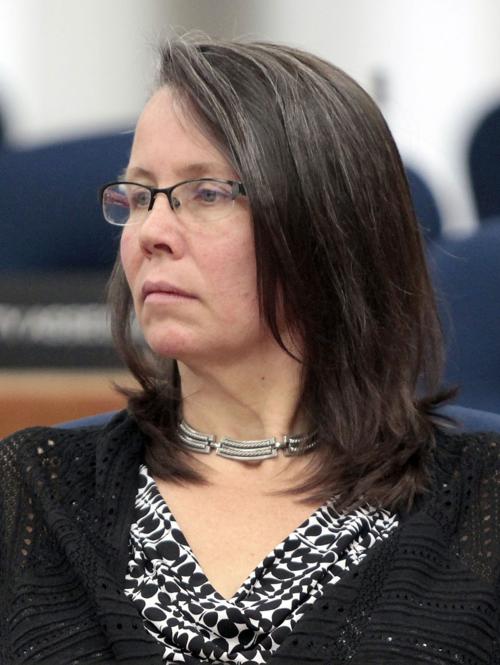 Madison Ald. Rebecca Kemble was arrested and jailed on Monday while acting as a legal observer of the continuing protests over a controversial oil pipeline in North Dakota that a Native American tribe says threatens tribal land.
Kemble's version of events contrasts sharply with statements by law enforcement, who characterized the event as a riot.
Kemble was among more than two dozen people arrested on Monday at two protests, Morton County Sheriff's Department spokesman Rob Keller said. She faces tentative charges of misdemeanor criminal trespassing, destruction of evidence, resisting arrest and engaging in riot.
 She was taken to Morton County jail and released after posting a $1,250 bond Tuesday morning, Keller said.
Actress Shailene Woodley, who starred in the "Divergent" movie series and most recently in Oliver Stone's film "Snowden," was also among those arrested.
Kemble said Tuesday afternoon that she was wearing a hat that identified her as a legal observer and was videotaping a peaceful prayer ceremony when police arrived and began making arrests. She said she intends to fight the charges.
"I wasn't protesting. It wasn't a protest," she said. "I was legal-observing. I was targeted by law enforcement for my camera."
Kemble, 18th District, traveled with her husband over the weekend to Morton County to present the Standing Rock Sioux Tribe with a parchment copy of a recent City Council resolution expressing solidarity with those protesting the pipeline.
The tribe wants construction halted due to concerns of potential contamination of its water supply and says the pipeline will encroach on tribal burial sites and other cultural artifacts.
On Monday morning, Kemble said she went with others to attend a ceremony that started at an encampment on the reservation. The ceremony, she said, moved to the pipeline site near St. Anthony and featured prayer, drumming and dancing by tribes from Argentina and the Arctic Circle.
She said most people were beginning to leave after the event, except for about 16 people sitting under a tepee, when at least 40 police officers arrived.
A commanding officer, Kemble said, told the protesters they faced arrest if an officer touched them. She said most people backed up but police pursued. She said the commanding officer ran at her, grabbed her while she was holding her camera, put her hands behind her back, bound her with a zip tie, and took her camera as evidence, with police taking her and those arrested to jail.
A Morton County's Sheriff's Department press release on Monday afternoon describes a different scene.
On Monday morning, authorities got a call that two protesters had locked themselves to equipment on private property near St. Anthony and were arrested and charged with a felony and misdemeanors, the release said. Another arrest was made and the group disbanded.
 About two hours later, authorities were alerted to a convoy of about 100 vehicles assembling near the pipeline site, the release said. Law enforcement closed a road and told the protesters to disband. The crowd refused and 24 more people were arrested, it said.
In the statement, Cass County Sheriff Paul Laney said, "While some would like to say this was a protest, this was not a protest — this was a riot."
Kemble rejected the description. "What alternate universe was the sheriff in that day?" she said. "It was so peaceful. The whole day was steeped in prayer and ceremony.
"The police are fear-mongering."
Kemble said she'll present the parchment to tribal leaders Wednesday morning.
Last weekend, the Dane County Sheriff's Office sent 10 deputies from its special events team to the site of the protests, part of a state contingent of 40 members of law enforcement that have gone to provide assistance to the area.
Construction resumed Tuesday on the $3.8 billion, 1,200-mile pipeline on private land about 20 miles from the so-called Red Warrior Camp where thousands of protesters have gathered, The Associated Press reported.
Dean Mosiman covers Madison city government for the Wisconsin State Journal.