The first time I heard the pitch for Vertical Harvest in Jackson, Wyoming, I could barely grasp the idea. A vertical greenhouse on the side of a parking garage? Hydro-pon-what? It was 2009, the Great Recession was in full swing, and "local food" in the Tetons consisted of beef, potatoes, garlic, foraged huckleberries, and whatever greens could survive in a climate where snowstorms have been recorded every day of the year. 
Nona Yehia, a local architect, and Penny McBride, a sustainability expert, made the wildly inventive pitch to me and a fellow ragtag group of foodies, farmers and environmental activists. We had gathered for a potluck to discuss our burgeoning chapter of the slow-food movement when Yehia and McBride addressed the fact that the great majority of Tetons food was trucked in.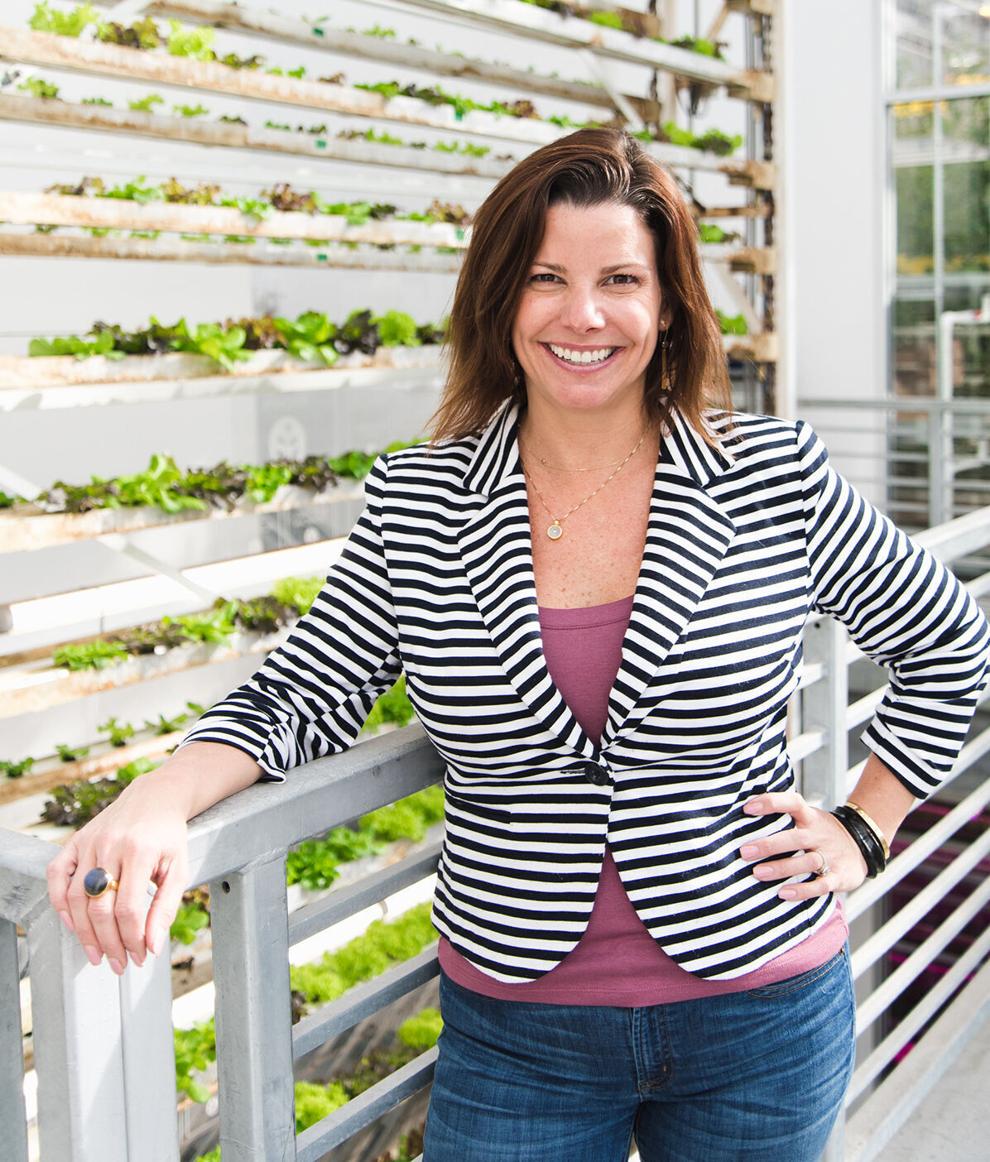 Their request was to use our nonprofit 501(c)(3) status to apply for grants for research and development. As we drank another glass of red wine, we decided the project perfectly matched slow food's vision of a world in which all people can access and enjoy food that is good for them, good for those who grow it, and good for the planet.
The duo teamed up with a third concerned citizen, Caroline Croft Estay, a behavioral health specialist and case manager who, at the time, was working with a handful of young men and women nearing the end of high school who she feared would "fall off a cliff" with no plan for meaningful employment. Estay saw in the project an opportunity for job-creation for adults with developmental and intellectual disabilities, and Yehia, whose brother has an intellectual disability, loved the idea.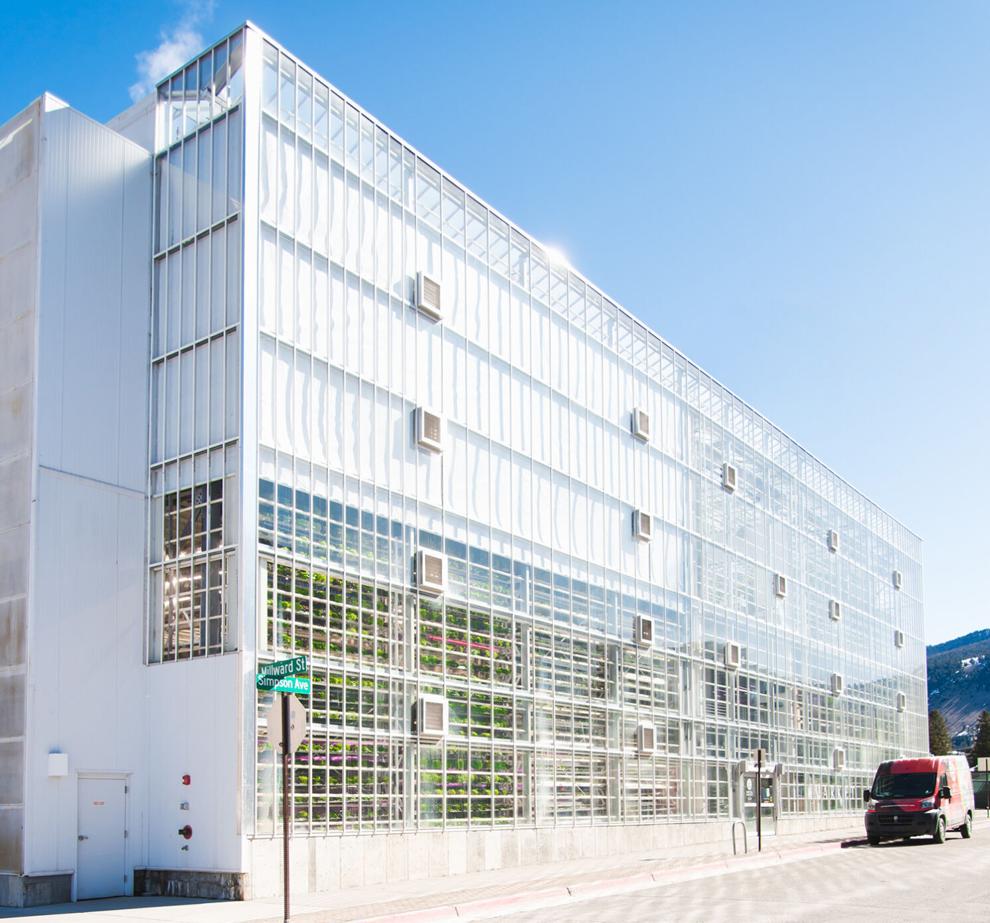 ---
A great, green dream — realized
It took seven years to design, strategize and fundraise before Vertical Harvest opened in March 2016. In 2021 — despite the challenges presented by the global pandemic — Vertical Harvest is thriving.
The three-floor, vertical hydroponic greenhouse is the first of its kind in the Northern Hemisphere and sits on a tenth of an acre on the south side of a four-story parking garage in downtown Jackson. It has the ability to produce 100,000 pounds of produce annually. Their products include uber-nutritious microgreens such as pea shoots and daikon radish; lettuces, including butterhead and oakleaf; and petite greens from arugula and mizuna to sorrel and tatsoi. Cherry tomatoes and edible flowers round out Vertical Harvest's offerings.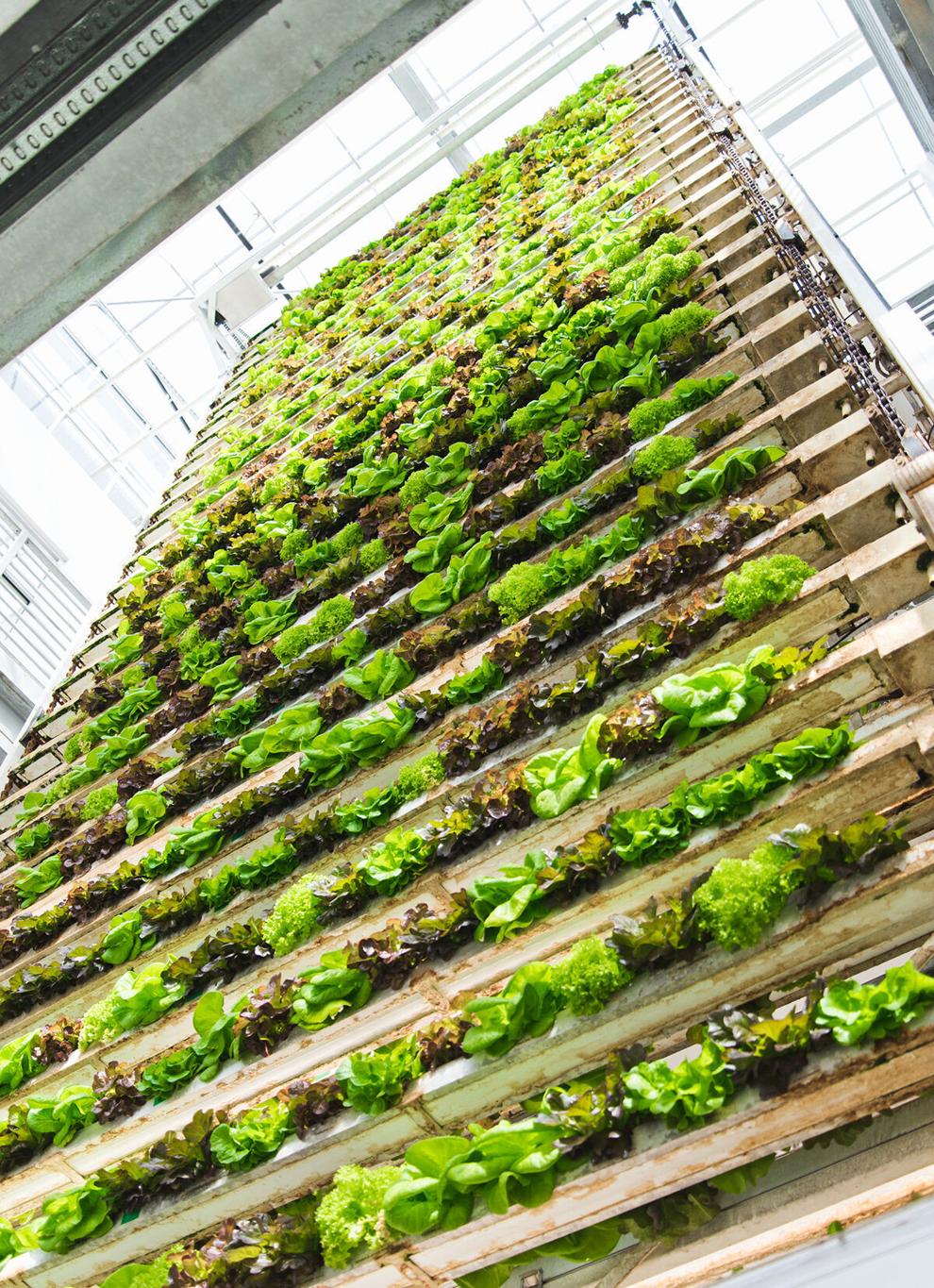 The greenhouse uses 90% less land, 90% less water and 95% less fuel than traditional agriculture, and it employs a diverse staff of as much as 40% with intellectual and developmental disabilities. Expanding to bigger urban communities, three new farms are slated to break ground in two years in Westbrook, Maine (outside of Portland), Philadelphia and Chicago.
Walking into the greenhouse off the slushy, gray streets of Jackson in March, one can't help but bask in the vibrance of the artistically aligned, multi-colored lettuces packed in long carousels spinning slowly like a Ferris wheel along a vertical glass wall. Glowing pastel lights warm the room and illuminate the lime-green uniform shirts that identify the staff packaging lettuces and edible flowers from hanging baskets. It smells slightly musty and alive.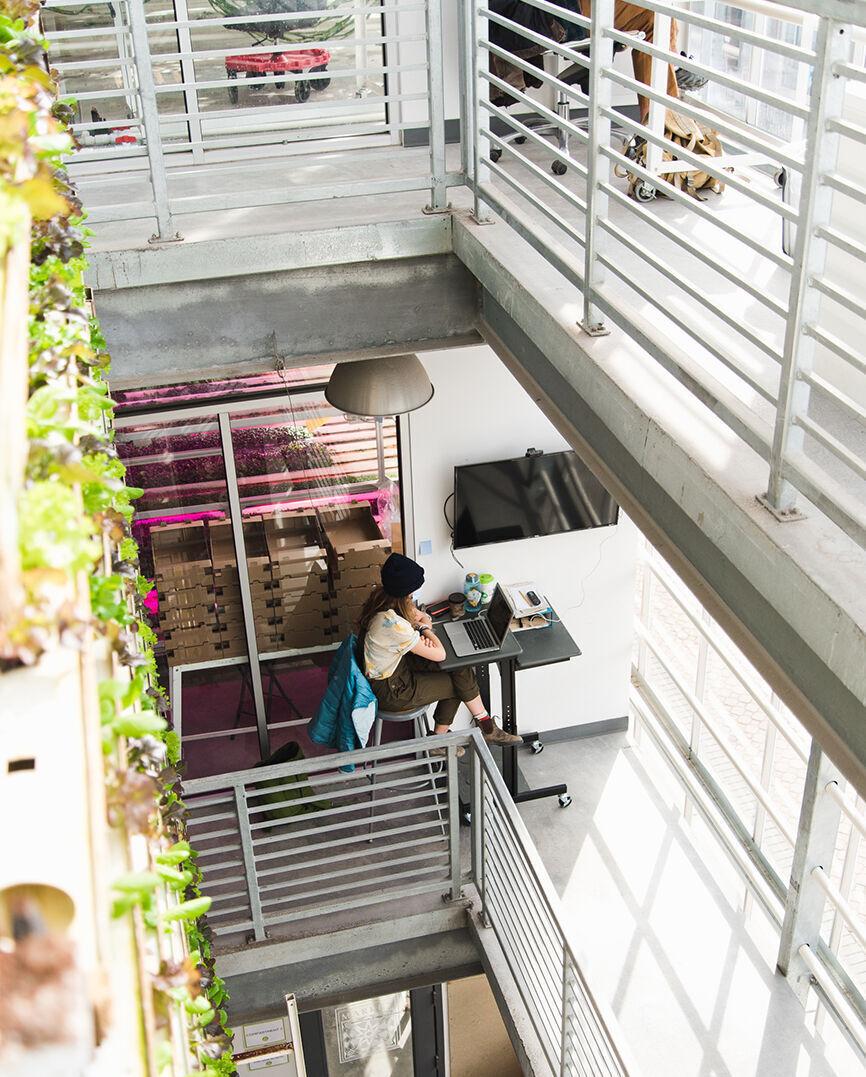 Estay takes the time to stop and greet each person she encounters, her eyes smiling above a rainbow-colored sequined mask. Ty Warner, a lanky young man with autism, is tending the tomatoes and tells us how excited he is to ski the Sacajawea lift for his first time this weekend at Grand Targhee Resort.
Spread throughout the greenhouse, astute millennials sit socially distanced at roller-desks engaged in a production meeting on their laptops, sipping from sticker-covered Hydro Flasks.
Estay explains this is the first week that most employees have been back together in person in a year because the staff is finally vaccinated. "I can't wait until I can hug every single person," Estay says. "It's driving me crazy."
---
Rethinking urban agriculture
The building itself, the architectural brainchild of Yehia, combines three farming concepts: a greenhouse, vertical growing and hydroponics. A greenhouse solves the obvious problem of how to grow food year-round in an extreme environment, the vertical layout facilitates three different microclimates to be maintained for space efficiency and to allow for variety, and hydroponic farming — growing in nutrient-filled water rather than soil — allows for more plants in a limited amount of space and maximizes energy and water efficiency.
Hydroponics might seem cutting-edge, but it's a farming system that is actually believed to have been implemented in the fabled hanging gardens in the ancient city of Babylon. In what is now Mexico City, the Aztecs grew crops on rafts woven out of reeds creating the floating islands of Lake Texcoco.
Under the direction of a Danish greenhouse engineer, Thomas Larssen, Vertical Harvest was built with highly technical systems to maintain ideal moisture and temperatures throughout the microclimates and to manage the ultraviolet LED lighting for growing tightly packed plants that mature rapidly and produce high yields. A nutrient solution of phosphate, potassium and nitrogen are added to the water. The roots adhere to peat moss, coconut husks and hemp.
Integrated pest management is employed to handle insects, algae, mold and mildew. Sanitation is the first and most effective defense. "Beneficials" are introduced — "good" bugs, such as ladybugs, eat the undesirable bugs, such as aphids. As a last resort, pesticides, herbicides and fungicides that meet or exceed organic standards are used, some as simple as sodium bicarbonate (baking soda) and hydrogen peroxide.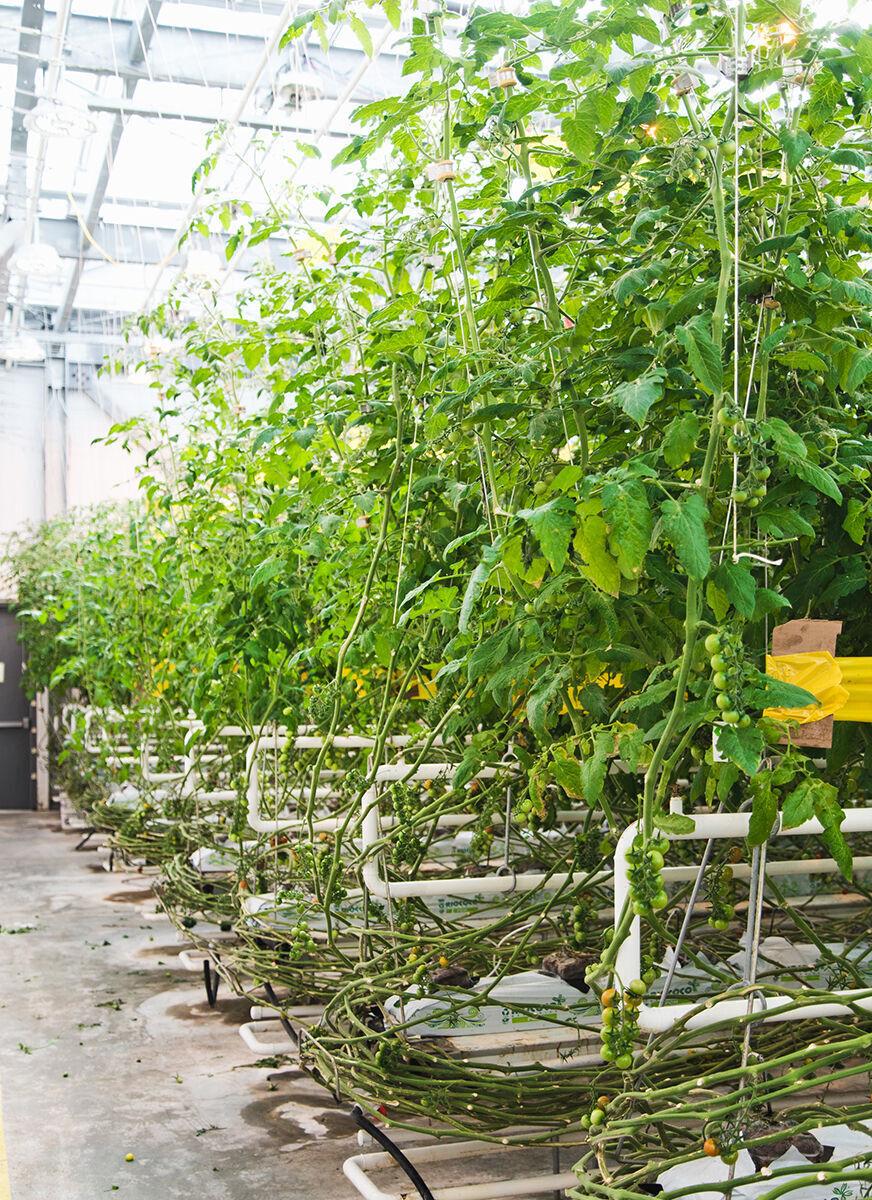 A beehive buzzing with life in the tomato room facilitates pollination of the red-, purple-, green- and yellow-streaked cherry tomatoes, and the farm crew uses an inventive "leaning and lowering" method to weave the vines of multiple tomato plants at arm-level, eliminating the need for ladders and the dangers they present for harvesting.
It takes only one to two weeks for the microgreens to be ready to harvest, five to seven weeks for the lettuces (depending on the availability of seasonal sunlight), and the tomato plants are rotated out every eight months. Microgreens and many lettuces are sold live, meaning the roots and shoots are intact when packaged.
Vertical Harvest prides itself on delivering food within 24 hours of harvest, preserving the maximum nutritional value.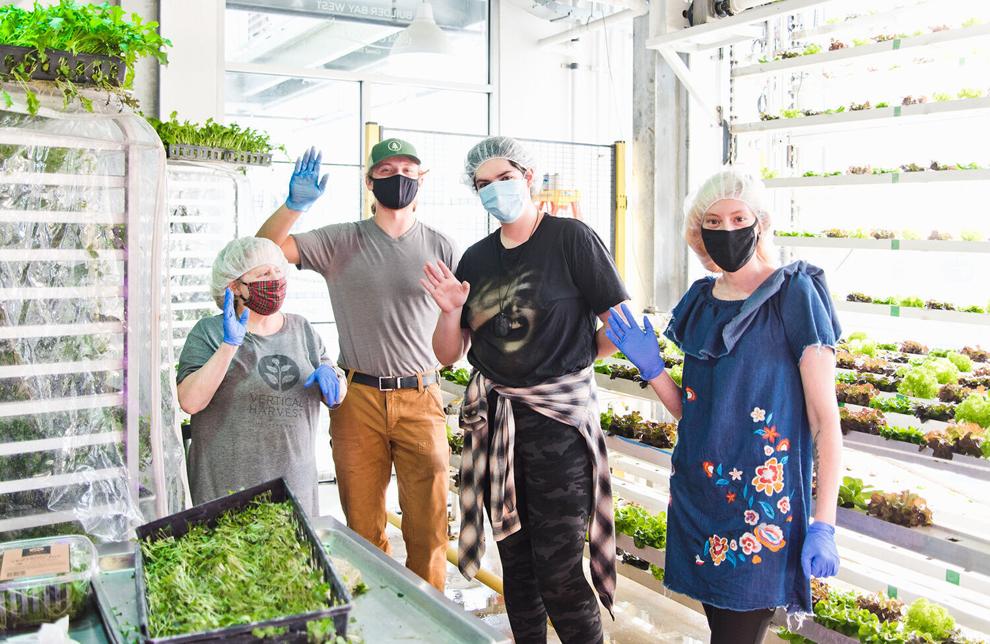 ---
Growing futures
Under the direction of Estay, Vertical Harvest developed a customized employment plan called the Grow Well Model to educate and empower its workforce by facilitating a culture of equity and inclusion.
"The model has three areas of focus," Estay explains. "The first is professional development; it's all about finding your career path by identifying strengths and matching skills to ability. The second is personal discovery, often with a focus on social skills like self-awareness, growth mindset and emotional intelligence. I love this stuff. The third is community impact. We are working to shift the paradigm of [people with disabilities] being on the receiving end, to being the ones who are giving back."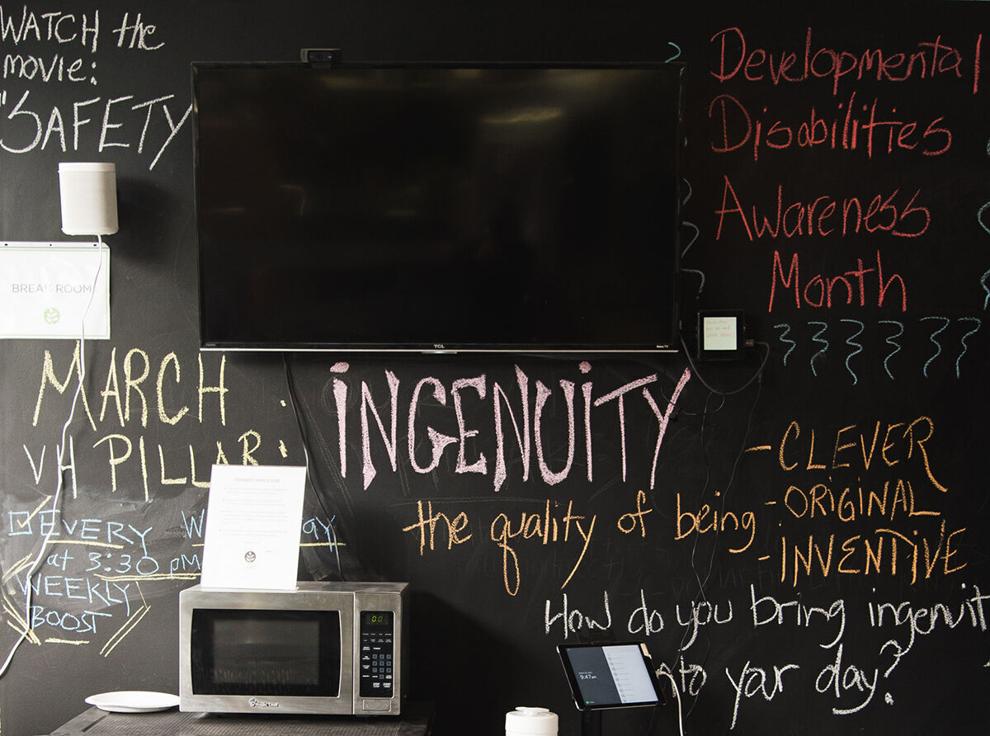 Estay points to a massive blackboard in the packaging room on which the "Pillar of the Month" is printed in giant chalk lettering and reads: "Ingenuity: The quality of being clever, original, inventive." Ingenuity, as well as other selected parts of the Grow Well Model, will be discussed at this week's all-team weekly meeting, called a "boost." Every employee, from the CEO to the volunteers, will attend. During the height of the pandemic, online training via Zoom five days a week based on the Grow Well Model kept the staff engaged and reduced the stress of isolation in an already-isolated population.
In this tourist town of transient workers where the norm is to skip work on a powder day, this untapped workforce is committed and accountable. Raising the bar for respect in the workplace, Vertical Harvest has proven that, "When we focus on ability, it leads to empowerment, which results in a drive that allows people to find success at home, in the workplace and the community," Estay says.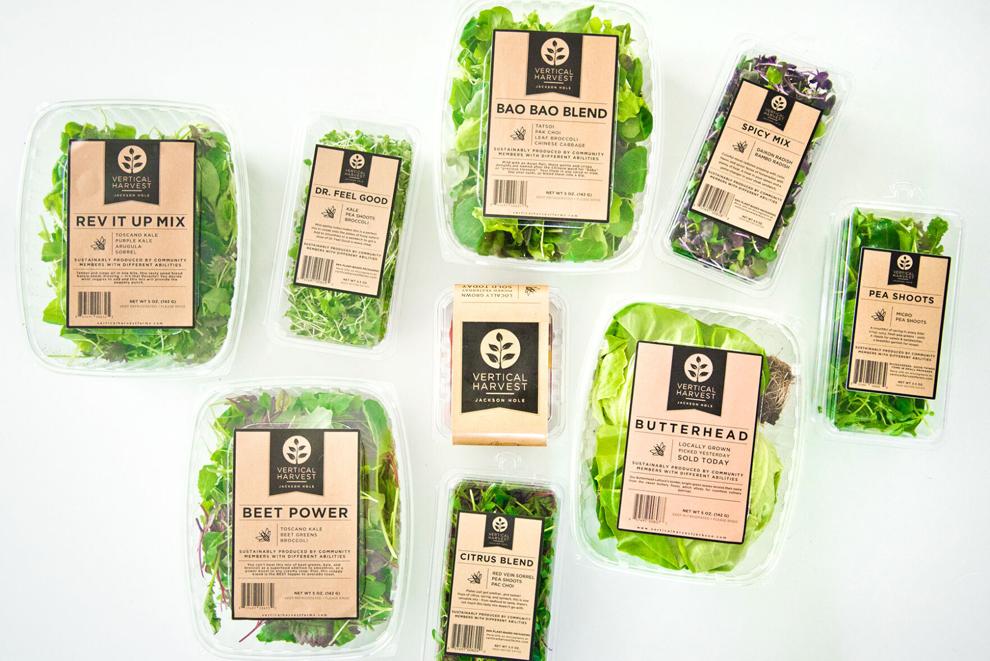 ---
Show me the money
Investments and grants to launch the initiative came from a wide variety of state and local government entities, foundations, businesses and individual donors who saw an opportunity to invest in those less fortunate. In the beginning, a dozen restaurants formed a "Culinary Circle," putting skin in the game in exchange for first dibs on produce. The chefs representing these restaurants have been integral over the years in providing feedback and expertise to help steer production. Job support financed by the state of Wyoming via Medicaid have been instrumental in assisting differently-abled employees to learn and master job skills, and many have been promoted to management-level positions. Warner and a co-worker recently bought an affordable housing unit and are living independently.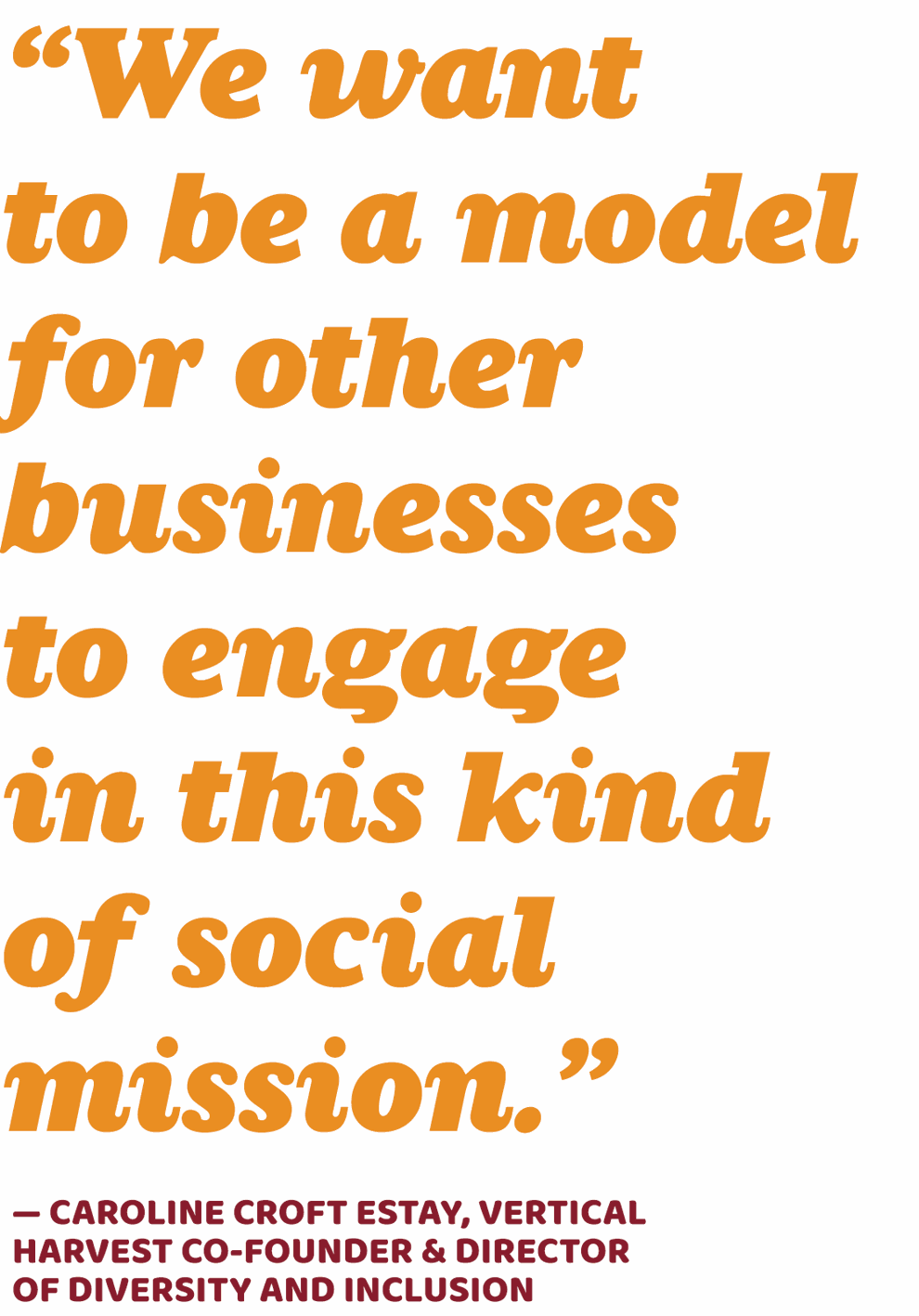 "A for-profit business with a nonprofit soul," is how Yehia describes Vertical Harvest's low-Income limited liability corporation hybrid structure which combines the legal and tax flexibility of a traditional LLC, the social benefits of a nonprofit organization, and the branding and market advantages of a social enterprise.
Like all good farmers and entrepreneurs, the team at Vertical Harvest has learned to pivot in the face of constant challenges.
In a meeting with the Culinary Circle after the first year, the chefs expressed frustration with the inconsistent production of tomatoes and lettuces and said they were losing their shirts with just microgreens for garnishes. Baby romaine, beefsteak tomatoes and arugula were disappointments, so Vertical Harvest dropped them from production based on their feedback. They focused instead on baby green salad mixes and the live lettuces that thrived to meet their needs. Because microgreens were growing so well, the team turned to educating their retail customers on their superfood benefits and nutritional value.
What started out as a fun thing to offer chefs, microgreens now represent up to 60% of the farm's total revenue. In addition, thanks to the thriving cannabis market and the technology developed for the industry, advances in equipment like LEDs has dramatically improved and become less expensive.
The business proved its resilience despite a production team streamlined to only eight in-house workers when the COVID-19 pandemic hit in spring 2020. Estay expressed relief, however, stating that the staff was slowly integrated back to work in some capacity after six weeks. Everyone stayed on the payroll thanks to loans from the federal Small Business Administration's Paycheck Protection Program. As their restaurant sales dried up, Vertical Harvest's retail shop was repurposed to provide space for packaging needed to meet the increased demand for direct-to-consumer sales via grocery stores, curbside pick-up and its popular online subscription Harvest Box that brings a fresh bounty of spicy nutrition, color and culinary inspiration to the region's quarantined community. Now, all of Vertical Harvest's employees are back in their roles.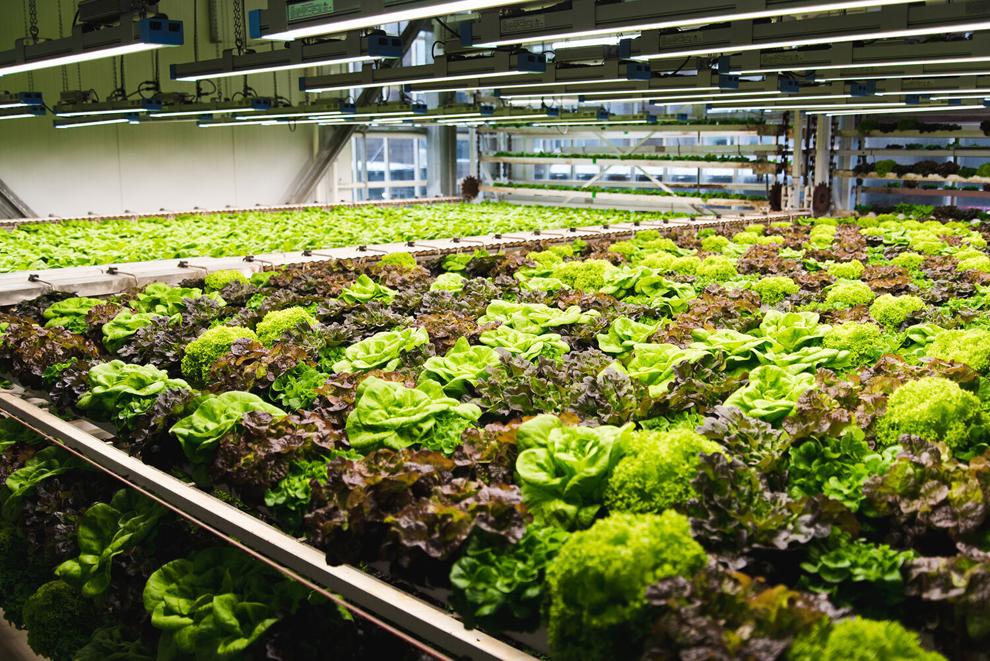 ---
Onward and upward 
Today, the team at Vertical Harvest remains more passionate than ever about reimagining food systems and advancing conscious capitalism. A management and consulting arm has been formed, and there are ambitious goals to scale and replicate the Vertical Harvest concept in 10 cities in the next five years.
"Our flagship Jackson location is like the iPhone 1," Estay says. "We've learned so much from this greenhouse, and now we have so many advances, especially with technology and the development of our employment model and growing systems. We want to be a model for other businesses to engage in this kind of social mission. We want to shift the paradigm, especially in the world of disabilities. We are a profitable business with meaningful employment; we are not a charity."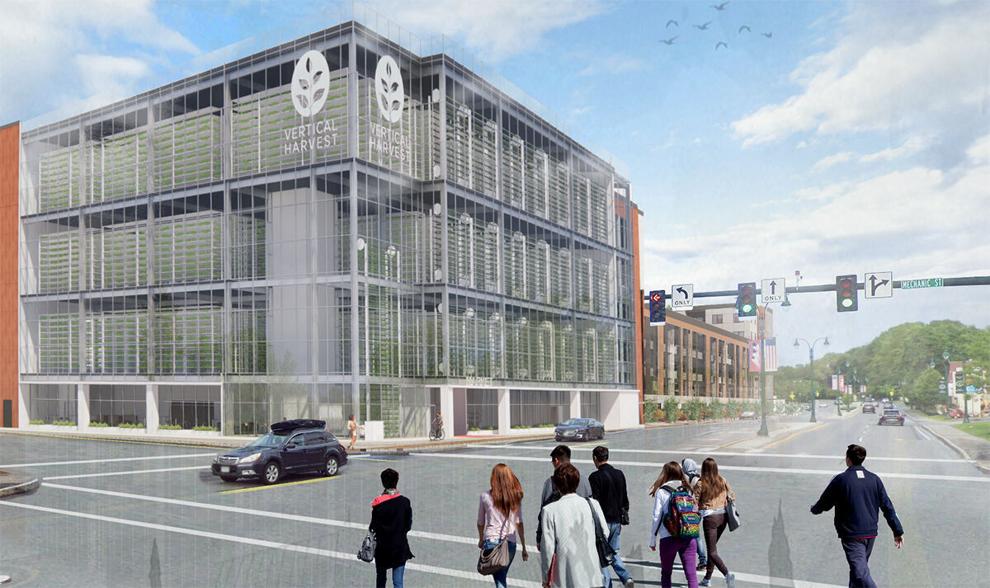 Vertical Harvest Westbrook is projected to open in early 2022. The 70,000-square-foot facility will be approximately five times the size of the Jackson location and is slated to produce 1 million pounds of produce annually on its quarter-acre site — all while providing careers for many underserved part- and full-time employees.
Adjacent to Temple University, Vertical Harvest Philly, also a 70,000-square-foot greenhouse, will be built in a federally qualified opportunity zone considered a food desert. One of the project's co-developers is TPP Capital Management Group, a Black-led, social-impact, private-equity fund manager and real estate development firm on a mission to transform underserved Black neighborhoods.
"Our culture is dynamic, and the Grow Well Model is what created and now sustains our inclusive foundation," Estay says. "I have no doubt that we can replicate this innovative impact model in other communities through our greenhouse."
Unprecedented times call for unprecedented ideas, and Vertical Harvest has proven that marginalized people — which could include other groups, such as veterans and refugees — are deserving of being paired with cutting-edge farming to create a world where all people have access to "food that is good for them, good for those who grow it and good for the planet," Estay says.