Oils are an integral part of cooking and, when chosen well, can add healthy fats and just the right flavor to many dishes, both cooked and raw. A variety of oils are enjoyed drizzled over vegetables and breads and added to marinades and salad dressings while others are especially useful in preparing fried, grilled or sautéed foods.
Oils are extracted and pressed from many seed, nut, fruit and vegetable sources, and each one has its own distinct flavor and properties which make it suitable for some dishes and not others.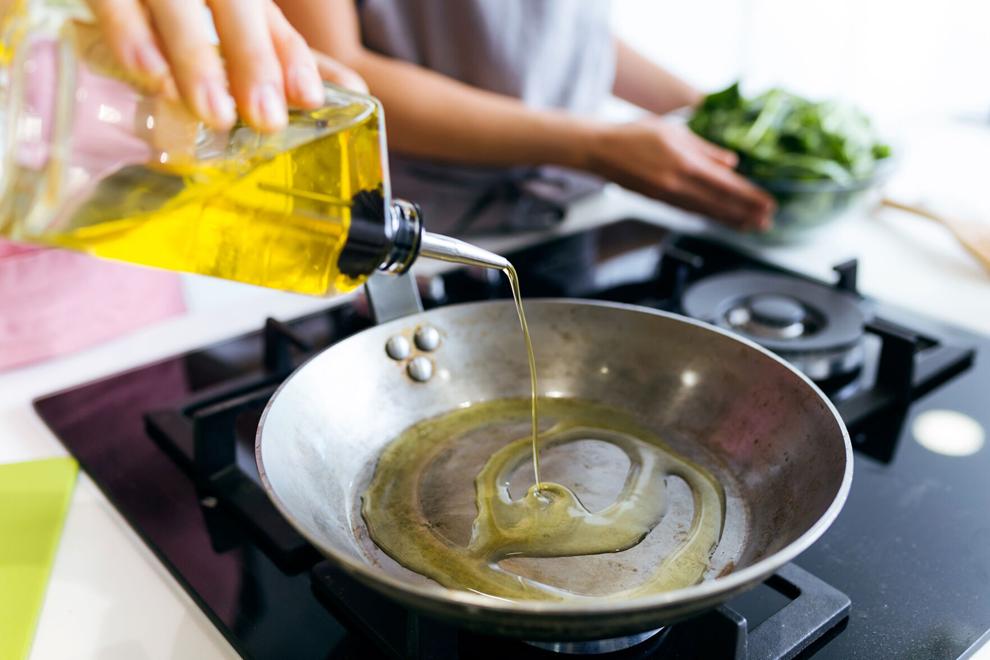 ---
First, what is a smoke point?
The smoke point of oil is the temperature at which it begins to smoke versus shimmer. Once that happens, the oil starts to break down and oxidize.
A number of factors determine the smoke point, including color — the lighter the oil color, the higher its smoke point — age, level of refinement, method of processing and storage. Oil that has been degraded by exposure to heat, light and air will have a decreased smoke point. 
Unrefined oils, such as extra-virgin olive oil, offer more pronounced flavor and nutritional value but they have lower smoke points and are less suitable for cooking at high temperatures. If oil is heated past its smoke point, it can give off an unpleasant burned taste but also becomes dangerous as the smoke releases free radical compounds that are harmful to the body.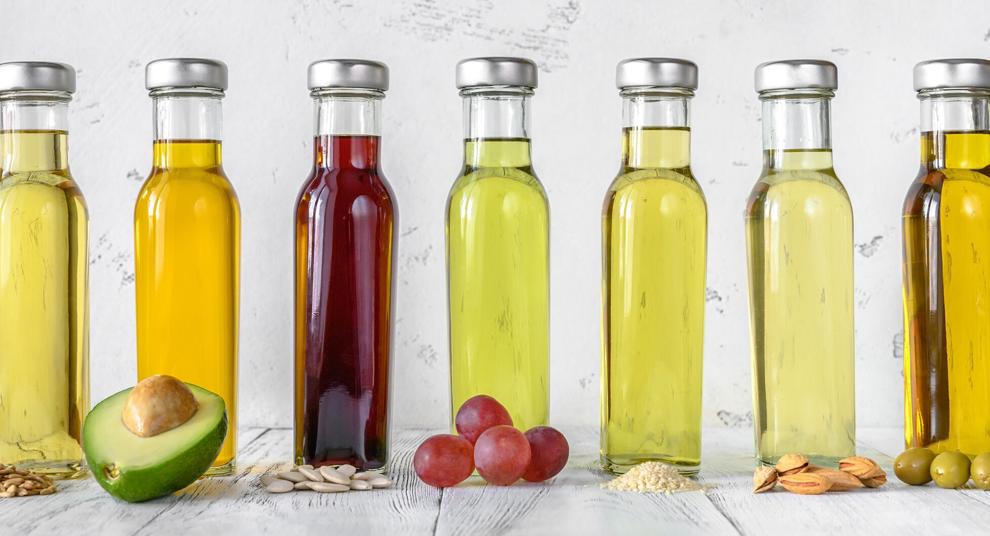 ---
Popular cooking oils: Smoke points, best uses and health benefits
Almond: Limit its use to cold dishes; best for salad dressing or as a finishing oil. Mild, nutty flavor. Available refined or cold-pressed. May raise a person's HDL or "good" cholesterol.
Avocado: (510-520°F) Highest smoke point. Pressed from fresh avocado pulp. Best for roasting, sautéing, frying, sauces and salad dressings. Mild, buttery flavor. Heart-healthy, high in monounsaturated omega-9 fatty acids with anti-inflammatory and antioxidant properties, vitamin E and lutein. Most healthy eaten raw, cold-pressed.
Coconut: (350°F) Best for sautéing, frying and baking. Mild coconut flavor. Unrefined extra-virgin or refined. Boosts HDL cholesterol and metabolism, protects brain health. Considered easier to digest than other oils. 
Corn, Canola and Vegetable: (400-450°F) Neutral flavor. Best for frying and deep-frying. Refined with minimal health benefits.
Flaxseed: (225°F) Not used for cooking. Best added to dressings, dips and smoothies. Nutty flavor. Heart-healthy offering highest alpha-linolenic acid (ALA) omega-3 content of all oils.
Grapeseed: (390-420°F) Best for dressings, sautéing, baking, stir-fries. Neutral flavor. High in vitamin E and antioxidants; improves insulin resistance. Cold-pressed offers best health benefits.
Olive: (325-375°F); Extra-virgin: (465°F-470°F) Best in vinaigrettes, sauces or for sautéing and roasting; extra-virgin makes an excellent finishing oil. Can be spicy, peppery, fruity, grassy. Refined has more neutral flavor. Contains vitamins A, D, E, K and beta-carotene; rich in antioxidants. Heart-healthy, they contain large amounts of monounsaturated fat and polyunsaturated fatty acids.
Palm: (450°F) Best for sautéing, frying and in spicy dishes. Contains monounsaturated and polyunsaturated fats; rich in antioxidants.
Peanut: (448-475°F) Best for deep-frying, roasting, grilling. Nutty flavor. May lower blood sugar and reduce heart-disease risk factors.
Safflower: (440-520°F) Best for dressings, frying, baking. Almost flavorless. Suggested for the prevention of heart disease and stroke.
Sesame: (410°F) Often paired with ginger and soy sauce in Asian marinades and stir-fries, it's also used in Mediterranean and Middle Eastern cuisines. Neutral to nutty flavor. Full of antioxidants; may lower blood sugar.
Sunflower: (450°F) Best used for frying, salad dressings, baking. Neutral Flavor. High in vitamin E.
Walnut: (320°F) Best when unheated. Best used sparingly in soups and salads, marinades, dressings or as a finishing oil. Delicate, nutty. Rich in unsaturated fatty acids; may improve skin health and memory.