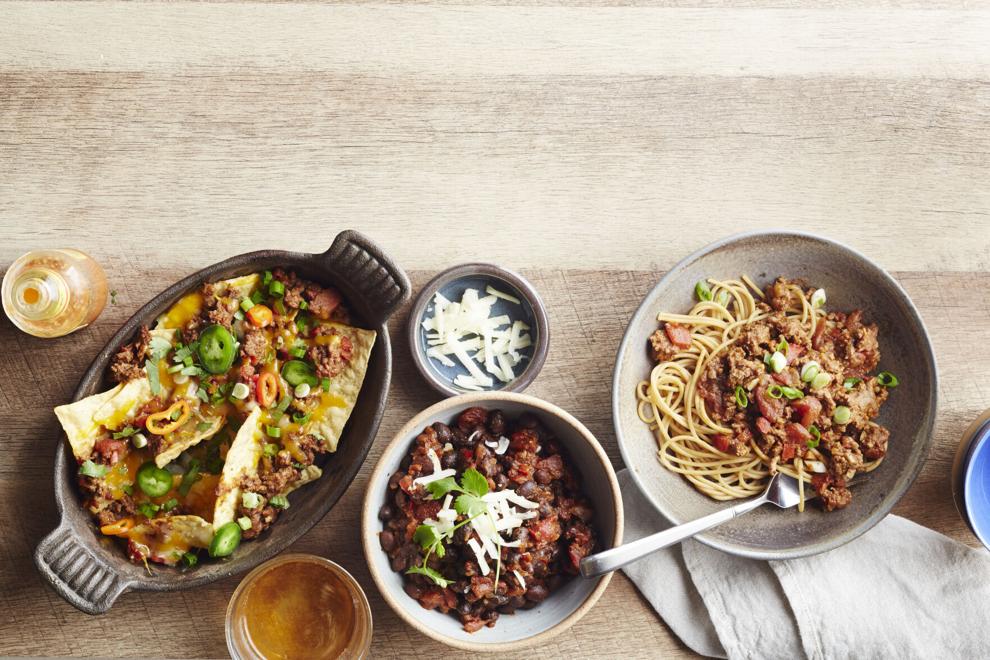 Make nachos dinner-worthy when you top them with an easy 30-minute chili. Serve with topping options such as sliced jalapeños and scallions and fresh cilantro.
Chili-Cheese Nachos
1 pound lean ground beef
3/4 cup finely chopped white onion
1/2 cup finely chopped red bell pepper
4 cloves garlic, chopped
2 tablespoons chili powder
1 tablespoon ground cumin
2 teaspoons dried oregano
1 teaspoon ground coriander
1 14-ounce can diced tomatoes
1/4 cup water
8 ounces tortilla chips
2 cups shredded cheese, such as cheddar or pepper jack
1. Preheat oven to 350 F.
2. Cook beef, onion, bell pepper and garlic in a large skillet over medium-high heat, crumbling the beef with a spatula, until the meat is browned, 8 to 10 minutes. Stir in chili powder, cumin, oregano and coriander; cook, stirring, for 30 seconds. Add tomatoes (with their juice) and water and simmer for 5 minutes.
3. Top chips with the chili and cheese. Bake until the cheese is melted, about 7 minutes.
—Refrigerate chili (Step 2) for up to three days or freeze for up to three months.
Recipe nutrition per serving: 384 Calories, Total Fat: 22 g, Saturated Fat: 9 g, Cholesterol: 66 mg, Carbohydrates: 25 g, Fiber: 4 g, Total Sugars: 3 g, Added Sugars: 0 g, Protein: 21 g, Sodium: 425 mg, Potassium: 447 mg, Folate: 29 mcg, Calcium: 267 mg.
Carbohydrate Serving: 1 1/2.
(EatingWell is a magazine and website devoted to healthy eating as a way of life. Online at www.eatingwell.com.)