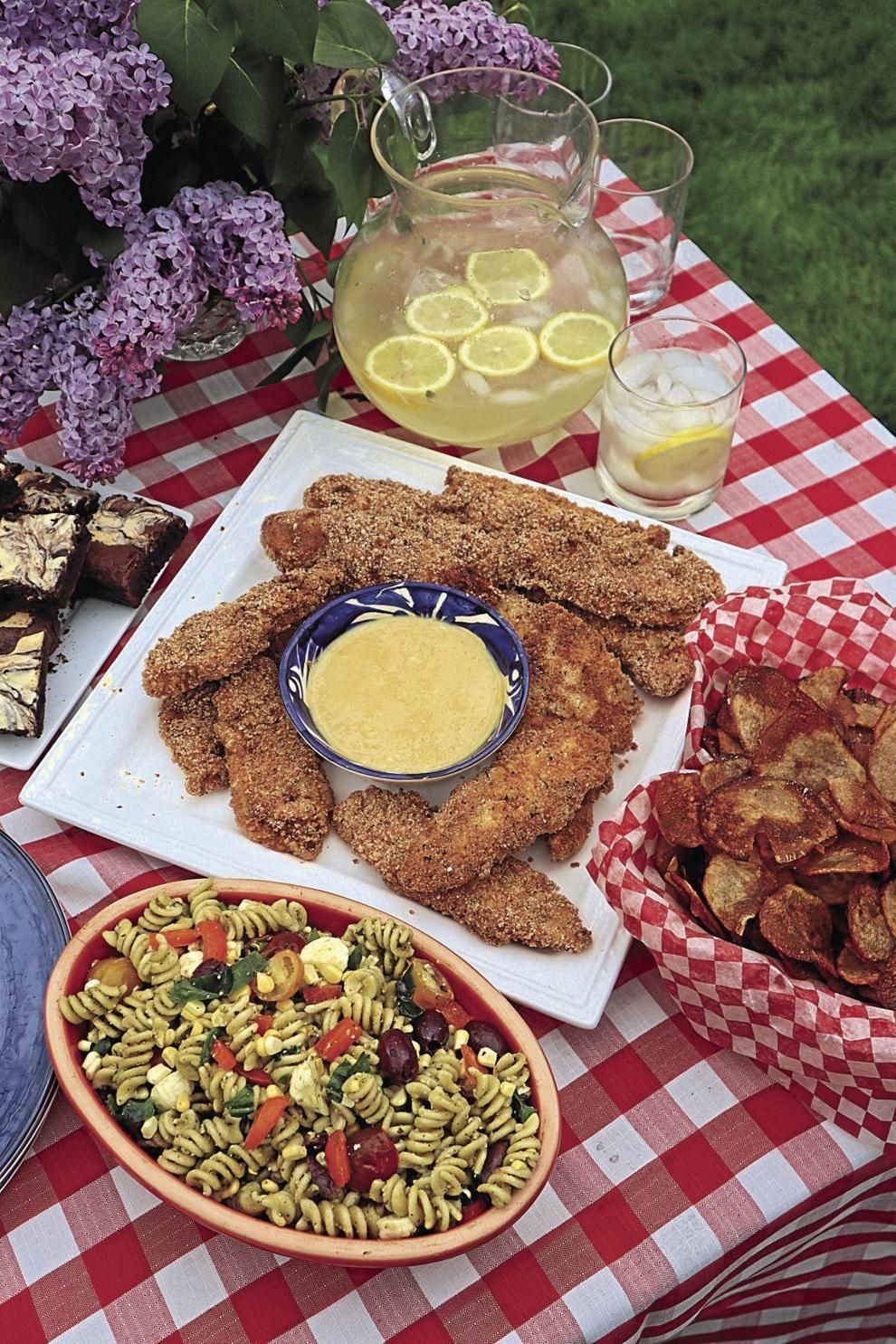 Usually this time of year, kids both young and young at heart are racking their brains to come up with the best way to surprise Mom on her special day. For those who like to cook, the best gift is often to prepare an entire meal made from scratch. It's personal, and doesn't have to cost a fortune. It just needs to demonstrate — quite deliciously — that you're willing to go the extra mile to show your love and appreciation.
Just about everything tastes better when eaten al fresco in the sunshine. That goes for sandwiches dished up on a card table on the deck, fried chicken served on a blanket in the backyard or all the fixings for a cookout carried to a picnic table at a local park. Our menu for the celebration hits on all the basics — a refreshing beverage, finger-friendly entree and sweet dessert.
It's easy enough that kids could help dad or a teenage sibling to make it. If you're lucky like me, and your mom lives just around the corner, it's also perfect for boxing up to leave on her doorstep if she's self-isolating. Throw in a bunch of handpicked flowers — lilac bushes are blooming like crazy in my neighborhood — and that's a celebration.
Veggie lovers pesto pasta salad
This easy make-ahead salad is colorful, crunchy and nutritious. Even picky kids and spouses will enjoy it. Choose a short pasta that has lots of nooks and crannies for the dressing to stick to. For extra protein, toss in a cup of rinsed and drained chickpeas.
16 oz. rotini or fusilli pasta
½ head broccoli, cut into bite-sized florets
1 red pepper, cut into bite-sized slices
8 ounces baby mozzarella balls
6 ounces baby spinach, torn into bite-sized pieces
1 pint multicolored cherry tomatoes, halved
½ cup Kalamata olives, optional
Salt and pepper to taste
2 large handfuls of fresh basil
Pinch coarse sea salt
1 garlic clove, peeled
4 tablespoons extra-virgin olive oil, divided
3 tablespoons pine nuts, lightly toasted
3 tablespoons grated Parmesan cheese
Cook pasta in salted water until al dente, according to package instructions. Drain, toss with a splash of olive oil and set aside.
While pasta is cooking, make the pesto. In a food processor, combine basil, salt and garlic. Add 2 tablespoons of the oil and blend at low speed until mixture forms a coarse paste. Toss in the pine nuts and pour in another tablespoon of olive oil. Blend until the nuts are finely ground. Stir in the Parmesan and enough of the remaining olive oil to form a creamy paste. Taste and adjust seasoning.
In a large bowl, toss cooked pasta with pesto until coated. Gently mix in broccoli, pepper, spinach, cherry tomatoes, mozzarella balls and olives, if using. Season with salt and pepper to taste, and serve either chilled or at room temperature. — Gretchen McKay
Chicken tenders with honey-mustard sauce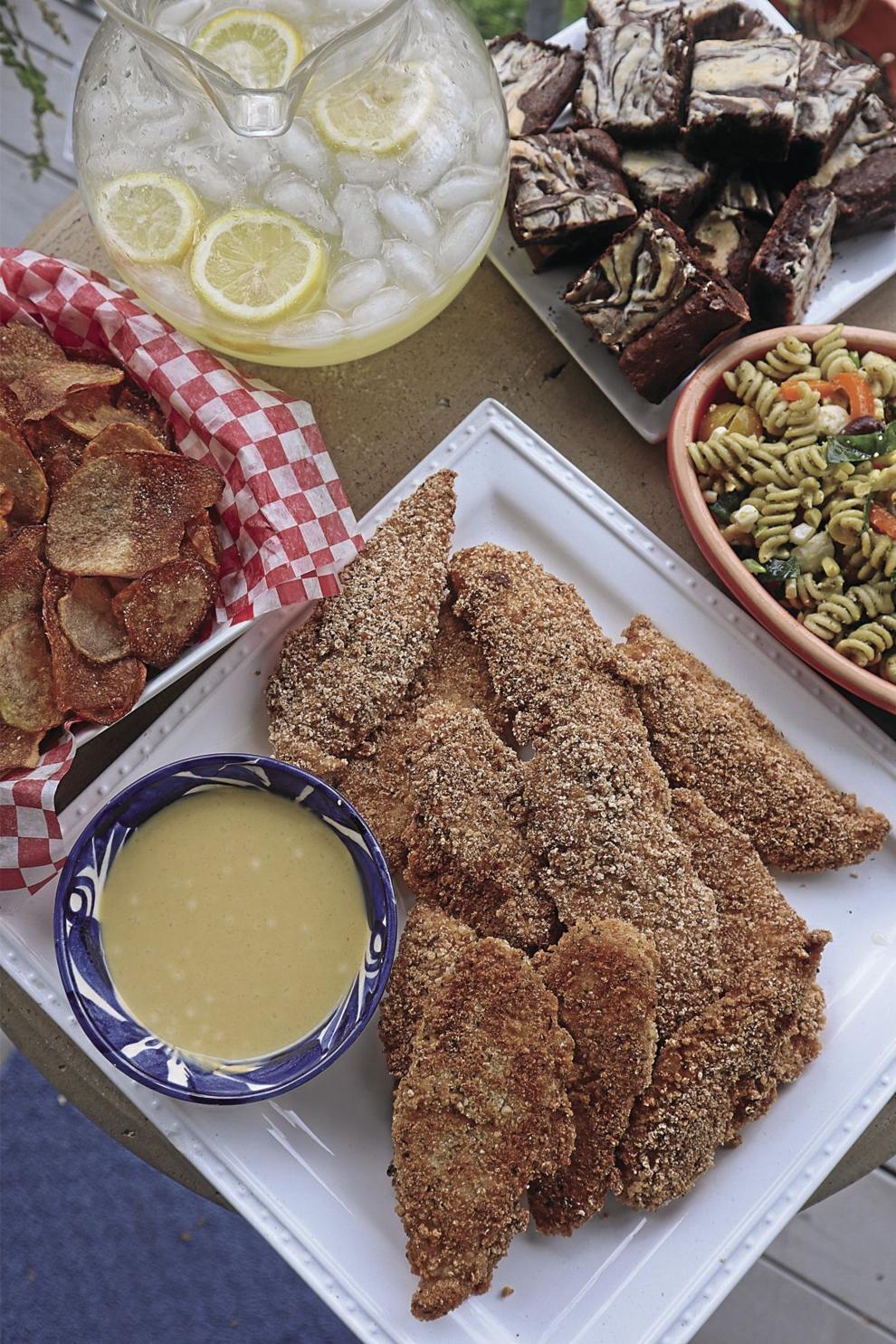 Chicken tenders are simple to make, transport well and are finger ready. In short, a perfect picnic food. I used gluten-free panko. This recipe includes honey-mustard sauce, but ranch dressing, barbecue or hot sauces and ketchup are equally good for dipping.
1 cup buttermilk
1 teaspoon hot sauce
1 pound chicken tenders
½ cup all-purpose flour
2 eggs, beaten
2/3 cup panko-style breadcrumbs
1/3 cup freshly grated Parmesan cheese
¼ teaspoon salt
¼ teaspoon freshly ground black pepper
2 tablespoons finely chopped fresh herbs, such as thyme, parsley, chives or rosemary
Vegetable oil for frying
¼ cup honey
¼ cup mayonnaise
¼ cup Dijon mustard
1 tablespoon white distilled vinegar
¼ teaspoon cayenne pepper
For the chicken, in large bowl, combine buttermilk and hot sauce. Add chicken tenders and allow to soak for 30 minutes.
Meanwhile, make mustard sauce by whisking ingredients in a small bowl until well combined; set aside.
Add flour to one bowl and the beaten eggs to another. In third large bowl, combine breadcrumbs, grated cheese, salt, pepper and fresh herbs.
Remove chicken tenders from buttermilk and shake off excess liquid. Dredge one at a time in the flour, shaking off the excess until just a light coating remains. Next, dip the chicken in the egg mixture and turn to coat evenly, letting any excess egg drip off. Finally, dredge the chicken in the breadcrumb mixture, turning a few times to coat well. Set breaded chicken on a plate and repeat until all of the chicken pieces are breaded.
In large Dutch oven or frying pan, heat 2 inches of oil on medium-high heat until it reaches 350 degrees. Fry the chicken in small batches until golden brown, about 2 to 3 minutes per side. Drain on paper towels or cooling rack set over a baking sheet.
Serve warm or at room temperature with mustard dipping sauce. — Gretchen McKay
Fudgy cream cheese brownies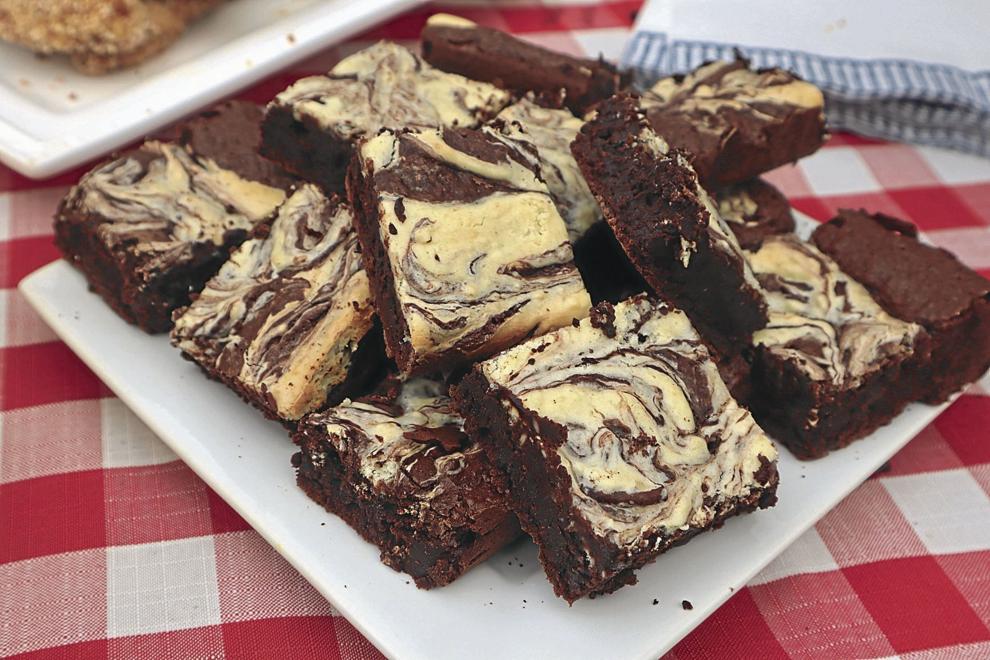 These ultra-fudgy brownies can be made three days ahead and don't require any special ingredients, even though they're gluten-free. Instant coffee deepens the flavor.
8 ounces cream cheese, at room temperature
¼ cup sugar
1 large egg, room temperature
¼ teaspoon vanilla extract
6 tablespoons unsalted butter, plus more for pan
¼ cup cornstarch
¼ cup unsweetened cocoa powder
1 cup sugar
1 tablespoon instant coffee
½ teaspoon salt
9 ounces semisweet chocolate, chopped
1 teaspoon vanilla extract
3 large eggs, room temperature
For swirl: Using an electric mixer on high speed, beat cream cheese and sugar in bowl until smooth. Add egg and vanilla and beat until smooth.
For brownies: Preheat oven to 350 degrees. Butter a square baking pan and line with 2 overlapping layers of parchment, leaving a 2-inch overhang on all sides. Butter parchment.
Whisk cornstarch, cocoa powder, coffee and salt in small bowl.
Combine chocolate and 6 tablespoons butter in large heatproof bowl set over a pot of barely simmering water, stirring occasionally until butter and chocolate are melted and smooth. Remove from heat, then stir in sugar and vanilla. Whisk in eggs, one at a time, then whisk in cornstarch mixture until smooth.
Transfer batter to prepared pan. Dollop cream cheese mixture over batter, then swirl into batter with a knife or spatula.
Bake brownies until a toothpick inserted in the center comes out with a few moist crumbs attached, about 30 minutes. Transfer pan to wire rack to cool completely. Using parchment overhang, transfer brownies to a cutting board. Cut into 16 pieces. — epicurious.com
5 recipes to make on the grill this week
This week's recipe roundup features meals that are grill-friendly and perfect for warmer weather. Think anything from grilled pork chops to ramen bowls to SPAM musubi.