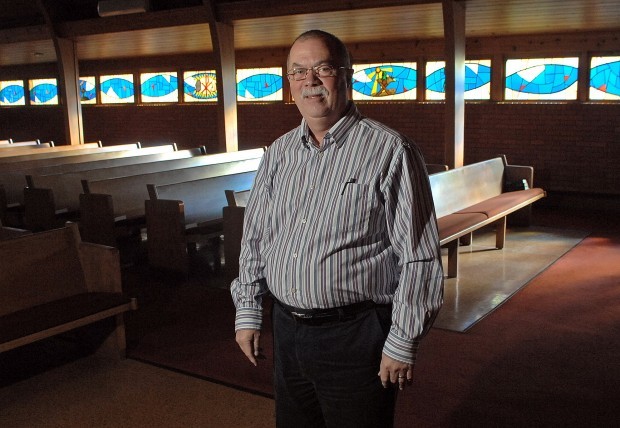 WASHBURN - When First Lutheran Church in Washburn voted to leave the Evangelical Lutheran Church in America in 2010, it joined Lutheran Churches in Mission for Christ, an association formed in 2001 of Lutheran churches who felt the ELCA was moving away from scriptural tradition in its social policies.
Now, the Washburn church of about 800 baptized members has become a "dual-rostered" congregation, having also joined the year-old North American Lutheran Church.
Members at First chose to join the NALC as well because they wanted more organizational structure, said First's pastor, the Rev. Erik Johnson.
Johnson attended an October gathering in Watertown, S.D., in which about 60 to 70 people from the North Dakota, South Dakota, Minnesota and Wyoming met to formally organize the Midwest into three NALC regions, or "mission districts."
The Rev. John Bradosky, who was elected bishop of the NALC in August, spoke at the conference.
The Washburn church will be in a mission district encompassing Minnesota and about half of North Dakota. First Lutheran is one of two NALC congregations in North Dakota - Peace Lutheran in Devils Lake is the other.
Each mission district will elect a pastor to serve as dean, as well as a Mission District Council.
The NALC was created in August 2010 in Grove City, Ohio, and as of Oct. 26, has 285 congregations, Johnson said, of which 52 were mission starts, or brand-new congregations. Church statistics give the number of members at more than 100,000 for its first year.
Johnson said that the NALC also has 60 seminarians now studying in various seminaries.
The new body has stated its theological position in four phrases, Johnson said, "Christ-centered, mission-driven, traditionally-grounded and congregationally-focused."
The focus of the NALC is "the Great Commission," Johnson said, in reference to the biblical passage which quotes Jesus as telling his followers to "make disciples of all nations."
The NALC "is committed to the authority of the Bible as the inspired Word of God and the authoritative source and norm of its proclamation, faith, and life," said the Rev. David Baer of Immanuel Lutheran Church in Whitewood, S.D. "The NALC believes all doctrines should and must be judged by the teaching of Scripture."
Leaving the ELCA was difficult but relatively peaceful, said Johnson, who has served the Washburn church for seven years. The church formed a task force and studied the issues, starting in the fall of 2009, he said. In February and May of 2010, the church took two votes; both showed 80 percent voting to leave, he said.
"We didn't lose anybody (as members) that I know of," over the decision, he said. First decided to join the NALC in November 2010.
For its worship, the church still uses the liturgy from "With One Voice," and the Lutheran Book of Worship, or LBW.
"We're pretty traditional in terms of worship," he said.
According to Baer, most NALC congregations and members left the Evangelical Lutheran Church in America because they believe the ELCA no longer uses the Bible as the sole basis of its faith and life.
Baer said in a release that the ELCA has moved away from traditional Christian teaching and practice to focus on social and political issues.
As a body, NALC will ordain both men and women clergy, but unlike the ELCA, will not ordain gay clergy, Johnson said. The NALC doesn't make a lot of social statements, he said.
Johnson, who grew up in Madagascar, the son of missionaries, said that member congregations of the NALC are encouraged to "take ownership" of their giving.
This means that not a lot of the congregation's offerings, or benevolence money, goes off to a national body to parcel out.
"We make our own decisions" about where to give, he said.
"It takes a little more work (but) we have a choice where it is going ... more ownership," Johnson said.
First Lutheran makes its giving decisions on a quarterly basis, and supports at least one mission in the U.S. and one globally, he said. It has picked new mission starts to support, and also some hunger efforts. The church also gives to the McLean County Family Resource Center, which has a pantry for food and clothing needs and a crisis hotline, he said.
Abroad, it donates to China Venture Services, which supports Christian education in China, he said.
Be the first to know
Get local news delivered to your inbox!