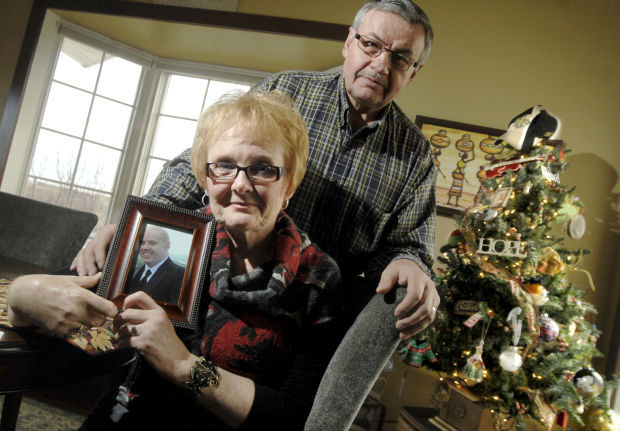 For many, walking through stores during the holiday season is a reminder of "the happiest season of all."
They're worrying about guest lists for dinners and gift lists for family and friends.
But for others, the season is a sobering reminder of something not as cheerful, but of loss and grief — whether it's a death, a separation, a divorce, an illness, a family trauma or a job loss.
"I always kid that my parents named me Carol because I loved Christmas so much," said Carol Landeis, whose son Joshua died suddenly of a heart arrhythmia in August of 2005. "I had never experienced a bad Christmas or a hard Christmas, and I just thought, 'Now what in the world, how are we going to get through this?'"
Carol and her husband Dan Landeis have used their journey through their own grieving process to facilitate a 13-week grief recovery support group at Evangel Assembly of God called GriefShare.
Because the holidays are an especially tough time for those grieving, the program also offers a "Surviving the Holidays" seminar, which is being held from 9 to 11 a.m. today at Evangel.
"You just have to literally survive them," said Carol Landeis. "We're living proof that you can go on living while still honoring that person's memory."
One way Carol and Dan Landeis have "survived" the holiday season is by creating what they call a Joshua Tree — a Christmas tree decorated with reminders of their son.
"We want to remember our loved ones. We don't want to not talk about them and not remember them," said Carol Landeis. "We encourage everyone to give us an ornament and tell us a story and we put it on the Joshua Tree or we put on something every year about his life."
Mary Brevik, who lost her husband Ben after 55 years of marriage right before last year's holiday season, chose to honor the memories of her husband by keeping some of her same holiday traditions alive. That included decorating her house and putting up a tree, even if it was a smaller version.
"I've still put up my Christmas lights as much as I could," she said. "And I could hear Ben saying up in heaven 'You're not doing it right you know.' "
She also chose to create new traditions.
"Life goes on, you have got to keep going and to me I honor Ben's memory by doing the traditional things," she said. "But you have got to make new traditions along with the old, and I think that way it extends what you've had before on it to the future."
Her new traditions included making a special ornament for her grandchildren with Ben's photo in it and participating in the Wreaths Across America ceremony at the North Dakota Veterans Cemetery, where her husband is buried, with her daughter and granddaughter.
Another thing that the Landeis' have found helpful is to have something tangible to read and meditate on every day. For them, it was the GriefShare devotional.
"They give you daily devotional to go through between Thanksgiving and Christmas, so every day you have something tangible that you put into your hand and read about something such as what to do in awkward moments, how to help others who may need you," said Carol Landeis. "Having practical things you can do each day is very helpful and having those reminders on the grief process itself and how to handle it."
Dan Landeis said one of the most important things is being able to find joy again, even in the midst of sorrow.
"It's built on through the entire program that some day we will be normal again, we will be happy again, that there will be joy again," he said.
The Landeis' learned quickly that there can be joy in the midst of their sorrow. The same week their son passed away, their older daughter Jessica gave them their first grandson.
"We learned really quickly that sorrow and joy can live together," said Carol Landeis.
"We're living proof that you can get through this and you can still have joy again."