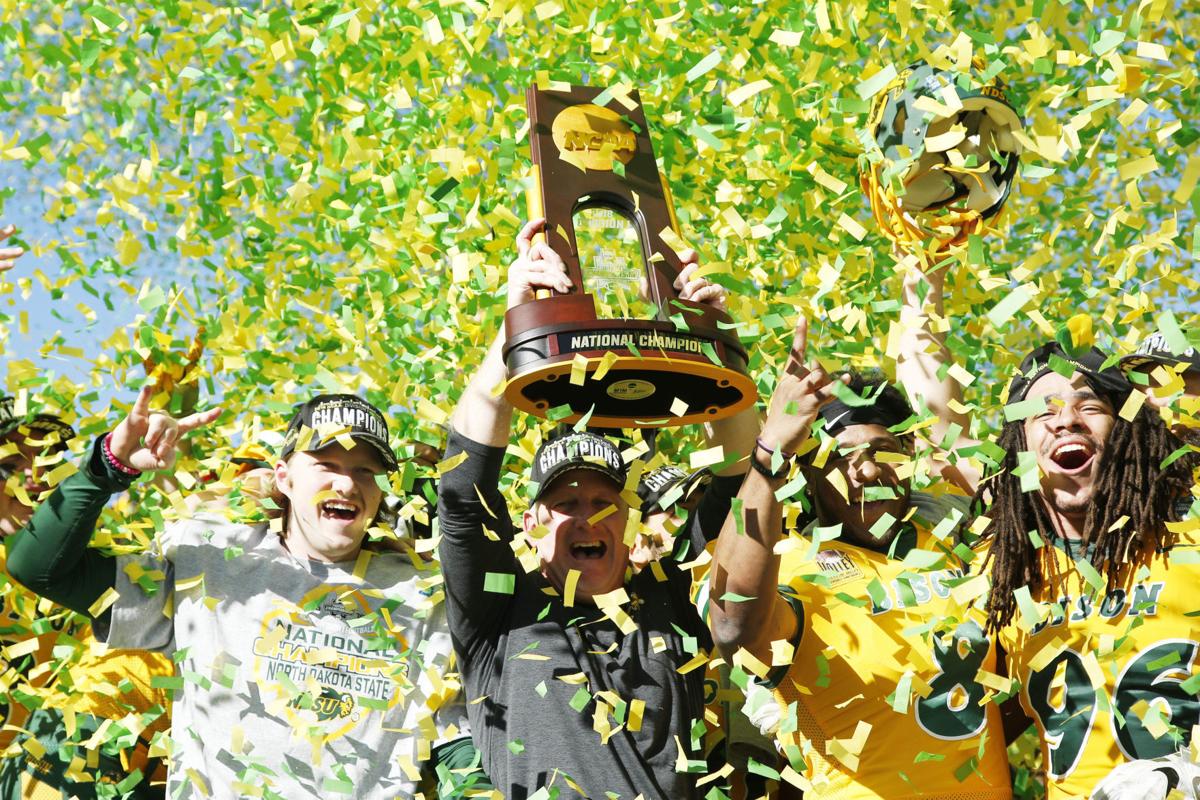 FARGO — North Dakota State football fans are used to digging through their cable or dish guides to find ESPN2 in early January. That off-the-beaten-path network has been the home of the Football Championship Subdivision national title game all seven times the Bison have advanced to Frisco, Texas, since 2011.
If the Bison again qualify for the championship game, still a big "if" even for the top-ranked team, there'll be no need to dig come January.
The Division I FCS title game will be carried by ABC, the lead television network under the Walt Disney Co. umbrella of which the ESPN family of networks is also a part.
For the FCS, this is moving from an acceptable apartment you can't be unhappy with to the penthouse. This is trading in your rock-solid Buick for a Mercedes-Benz. This is switching vacation destinations from Pensacola to the Bahamas.
ABC was Keith Jackson, for goodness sake. Currently, it is one of the major networks that carries heavyweight college football games involving Football Bowl Championship teams from conferences like the Pac-12, SEC, Big Ten and ACC.
The last time the FCS title game was on network television, the division wasn't even called FCS. It was still Division I-AA. That was in 1994 when CBS carried Youngstown State's victory over Boise State.
To paraphrase Joe Biden, the presidential candidate who hails from one-time FCS hotbed Delaware, this is a big (blanking) deal.
"It's a championship we really enjoy. The atmosphere in Frisco is a good one," ESPN senior director of programming Dan Margulis said in way of explanation. "There was a window that allowed us the opportunity to slide it to ABC, so we did and we'll see how it does."
Margulis didn't offer specifics, but said "a lot of factors" led to the window opening on ABC.
The game is scheduled to kick off at 11 a.m. (CST) on Jan. 11, so the start time will remain the same as it's always been.
Margulis said the switch is "experimental" and didn't say whether the title game will stay on ABC in future years. But he didn't rule it out, either, and said ESPN will look at viewership numbers in assessing what network carries the future games.
Generally, games carried on ABC will have larger audiences than those carried on ESPN2 because ABC is carried in more homes in the U.S. It's the same effect NDSU has seen with television audiences when its games are carried on ESPN instead of ESPN2. The three most-watched Bison football games, according to the Nielsen ratings, were carried by ESPN.
The highest-rated Bison game was the playoff quarterfinal against South Dakota State in December 2016, which drew an average of 1.984 million viewers on ESPN. NDSU's most-watched game on ESPN2 was the championship game against James Madison in Jan. 2018, which drew an average of 1.515 million viewers.
Margulis wouldn't offer an estimation of viewers for the FCS title game, but said more homes receive ABC than ESPN2.
Oh, and there's this: The local ABC affiliate is WDAY-TV, owned by Forum Communications Co. So if the Bison make the title game again, those in Fargo-Moorhead and the surrounding area can watch it on Channel 6.
"We are really excited to see the FCS championship game on ABC. National exposure on the broadcast level is a great opportunity for teams local to our coverage area. With NDSU positioned atop the FCS, the possibility of having them play in that game is really exciting," WDAY general manager Josh Rohrer said. "WDAY and Forum Communications consistently bring the best in Bison coverage each year, so to be able to broadcast the game along with our Bison Media Zone coverage is a truly great prospect."
In another move, ESPN bumped both FCS playoff semifinal games to Saturday, Dec. 21, this year instead of having one semifinal on Friday night and one on Saturday. Margulis said that switch is strictly calendar-related because, ironically, the Frisco Bowl will be Friday, Dec. 20, at 6:30 p.m. and it will be carried by ESPN2. In the past, a Friday night semifinal has been carried by ESPN.
"I actually like having one of those semifinals on ESPN on Friday night," Margulis said. "They've really embraced those semifinal games up in Fargo, done a good job with them. I personally like having those games on Friday night."
This year's semifinal games will kick off at 1 p.m. and 5:30 p.m. CST. The 1 p.m. game will be on ESPN2, while the 5:30 game will be carried by ESPNU. Margulis said if the ESPN calendar allows, future FCS semifinal games will be played on Fridays.
Whether NDSU can take advantage of the opportunity to play on ABC is a long way from being determined, of course. The No. 1-ranked Bison (9-0) have three regular-season games remaining and would have to win three playoff games to reach the championship game.
Be the first to know
Get local news delivered to your inbox!