An early season storm dumped significant snowfall on far western North Dakota and record rainfall on Bismarck, where a roof drain failure at the North Dakota Heritage Center & State Museum led to interior flooding and the temporary closure of some exhibits.
The weather Wednesday even delayed a maintenance project on the Grant Marsh Bridge on Interstate 94 between Bismarck and Mandan.
The Bismarck airport had received 1.27 inches of rain by early Wednesday afternoon, breaking the city's Oct. 13 precipitation record of 0.97 inches set in 1940, and rain was still falling.
"The wettest calendar day in October, which was 1.68 inches on the 4th in 2013, is within reach," the National Weather Service Bismarck office posted on its Facebook page.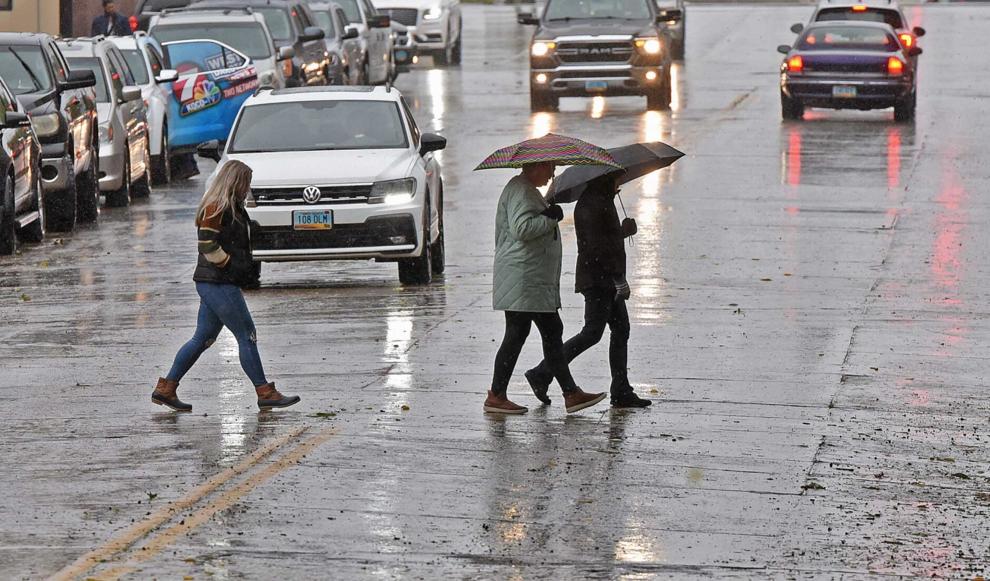 A winter storm warning was in effect for the southwestern counties of Bowman, Slope and Golden Valley, and a winter weather advisory was posted for the western and northwestern counties of Billings, McKenzie, Williams and Divide. Snow fell from Beach to Williston -- the first of the season in North Dakota -- and afternoon reports on the National Weather Service website indicated snow amounts ranging from a couple of inches up to 7 inches.
Beach Auditor Kimberly Gaugler said reports in northern Golden Valley County were as high as 8 inches. She told the Tribune that Beach received "very, very wet, heavy snow" on Wednesday. That's unusual for this time of year, she said, especially since temperatures were around 70-80 degrees just last week. It was still warm enough Wednesday that the snow wasn't sticking around long.
"It's melting as it's hitting the streets and sidewalks," Gaugler said. "There's quite a bit of standing water."
City services were still operating as normal, with some possible weather-related delays, she said.
An advisory for winds gusting up to 45 mph was in place for western and central areas of the state not in a storm warning or advisory area. Heavy rain fell in non-snow areas.
The strong winds led to near-blizzard conditions in the far west, reducing visibility below a quarter mile at times and making travel difficult, according to the weather service. No road closures were in place at midday, and the state Transportation Department's travel map showed roads throughout the west as being only wet, not snow- or ice-covered. 
The storm system pushed from the West Coast over the Rockies and into the Plains. Heavy snow in the Rockies -- more than 2 feet in some areas -- snarled travel on Wednesday, according to AccuWeather.
The rain and snow were forecast to move out of North Dakota late Wednesday, with chances of rain along the Canadian border Thursday. But cooler temperatures will remain in the west, with overnight lows Thursday and Friday expected to drop into the mid-to-upper 20s, according to the state forecast. That could result in a killing frost -- 28 degrees or below. Lows for the Bismarck-Mandan area are expected to stay above 30 degrees, and the weekend forecast is for sunny skies with highs in the upper 50s and lower 60s.
Museum flooding
Staff at the Heritage Center on the Capitol grounds discovered flooding in the Adaptation Gallery: Geologic Time during a 7 a.m. walk-through, according to Audience Engagement & Museum Department Director Kim Jondahl. Arrow Service Team quickly arrived to clean up.
"Everybody went into action and took care of it really quickly," Jondahl said.
The gallery is temporarily closed for two to three days. The Bird of North Dakota and Fashion & Function exhibits also were closed, but Jondahl expected them to reopen quickly.
The former was closed due to water leaking through to the floor. That mess was mopped up. The latter was closed to accommodate the cleaning crew's hose and cords.
The Adaptation Gallery chronicles North Dakota's geologic past, including dinosaur exhibits. Most of the exhibits in the area of the flooding are casts, but a few are specimens. All were removed, Jondahl said.
North Dakota Geologic Survey Senior Paleontologist and Curator Clint Boyd said "Specimens-wise, everything is safe."
Some specimens were drying out after getting a bit damp. If fossils had been sitting in water, the situation would be worse, Boyd said. The dampened specimens include a skull and cast skeleton of a bearlike mammal, part of a turtle shell and fossilized feces.
Museum staff wiped down exhibit platforms in the gallery and will do so again when the cleaning crew is done vacuuming water.
"We're just glad for our team and the paleo team working together very, very quickly to take care of this," Jondahl said.
The flooding hadn't impacted the museum's Dakota the Dinomummy exhibit premier set for Saturday.
Bridge project
The poor conditions prompted the North Dakota Department of Transportation to delay maintenance work on the Grant Marsh Bridge that had been scheduled Wednesday.
Crews will return on Thursday, and the project will wrap up on Friday, a day later than planned, according to the department.
During the work, the eastbound bridge will be reduced to one lane, and the Bismarck Expressway on-ramp (Exit 156) will be closed from 9 a.m. to 3 p.m. each day. The speed limit will be reduced throughout the work zone, and a 14-foot width restriction will be in place.
Motorists traveling from Bismarck Expressway to I-94 eastbound will need to take an alternate route. This includes using Exit 153 then back east on I-94 or various other routes through Bismarck-Mandan.
For more information about construction projects and road conditions, call 511 or go to travel.dot.nd.gov.