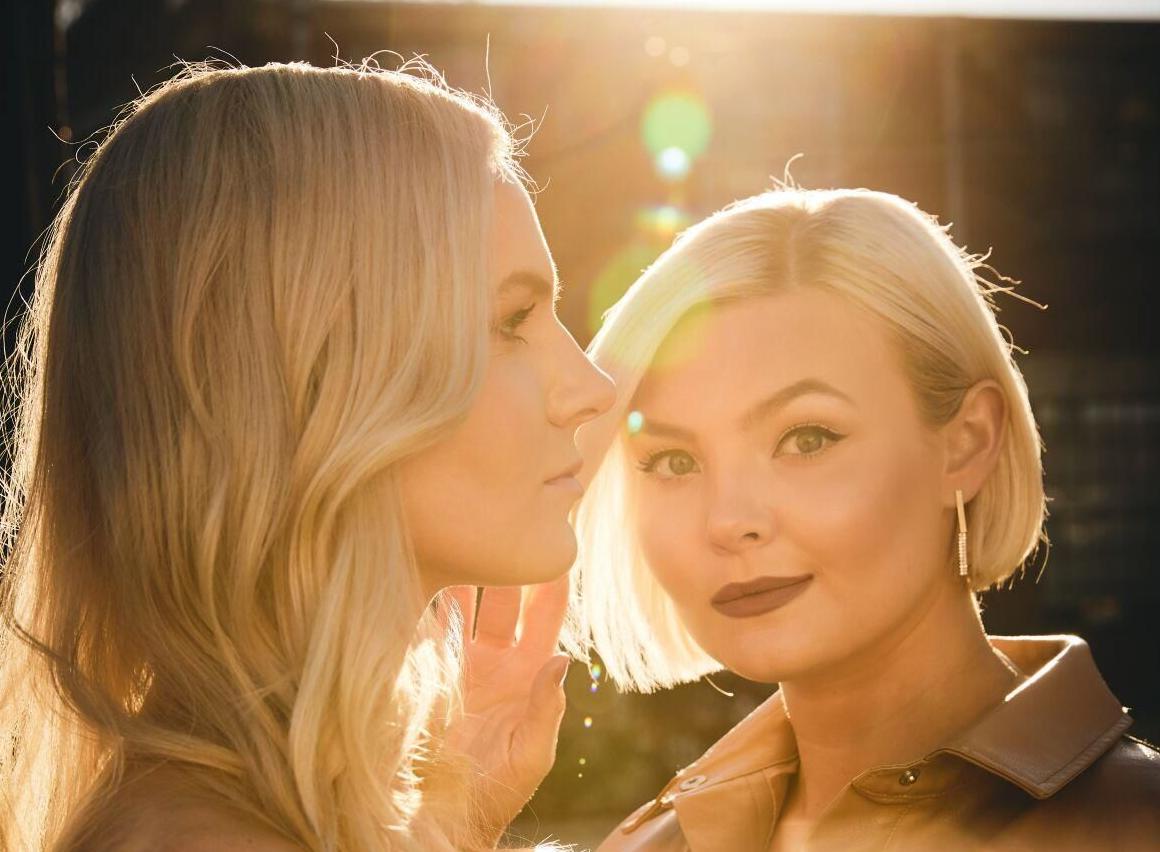 The pandemic put the skids to a lot of entertainers in 2020, but not for North Dakota's up and coming sister act Tigirlily.
Instead, the duo are headed out of the pandemic with their dream come true — a record deal with Monument Records, which houses, among many others, American icon Dolly Parton.
The record deal itself followed closely on something else totally cool to sisters Kendra and Krista Slaubaugh — a No. 1 iTunes hit called "Somebody Does."
That song was written in true Nashville style, with what's called in the business, co-writing.
The session that produced "Somebody Does" almost didn't happen at all, however.
"When you're writing, you want to feel very inspired, and full of zest for life, and it was not one of those days," Kendra recalled. "It was a day where the world was just really, really heavy, and it was dreary outside, and we had been writing so much that our brains just felt like mush at that point. We were like, I don't even know what we can write today."
They showed up anyway, and their co-writer, eclectic songwriter Zarni De Vette, refused to let them bug out.
"If you could say one thing to the world right now, what would you guys say?" the girls recall her asking.
The answer, ultimately, became the words in the chorus line of "Somebody Does."
"I don't know who needs to hear this ... But you should know you're somebody's reason ... For getting out of bed in the morning ... You're just what somebody's needing," the chorus goes. "Even if you don't see it ... You better believe you're somebody's more than enough ... I don't know who needs to hear this ... But I know somebody does."
That song struck an American nerve, and shot up to No. 1 on iTunes's Country music chart and its All Songs Genres within a very short time of its Feb. 24 release — which happened solely online.
"We didn't realize at the moment how many people it would speak to, and it's just really cool to see that, and just so many people sharing their stories of how this song has already saved their life," Kendra said. "To get messages like that is completely overwhelming and you know amazing in the best way. You write a song in hopes that it does change someone's life and so, to be receiving those types of messages is pretty crazy."
The fact the song was able to strike such an immediate chord with so many was thanks in large part to the girls' decision to take a deeper dive into social media than they ever have. The pandemic gave them the time to try a lot of different platforms. They even gave TikTok a shot.
"I know it's for younger people, I told Kendra, but let's just see what happens," Krista recalled.
What happened was actually stunning. Their first video snagged half a million unique views. That's more than what the two could normally get with a week's worth or maybe even a year's worth of live performances.
"We could do a 1,000 shows and not get that many views," Kendra said.
At first, the pandemic was really scary to the girls' career ambitions. Live shows are the bread and butter that pays the rent and puts food on the table. And they're one way that talent gets scouted and spotted in a city that's full of talent.
But sticking with their goals — writing lots of new songs during the pandemic, and then getting those songs out to an audience any way they could — ultimately paid off big. And not just a No. 1 iTunes song. Monument Records called the girls, not long after their songs hit the top of the iTunes charts.
Now they have a record deal, which means the girls should have a lot more new music coming out soon — though they can't talk a lot about that too much just yet. One thing they did say is that many of those songs have already been written, during the pandemic, though they have not yet been selected.
"This is basically like the next big step for any artist," Krista said.
The duo have been very "band interactive" the last eight years, but unless you know somebody in Nashville that can give you the opportunity, the girls found there a lot of closed doors.
"So far (Monument) has been a great team to work with, and they really believe in our vision, so we don't feel stifled," Krista said. "We feel like they really believe in us."
The deal also gives the two a whole professional team to work with, and that should give them more time to focus on their art.
The girls like several of the artists that Monument already represents. One in particular would be Dolly Parton.
"She's like a trailblazer beyond what the word trailblazer even means," Kendra said. "She's always everywhere. She just doesn't stop."
Clearly, neither does Tigerlily.