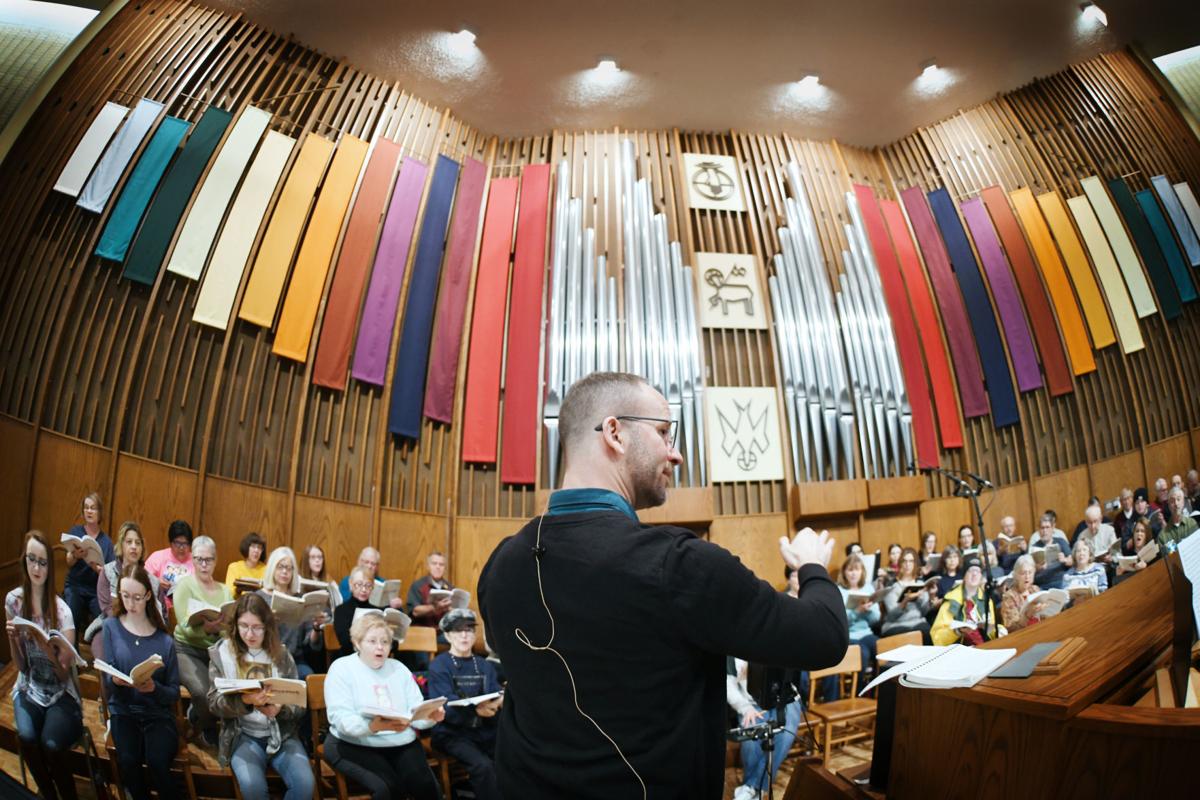 Ninety years ago, Bismarck's "Mr. Music Man" was overseeing rehearsals, double- and triple-checking the concert venue and organizing sheet music ahead of the community's first performance of Handel's "Messiah."
The late Clarion Larson, who worked decades as a Bismarck Public Schools music teacher, for 65 years directed the event that is hosted annually by Trinity Lutheran Church before handing over the baton to the first of five conductors to lead the concert since.
Sunday's performance, which is slated for 7:30 p.m. at the church at Third Street and Avenue A in downtown Bismarck, marks the oratorio's 90th consecutive year in the community.
"I think Clarion did it for so long that he wouldn't possibly have seen any other outcome other than it continued for 25 years after he was done. I think there was an expectation," said Messiah Committee Chairman Scott Houser, who began leading the committee at the request of Larson a quarter century ago. "But he would be very pleased that it has come to fruition."
The first performance took place at the Belle Mehus Auditorium in December 1930 due to delays in the construction of the church, according to Houser. A year or two later, the event was moved to Trinity, where it's been held ever since.
The present-day Messiah is performed by Missouri Valley Chamber Orchestra members wielding 18 instruments, four soloists and a community chorus of 60 that includes several veteran singers.
The group is composed of musicians with varying skill levels from Bismarck, Mandan and surrounding areas. Anyone is welcome to sing in the chorus, which rehearses for two hours every Sunday in the six weeks leading up to the performance. The orchestra and soloists have their own rehearsal schedules.
The singers and instrumentalists gathered at the church Saturday for the dress rehearsal, where they performed the production together for the first time.
"This is not an auditioned chorus, this is just community people that want to come and sing," said Houser, a former singer who is making his debut as an organist. "Some singers are near professional, and many people are just amateurs that maybe sing in a church choir, and they all come and they sing this very challenging classical work. This is not easy music."
David Fandrich, Trinity's former music director who currently serves at Holy Trinity Lutheran Church in Ankeny, Iowa, directed the production for a number of years and is making a return to the podium in celebration of the 90th anniversary.
Attendees will be treated to solos by Kari Swenson Riely, soprano; Vicky Boechler, alto; Clyde Bauman, tenor; and Andrew Baumann, bass.
You have free articles remaining.
"I think we're going to see some great variety in our soloists," Houser said. "They are all really good, solid community figures that people know and love."
Bob Wefald, a retired North Dakota judge and former state attorney general, joined the chorus in 1995, which was the first year Larson participated outside of his role as conductor. The two men were assigned to stand next to each other in the first tenor section.
"Clarion mentored me and schooled me on how this was done. I got good advice right from the godfather of the Messiah in Bismarck," Wefald said. "He was a wonderful man -- a wonderful music man with a long, dedicated career."
Although 2019 marks Wefald's 25th year of rehearsals, it's only his 24th performance, as one year on the Sunday of the performance he fell ill. He also serves on the Messiah Committee.
The event typically is performed the first Sunday in December. This year's event was bumped up a week due to the Thanksgiving holiday, according to Wefald.
"This is unusual because the first Sunday in December backs right up against Thanksgiving, and a lot of people are gone for that weekend," he said. "So we had to move it ahead a week."
The concert has gone off without a hitch for nearly a century, according to the committee members.
"I can't think of a performance where anything has gone horribly awry," Houser said. "I think it's incredible that the community has continued to support this. It takes a financial commitment to make this happen every year."
Aside from chorus members, musicians are paid for their time and travel, as is the guest conductor. The event costs about $9,000 to produce each year, according to Houser. The committee receives donations from both people and businesses to help offset the costs. 
Following the performance, fellowship with refreshments will take place in Trinity's community center.
"Not to diminish the performance and everything at all, but one of the highlights of this event is that we have a wonderful reception following it," Houser said. "It's just a wonderful time for everybody that's kind of like, 'Let's hurry up and get done with this concert so we can all go have cookies.'"
Tickets are $10, with a student rate of $5. They're available at the door.